Loeb and Elena reach their half century
A perfectly controlled display on the final day of the 2009 Cyprus Rally enabled Sebastien Loeb and Daniel Elena to claim the WRC's first mixe d-surface round since 1996. The crew of the N°1 Citroen C4 WRC led from flag to flag to notch up the 50th world class win of their career. Fourth place for Dani Sordo, Dani Sordo and Marc Marti has take n Citroen further clear at the top of the Manufacturers ' World Championship standings.
The third day of action of this year's Cyprus Rally took crews back into the Troodos Mountains, but today's tests threw up their own special challenge. The leg kicked off with the 30-kilometre Foini stage which was followed by a 15-minute remote service break. Competitors then faced the longest test of the weekend which took the form of the incredibly twisty 40.54km Anadiou stage. The event finished with a return to Anadiou Dam (11.70km) which crews had already contested on Saturday.
Despite an overnight lead of 49 seconds, Sebastien couldn't afford to control from in front on Foini. "I wasn't getting Mikko Hirvonen's split times, so I had to push quite hard to make sure he didn't get too close," related the five-time World Champion at the remote service park in Anadiou. "There was a lot of mud about, but we survived unscathed. There are still two tough stages to come and we will need to stay on our guard all the way to the finish…"
Dani Sordo succeeded in warding off the threat from Petter Solberg by conceding just a handful of seconds to the Norwegian driver. "I had a much better feeling this morning. I am quite pleased with the way I'm driving, as well as with my time. I am completely focused on defending my position."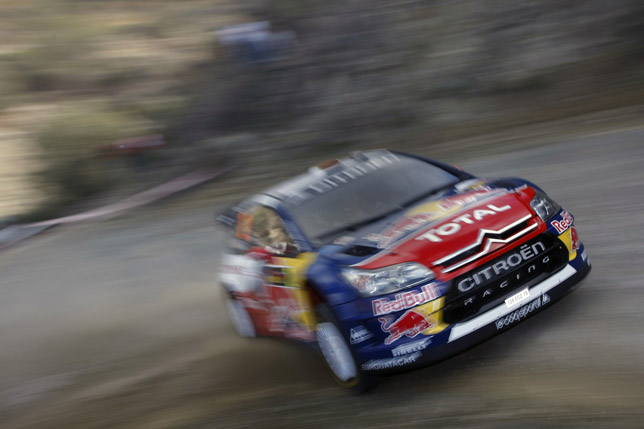 Sebastien Loeb was feeling confident about his chances of winning by the end of the long stage: "I tried to make sure we stayed on the road without taking any risks. Mikko took a fairly big chunk of time off us but everything is under control." At the same time, however, Dani Sordo was knocked off third place by Petter Solberg: "I stalled in a hairpin and dropped about 10 seconds. After that, I thought it was preferable to make sure we scored Manufacturers' points for Citroen. The fact that Petter was ahead of us changed nothing on that front."
The final stage didn't produce any last-minute drama and Sebastien Loeb and Daniel Elena were able to savour their third win from three since the start of the season: "To have reached our halfcentury is nice, but it's just another statistic. To tell the truth, my thoughts are already turned to our 51st win! This rally went well for us from start to finish. Our C4 WRC handled perfectly, both on the loose and on asphalt." Another statistic: this weekend's result has taken Sebastien Loeb and Daniel Elena's record to 13 consecutive podium finishes, a sequence which began on the 2008 Rally d'Italia Sardinia!
"It's been a perfect event for us overall," concluded Citroen Racing Director Olivier Quesnel. "Sebastien's performance was stunning from every angle. As usual, he put in a perfectly paced run and started every stage with victory as his ultimate goal. At the same time he looked after his car which was put to a tough test on this terrain. OK, Dani didn't finish on the podium but I asked him to make sure he reached the finish to bring us Manufacturers' points. The fact that Petter Solberg finished ahead of him doesn't change anything on that score. We have a 16-point lead at the top of the standings tonight after the first three rallies. How could I not be delighted with that?"
Fastest stage times Jour 1 : SS1 to 5: S.Loeb (Citroen C4) – SS6 : D.Sordo (Citroen C4). Jour 2 : SS7 : JM. Latvala (Ford Focus) – SS8 : M. Hirvonen (Ford Focus) – SS9: S.Loeb – SS10 and 11 : P.Solberg (Citroen Xsara). Day 3 : SS12 and 13 : M.Hirvonen. SS14 : M.Wilson (Ford Focus) and JM. Latvala (equal). Best performers : S.Loeb, 6 fastest times – M. Hirvonen, 3 – P. Solberg and JM. Latvala, 2 – D.Sordo and M.Wilson, 1. Leaders : SS1 to 14 : S.Loeb.
Final official classification 1. Loeb/Elena Citroen C4 4h 50' 34'' 7 2. Hirvonen/Lehtinen Ford Focus + 27'' 2 3. Solberg /Mills Citroen Xsara + 1' 49'' 4 4. Sordo /Marti Citroen C4 + 2' 26'' 3 5. Wilson/Martin Ford Focus + 6' 41'' 0 6. Rautenbach /Barritt Citroen C4 + 11' 11'' 9 7. Villagra/Perez Companc Ford Focus + 13' 18'' 5 8. Al Qassimi/Orr Ford Focus + 13' 44'' 1 9. Sandell/Axelsson Skoda Fabia + 19' 36'' 6 10. Araujo/Miguel Mitsubishi Lancer + 19' 54'' 9