Loeb claims Citroen's 50th WRC win
Sébastien Loeb pulled another four points away from his closest rival in the World Rally Championship at the weekend, as the reigning World Champion headed a thrilling Citroën 1-2 finish in New Zealand, where the French Manufacturer claimed its 50th WRC victory and extended its lead in the WRC Manufacturers' Standings.
Loeb and Dani Sordo had been running third and fourth on the last day, but Loeb was closing in on the leaders until he was 15.3 seconds behind with just two stages to go. Keeping the pressure on the Ford runners paid off, and eventually both Citroën drivers were able to capitalise when Mikko Hirvonen and Jari-Matti Latvala hit problems.
"We were aware that this was probably too big a gap to bridge in normal circumstances but we never gave up, and our efforts ended up paying," said Loeb. "It's becoming something of a tradition for the last day of this rally to produce nail-biting finishes!"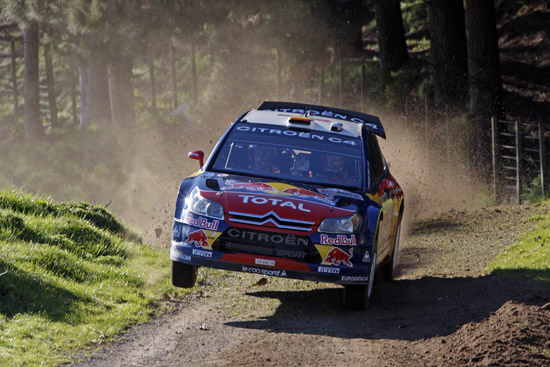 Citroën Sport Team Manager Olivier Quesnel was naturally delighted with the result. "We never tire of saying that victory is never in the bag until the finish line has been crossed, and we saw that once again today! Everyone in the team responded perfectly to the way the weekend unfolded and that put our two crews in a strong position going into the last day. That in turn enabled them to push their rivals into making mistakes."
Citroën's first win came on Rally Catalunya in 1999 where Philippe Bugalski and Jean-Paul Chiaroni won in the Citroen Xsara Kit-Car. Loeb and Elena have claimed 44 of the manufacturer's 50 wins, making themselves World Rallying's greatest ever driver/co-driver pairing.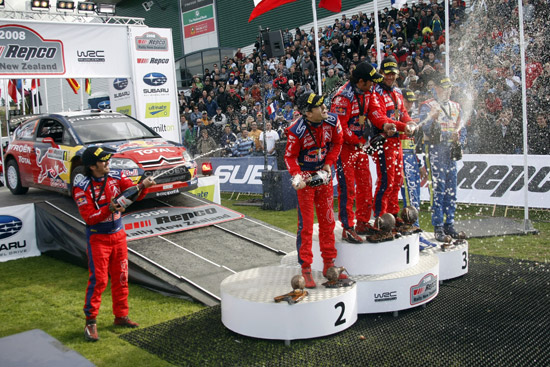 Final leaderboard on 38th Repco Rallye New Zealand*
| | |
| --- | --- |
| 1. S. Loeb/D. Elena (Citroën C4) | 3h59 min 18.9 s |
| 2. D. Sordo/M. Martí (Citroën C4) | + 17.5 s |
| 3. M. Hirvonen/J. Lehtinen (Ford Focus) | + 41.5 s |
| 4. P. Solberg/P. Mills (Subaru Impreza) | + 2 min 56.6 s |
| 5. U. Aava/K. Sikk (Citroën C4) | + 3 min 49.8 s |
| 6. PG. Andersson/J. Andersson (Suzuki X4) | + 4 min 31 s |
FIA World Rally Championship Manufacturer Standings after round 11 of 15* 1st Citroën-Total, 141 pts; 2nd Ford, 121 points; 3rd Subaru, 74 pts; 4th Stobart, 51 pts – 5th Munchi's, 22 pts – 6th Suzuki, 20 pts.
FIA World Rally Championship Driver Standings after round 11 of 15* 1st S. Loeb, 86 pts; 2nd M. Hirvonen, 78 points; 3rd D. Sordo, 51 pts; 4th C. Atkinson, 40 pts; 5th JM. Latvala, 34 pts; 6th P. Solberg, 32 pts
*All results subject to FIA confirmation.
Citroen's 50 WRC wins:
Citroen's first win was with Philippe Bugalski/Jean-Paul Chiaroni (Citroën Xsara Kit-Car), on Rally Catalunya, 1999. Since then, the 50 wins have been gained as follows:
44 wins with Sébastien Loeb/Daniel Elena: 16 with the C4 WRC and 28 with the Xsara WRC.
2 wins with Carlos Sainz/Marc Marti: Turkey, 2003 (1st win on gravel for the Xsara), and Argentina 2004.
2 wins with Philippe Bugalski/Jean-Paul Chiaroni: Catalunya and Tour de Corse, 1999 (Citroën Xsara Kit-Car).
1 win with Jesus Puras/Marc Marti: the Citroën Xsara WRC's first World Championship win (Tour de Corse, 2001).
1 win for François Duval/Sven Smeet (Australia, 2005).
Citroën Sport currently holds the record for the highest number of WRC wins in a single season: 11 (2005). For information, Lancia took 10 wins in 1988.
Citroën World Rally Championship titles
Manufacturers': 2003, 2004 and 2005.

Drivers' (with Sébastien Loeb/Daniel Elena): 2004, 2005 and 2007 (plus 2006 with the Kronos-run Citroën Xsara WRC).
Wins per manufacturer since 1973, the inaugural year of the Manufacturers' Championship
Lancia 74 wins Ford 67 Citroën 50 Peugeot 48 Subaru 47 Toyota Mitsubishi 34 Audi 24 Etc.