Podium for Loeb in Finland
The short third and final leg of the 2009 Rally Finland failed to change anything at the sharp end of the leaderboard. Having figured in second place since Friday morning, Sebastien Loeb and Daniel Elena completed the event in the same position to keep their chances of defending their 2008 world title very much alive. Dani Sordo and Marc Marti came fourth to collect valuable points for Citroen which continues to top the provisional Manufacturers' standings.
The menu of Rally Finland's last leg featured less than 50km of competitive action and turned out to be a little less frantic than the first two days of the event had been. The programme included four stages with no service halts, beginning with Hannula, followed by two visits to Myhinpaa, and ending with the classic televised Ruuhimaki test to round off the weekend.
Despite the short competitive distance to be covered, both Citroen Total World Rally Team crews took their mission perfectly seriously, although Sebastien Loeb produced a slight adrenaline rush within the team when he dropped 10 seconds in one chunk on Hannula. "I was a little slow to wake up," he quipped. "We've got no chance of winning under normal circumstances and I was a bit too cautious to begin with."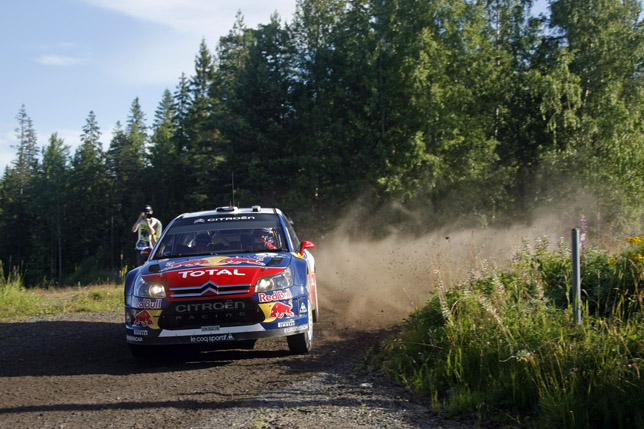 The five-time World Champion responded on Myhinpaa 1, however, to claim his seventh fastest time of the rally. Indeed, the Citroen Total World Rally Team C4 WRCs posted a one-two on this stage thanks to Dani Sordo: "The team has naturally asked me not to take any risks, but I'm still pushing quite hard in order to keep the pressure on Latvala. You never know""
Following the mid-morning regroup, the second attempt at the Myhinpaa test saw the rally enter its closing stages, and Sebastien Loeb was swift to congratulate Mikko Hirvonen on his win at the end of Ruuhimaki: "I would have preferred to have won, but there was little I could do about the result this weekend. Mikko put in a flawless run on his home event after being on the limit from start to finish. We've dropped another two points in the title chase, so it looks like it's going to be a close-run thing to the end."
Dani Sordo, who finished just shy of the podium, was positive in his analysis of the weekend: "It's a shame we didn't manage to hold on to third place, but there were times when we succeeded in rivalling with the drivers who were fighting for victory. More than anywhere else, experience is vital here in Finland and I feel I progressed to a higher level on this year's event."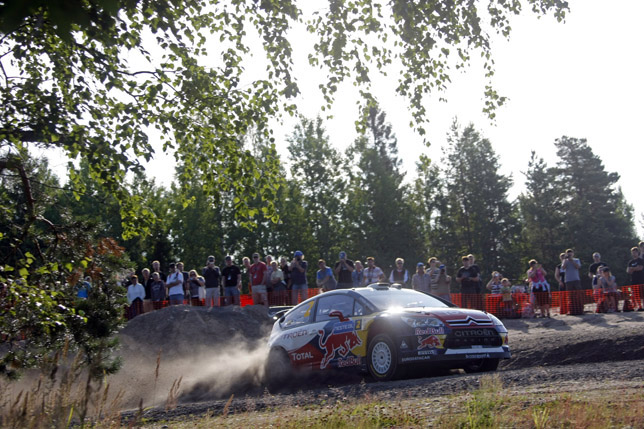 "Of the four rounds which remained ahead of this weekend, this is the one we feared the most," wwwits Citroen Racing Director Olivier Quesnel. "I think it's fair to say that we were beaten by the best man on the day. Seb and Daniel's performance cannot be faulted, however, while Dani's result means that we have only dropped three points in the Manufacturers' standings. We still enjoy an enviable lead of 14 points. I would also like to congratulate Martin Prokop who has succeeded in securing the C2 Super 1600's second consecutive crown in the JWRC."
Stage wins
Day 1 - SS1 : Sébastien Loeb (Citroën C4) - SS2 and 3 : Mikko Hirvonen (Ford Focus) - SS4 and 5 : Loeb - SS6 and 7 : Hirvonen - SS8 to 10 : Loeb.
Day 2 - SS11 to 1 5 : Hirvonen - SS16 : Jari-Matti Latvala (Ford Focus) - SS17 : Hirvonen - SS18 : Latvala and Ogier - SS19 : Latvala.
Day 3 - SS20 : Latvala - SS21 : Loeb - SS22 and 23 : Latvala.
Best performers - Hirvonen, 10 fastest times - Loeb, 7 fastest times - Latvala, 6 fastest times including 1 ex eequo - Ogier, 1   fastest time ex eequo.
Leader - SS1 : Loeb - SS2 to 23 : Hirvonen
| | | |
| --- | --- | --- |
| Final provisonal leaderboard | | |
| 1.Hirvonen / Lehtinen | Ford Focus | 2h50'40"9 |
| 2. Loeb / Elena | Citroen C4 | +25"1 |
| 3.Latvala / Antilla | Ford Focus | +49"9 |
| 4.Sordo / Marti | Citroen C4 | + 1'06"1 |
| 5.Rantanen / Lukka | Ford Focus | +4'18"2 |
| 6.Ogier /lngrassia | Citroen C4 | +4'18"5 |
| 7.Ketomaa / Stenber | Subaru Impreza | +5'07"5 |
| 8.Wilson / Martin | Ford Focus | +6'33"6 |
| 9.Al Qassimi / Orr | Ford Focus | + 12'57"3 |
| 10.Hanninen / Markkula | Skoda Fabia | + 14'13"7 |