Lotus Developing Hybrid Drivetrain for Motorsport
Lotus Engineering, the world renowned automotive consultancy division of Lotus is collaborating with Oaktec to develop the performance of a Honda Civic Hybrid for stage rallying and circuit racing.
Recognised as a global leader in hybrid and electric vehicle development, Lotus Engineering is supplying technical expertise to Oaktec in developing racing technology that exploits the performance potential of the petrol electric Honda hybrid system. The Honda Civic Hybrid will compete on the racetrack with ultra low exhaust emissions and high fuel efficiency.
Lancashire based Oaktec, a specialist in energy efficient vehicle design, approached Lotus Engineering to investigate areas of battery and system control technology that enable maximum racing performance and efficiency from the hybrid drivetrain. The collaboration is in partnership with Energy Efficient Motorsport (EEMS), Motorsport Development and Honda UK. The project has won funding from the Northwest Regional Development Agency (NWDA).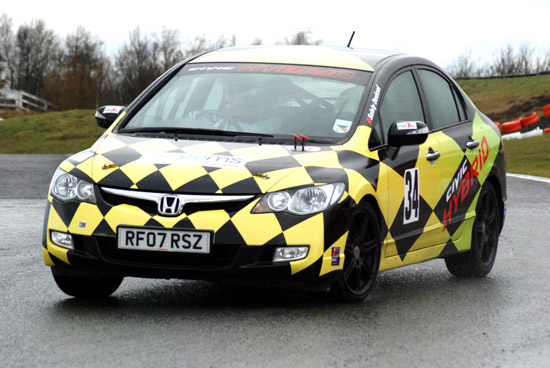 Mike Kimberley, Chief Executive Officer of Group Lotus Plc said: "Lotus Engineering has an enviable track-record in the global automotive industry for the successful delivery of hybrid vehicle programmes, applying advanced technologies on the road and now on the racetrack. Our dedicated Hybrid and Electric Vehicle Technologies Group is working on a large number of third party client projects and the collaboration with Oaktec is yet another demonstration of our advanced skills and expertise in the area of hybrid vehicle engineering."
The environmentally friendly Honda IMA hybrid technology used on the Honda Civic Hybrid is ideally suited to a motorsport application and has further potential to enhance power whilst retaining high fuel efficiency. The 1339cc Civic uses a Continuously Variable Transmission (CVT) to complement the hybrid-drive in race and rally conditions. This CVT enables the car to be driven at constant full power making performance very accessible, and in tandem with the hybrid system gives excellent performance and efficiency.
Paul Andrews, Senior Partner of Oaktec said: "We have been developing the Honda Hybrid system for motorsport since 2004 and achieved a great deal of success in rallies around the UK, including a championship win in 2006 with a Honda Insight in the F1000 Class A Championship. Maximising racetrack performance from a hybrid drivetrain is a complex technical exercise but one that Lotus Engineering has the experience and expertise to help us deliver. We look forward to seeing our success on the rally tracks replicated in the race circuits. We will be breaking new ground with the project when Gavan Kershaw of Lotus Engineering and Jamie Corstorphine of Autocar magazine will race our Honda Civic Hybrid for the first time in the Dunlop Max Sport Cup at Rockingham circuit on 28th September."
Phil Barker, Chief Engineer of Hybrid and Electric Vehicle Technologies at Lotus Engineering said: "Hybrid and electric vehicles are already established on our roads but to make them successful on the racetrack, a number of technical changes have to be employed. Working with Oaktec, we will create a revised electrical specification for more power and a control system that will allow a more aggressive regenerative braking strategy. Lotus Engineering's work on the Honda Civic Hybrid will prove that you can still get high performance while using green technologies."