Mark Gamble cruises to victory at Suzuki Tempest Rally
Mark Gamble, who claimed the inaugural Suzuki Swift Sport Cup championship crown at the Trackrod Rally in Yorkshire, capped off his season with a fourth win at the last round of the one-make series at the Suzuki-sponsored Tempest Rally in Aldershot, Hamsphire, at the weekend.Gordon Nichol went fastest in the RC3 (Swift Sport Cup) class on the first stage, but this was shortlived as Gamble, the Wolverhampton-born champion, took back the lead on stage two at Ash, finishing sixteen seconds ahead of the Scottish driver and twenty seconds ahead of Dane Niki Bjerg in second place. Paul Denning, one of two celebrity entries, fell victim to the day's wet and treacherous conditions, becoming the first of three to retire in the class, the same fate suffered by drivers Ross Forde, and EVO magazine journalist and rally novice, Henry Catchpole.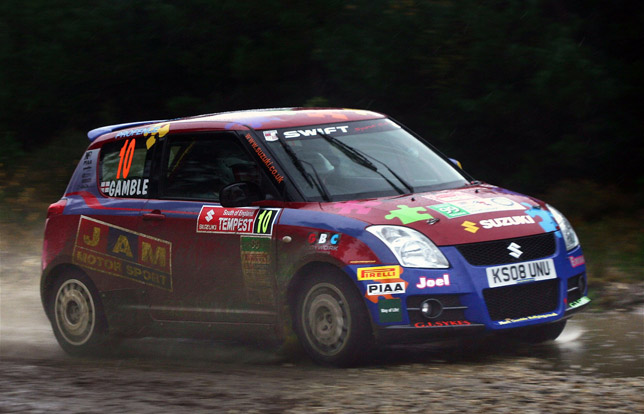 As Gamble's run of fortune continued, with drives that consistently topped the timesheets, it was all to play for further down the order with Dane Niki Bjerg and driver Nick Rowland fighting for the Junior Cup win and a place in the prestigious Pirelli Star Driver Award. Rowland looked to have wrapped up the title, thanks to a stellar drive in the morning's stages, but a hydraulics failure let him down after lunch, which passed the position back to Bjerg who held on to take the Junior Cup and a nomination for the Pirelli award.
Rizla Suzuki MotoGP rider, Loris Capirossi, competing in the second celebrity car in both his first ever rally at the level of the Swift Sport Cup, and on a gravel surface, put in a strong drive that brought him to within four seconds of the leader in only his fourth ever stage. Despite losing time in the closing night stages, a consistent and solid performance throughout the day was enough for Capirossi to overtake Nick Rowland to finish on the third step of the podium behind Niki Bjerg.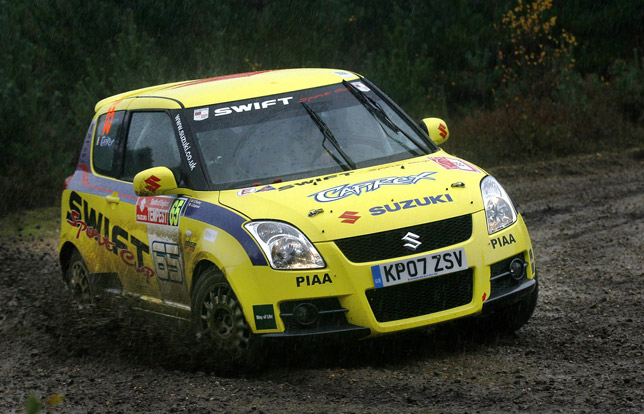 Commenting on the final round of the 2008 Swift Sport Cup series, Ian Phillipson, Championship Manager, said: "It was an exciting finish to the season in what were very tough conditions, but the drivers gave it all that they had, and put on a great show for the spectators. It has been a very encouraging inaugural year for the new championship, and we are already looking forward to 2009 which is set to produce plenty more action, and another close fight for the title."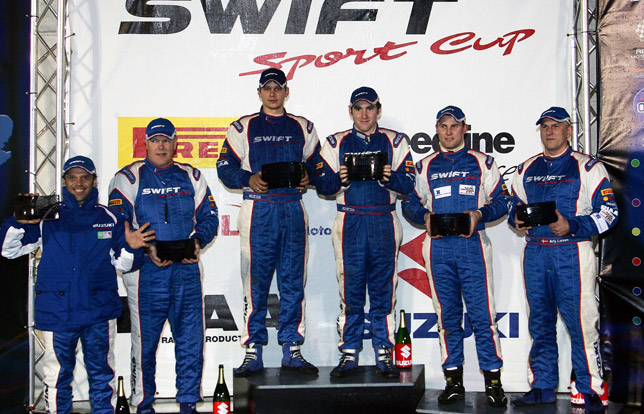 The results at the Tempest Rally:
1 Mark Gamble/Steve Link 1h 01m 39s (1st in class/6th overall) 2 Niki Bjerg/Arly Larsen + 0:04 (2nd in class/7th overall) 3 Loris Capirossi/Craig Thorley + 0:14 (3rd in class/9th overall) 4 Nick Rowland/Tim Sturla + 0:22 (4th in class/10th overall) 5 Gordon Nichol/Emma Morrison + 0:30 (5th in class/13th overall) 6 Richard Boot/Emma Boot + 8:47 (6th in class/20th overall) 7 Henry Catchpole/Chris Brooks - DNF 8 Ross Forde/Arron Forde - DNF 9 Kenneth Madsen/Carnia Moeller - DNF 10 Paul Denning/Jemma Bellingham - DNF 2008 Swift Sport Cup standings (after 6 of 6 rounds)
| | |
| --- | --- |
| Driver/Co-driver | Points |
| Mark Gamble/Steven Link – JAM Motorsport (2008 CHAMPION) | 96 |
| Gordon Nichol/Jane Nichol/Emma Morrison – GT Rallying | 83 |
| Niki Bjerg/Arly Larsen – Bjergmotorsport.dk | 81 |
| Nick Rowland/Tim Sturla – FX Motorsports | 79 |
| Henry Catchpole/Chris Brooks – EVO Magazine/MSE | 73 |
| Ross Forde/Arron Forde – Global Group Ireland | 69 |
| Richard Boot/Emma Boot | 66 |
Summary of Swift Sport Cup Championship Awards
| | |
| --- | --- |
| 1st Driver: | Mark Gamble |
| 1st Co-Driver: | Steve Link |
| 2nd Driver: | Gordon Nichol |
| 2nd Co-Driver: | Arly Larsen |
| 3rd Driver: | Niki Bjerg |
| 3rd Co-Driver: | Tim Sturla |
| Junior Cup: | Niki Bjerg |
| Dealer Cup: | Monty's Sheffield (Richard Boot) |
| Media Award: | Nick Rowland |
| Spirit Award: | Henry Catchpole |
| PIAA Night Stages: | Mark Gamble |