Matt Kenseth Wins Auto Club 500 To Open Season With Consecutive Victories
JACK ROUSH – owner, No. 17 Carhartt Ford Fusion – "It was awesome. The whole team, really, we had run well here, didn't win the fall race, but we run well here many times and look forward to coming to Fontana. We were really taken aback by how well the Hendrick cars were running throughout practice, particularly the 48 was just awesome. He certainly put a real high mark up there that we had to look at it. As we started the race, I knew that Matt was pretty good because – one of the things about Matt Kenseth, he doesn't practice as well as a lot of people do, as seen by me. He goes looking for the feel he likes in the car and tries to save the car so he doesn't put extra wear and tear on it. So, he reminds me of what I heard, and, of course, David Pearson was before my time, but when I first got involved I was around the Wood Brothers, Leonard and Glen, and they would talk about how David, they could never tell how much car they had until it was time for it to count in the race, and Matt's a little like that. I had a feeling he was going to be a little bit of a surprise to some folks tonight because he had not been up there on the leaderboard in practice, but had said that he wasn't worried that his car had not gone faster in practice, that he felt that he had what he needed, and it felt like it had before when he was able to win. But the 48 had been really fast, and, of course, as it turned out, the 24 was a really good car as well. Greg Biffle and his 3M Fusion was, in the closing stages, from the indication I saw, it looked like he had the best car. He overshot his pit box there, not really going outside the box, but stopped squarely on the air line, and Greg Erwin made a good call by having him back up; he would've been last on the lead lap if they hadn't backed him up when they did. I'm sure they would've had trouble with that air line, getting the right wheel off, with the left-front wheel parked on the air line. So, Greg nissed an opportunity tonight. I know that Carl Edwards was a little disappointed, and David Ragan and Jimmy Fennig will be a little disappointed. Donnie Wingo and Jamie McMurray had a brake problem, that was unfortunate. All of our Fords ran well. As I look at the no-testing program that we're on and not being able to come to this race track and test, it's clearly played to the strength to the people that have had success, it's played to Hendrick's program, it's played to Gibbs' program, with the way that Kyle Busch had run and it played to ours as well."
THAT'S FIVE STRAIGHT WINS HERE IN THE EARLY RACE AS WELL. "I don't expect that to continue. We're hard-pressed to figure out what to do to be more ready. But, my experience is that these things tend to even themselves out, and I just hope that when we have to give back all this success, I'm not here, I'm someplace else."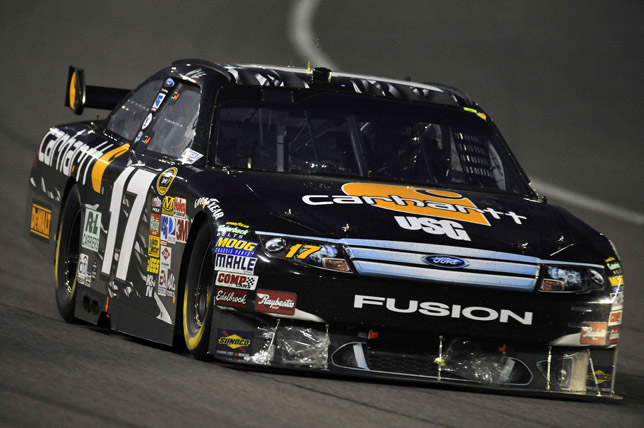 MATT KENSETH – No. 17 Carhartt Ford Fusion – "Just great team, great crew, great, great engines. Just you need everything to go right, really, to win these races. Our car handled really good all day, and we had excellent pit stops. Our fourth one from the end we were a little bit off and I started complaining and then all of sudden they got me three or four spots every stop, so the pit stops were really important to our outcome. Their adjustments were really important. We were a little off, even though we got out in front we run down and passed. I don't even know what they changed.. Drew and Chip came up with changing a couple of things and got it just good enough at the end. It wasn't easy, but it was just good enough to hold them off."
DREW BLICKENSDERFER – crew chief, No. 17 Carhartt Ford Fusion – YOU ARE NOW TWO FOR TWO AS A CUP CREW CHIEF, PLUS YOU WON YOUR FINAL TWO RACES AS A NATIONWIDE CREW CHIEF. CAN YOU TALK ABOUT SOME OF THE STRATEGY HERE TODAY? "I think our car was pretty close from the beginning. He seemed to like it better than he did yesterday. We made our way through the field, but obviously five or six cars, when you're running in the top 10 are the hardest to pass. Thankfully, if not the, one of the best pit crews on pit road, which catapulted us to the front every single time. Because the track was getting dark, it was getting a lot faster. It wasn't great for our set-up, we knew we had to start in the middle of the pack, so we kind of changed some things around to make sure we could get to the front, and when our pit crew got us out front, we ran extremely fast, a second and a half faster than we had run all weekend. So, that was a good thing. We had to adjust our car a little bit when we were in clean air to make sure we could run out front. Matt can drive it on the free side and can do the things we need to do to get the win, so I just kept him free and let him go after it."
JACK ROUSH CONTINUED – WHAT HAS THE 17 TEAM, AND MATT, DONE TO WIN THE FIRST TWO RACES? "Well, Drew has brought magic to the team. His dad was a coach and he played real competitive sports in high school, so he know how to build a team, he knows how to capitalize on the energy within a team and we needed that. We had all the right people with the right skill sets on the team, but we just need somebody to create the magic and Drew has done that. We had the same cars last year, and Matt was the same guy that he was last year – he sure didn't learn anything over the winter because he didn't have the chance to drive these cars as much as normal. I'm celebrating with Drew the fact that – he needed a little help with the champagne. I took a little hit in the Victory Circle because I gave him my champagne bottle, which I had all primed. That's what happened. Drew got me. We'll credit what we've got going for us early here as the Drew factor, and look forward to carrying it forward. But with way that Carl had won and with the way Jamie has been running and the way Greg has won, and way David has been coming, certainly there is an expectation on my part we were going to be fastor in these races until we get to Martinsville, and the guys snuck off to the Little Rock there at Rockingham race track, and that is one of the places where you can go and test a little bit, and we think we even got something for Martinsville that we haven't had before. So, I'm real optimistic about what's going to happen in the first handful of races. The idea of winning Daytona under rain circumstance was a surprise. It caught me totally off-guard. Of course, I was afraid it was going to finish under rain and I was hoping it would win, but I certainly didn't want to read the press and have two rainouts and having one of our guys be the benefactor."
MATT KENSETH CONTINUED – THE LAST 20 LAPS WERE VERY ENTERTAINING. DID YOU THINK JEFF GORDON HAD WHAT HE HAD FOR THOSE LAST 20 LAPS? "I thought he was going to pass. I kind of have a bad habit, I guess, people call me a pessimist, I think I'm more of a realist, but when we took off the run before that we got in the lead and we ran some real fast laps and we left Jeff by 15, 20 car lengths or something like that and in the middle of that run he just ran right by me and took off. Greg would go by me, took off. I couldn't do any better than that.
MATT KENSETH CONTINUED – "I was doing the best I can. So I don't even know if they adjusted, but that got us in the front again, which obviously was a big key to it, and we took off. Right away I could feel it was better, but I didn't think it that much better and I was getting looser as I ran and with as many laps that were left I honestly thought we were going to be too loose at the end and he was going to catch us. I couldn't get away from him that time and then he got right on my bumper and I thought, 'I'm about over,' but I guess they tightened his up a bit and got too tight, and I was able to hang there. These things are real sensitive and they just made the perfect adjustment, and had the perfect pit stop."
JACK ROUSH CONTINUED – WHY HAVE YOUR TEAMS BEEN SO SUCCESSFUL HERE, NO MATTER WHO'S DRIVING OR ON THE CREWS? "It does matter who drives the cars. I'm blessed with having real fast company that let me hang around with them. Looking at Matt Kenseth, it is a fact that Matt Kenseth would not be part of our program I wouldn't have the honor to be involved with Matt, I'm sure, if it hadn't been for Mark Martin. And Mark looked at Matt and Mark has had template set on the driver temperament and really what the nature of our strategies have been at mile-and-a-half and the two-mile race tracks. Those were his needs, and I certainly learned what his interests were and figured out what to give him to be successful, and that's helped us. It takes three things to make these cars win: It takes technology that the manufacturer brings to the table, and in our case that's Ford Motor Company; it takes NASCAR giving you a template set for the body shape and the engine parameters that is competitive; and it takes a driver that can close the deal. And I've been fortunate to have those things. The affiliation with Ford Motor Company has been a big factoring it over the years, and the crew chiefs, like Drew, have prepared the cars ideally and the cars have been driven with great enthusiasm and with great effect."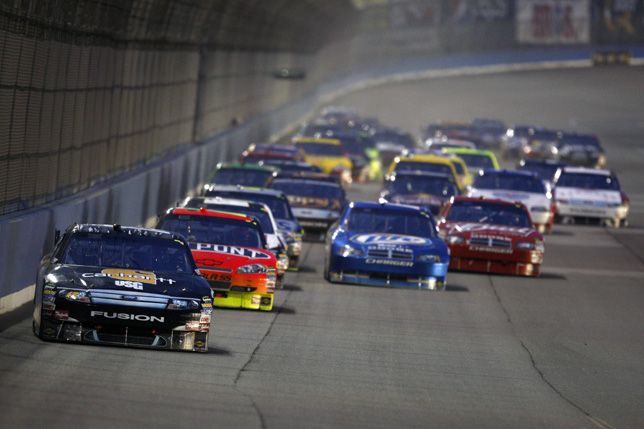 MATT KENSETH CONTINUED – YOU TALKED EARLIER ABOUT GETTING OFF TO A GOOD START AND THAT YOU FELT CONFIDENT COMING INTO THIS RACE. CAN THIS CARRY OVER TO NEXT WEEK'S RACE AT LAS VEGAS? "Yeah, I've thought ahead. I feel real good about Vegas. I felt good about coming here. In a way, I don't think a win will ever be as big in my career as winning the Daytona 500, but in a way this almost feels better. You come here and it's not restrictor-plate racing. You don't need other people's help. Luck's not involved quite as much. And we had to come here and figure out how to beat the 43 teams on speed and strategy and adjustments and all that stuff, and obviously these are the kinds of races that make up the bulk of the schedule and whether you run good or bad at these tracks has more of a determining factor on making the Chase or running for a championship. It feels pretty unbelievable to win the first two races – especially Daytona, to be able to come out of the box and run competitively here. As soon as we got Drew in that spot, about a week later and we talked about it and I had a super-long talk with Chip, everything was cool and we worked everything out, I just had a really good feeling about it. I don't know why, I was more confident coming into this year than I have been in a lot of, lot of seasons. I just feel great about the group we have assembled. Everybody's having fun, everybody's loose and everybody's performing at thye same time. And I think Drew has given the leadership and the start that they kind of need, and Chip has all the extra time to work on the cars and keep up with the engineering and the date and sift through all that stuff, and they've been able to work great together so far."
DREW BLICKENSDERFER CONTINUED – HOW MUCH OF AN INFLUENCE HAS ROBBIE REISER HAD? "Robbie's a huge part. He's ultimately the guy three years ago when I took over the 17 team Nationwide car, I tried to model myself after. When you're across the shop from the 17, you look at him as the ultimate team. I think that even when they didn't win the championship, after 2003 everybody looked at them as that's the team you want to be like – they were the best on pit road, it seemed like they could change a spring faster then everybody else. You wanted be like the 17. And then when I was able to work with Matt on the Busch side, I went and talked to Robbie a lot. I kind of hung around and looked at the way he looked at people and the way he did things, and tried to model myself – a lot of things that Robbie did, the organizational skills, a lot of leadership skills that Robbie did, I tried to mold myself around. So Robbie's an extremely large part. He's pulled me aside probably three times this week when I was at the shop and talked to me about a lot of different things: 'Okay, this is a long season. This is what you need to look for.' So, it's huge to have Robbie Reiser 60 feet away from your office every day that you can go ask questions to."
MATT KENSETH CONTINUED – WHY DON'T YOUR TEAM MAKE MISTAKES ON PIT ROAD LIKE SOME OF YOUR COMPETITORS DO. "I don't know. We're just able to make the right adjustments. I think as far as the 24, they said they got too tight. I don't think that you could ever fault a team for staying on top of the car, even when you're leading. You've got to keep up with the track conditions and your changing car. I know earlier in our car we lost a few races from leading and not adjusting enough; man, we're so good we're afraid to touch it and get beat. You never know. You always do what you think is right, and try to get a little bit better and the pit stop was part of it. Their adjustmets, like I said, they didn't tell me what they were, and I'll do a little espionage a little later and find out. But, I didn't even care what they were, but to figure out what I needed my car. As far as pit road goes, there's a lot that goes into it and we work real hard at it and we have a group that has the timing just right, and, like I said, there's a lot that goes into that from the car gets to pit road to the time it gets on the race track, and it's just something that we've always worked hard on."
JACK ROUSH CONTINUED – WHAT KIND OF PSYCHOLOGICAL BOOST HAVE YOU POTENTIALLY GIVEN DEARBORN (HOME OF FORD MOTOR COMPANY) BY WINNING THE FIRST TWO RACES? "One of the things that's been an historical benefit of winning stock-car races, NASCAR is stock-car races, you got the manufacturers involved in the '60s and the '70s, for sure, was they were able to quantify if they won on Sunday, the sold on Monday, and I was on Eli Gold's show Tuesday night and Eli told me that he talked to a friend of his in Bessemer, Alabama, that had a dealership, Town and Country Ford, and they had sold two cars that were Roush Performance cars, niche market cars, that we had modified for them, on Monday. People came right in and said, 'We've got to have this Roush modified car.' So, the Ford people are really excited about the success we're having on the race track. I heard from Bill Ford. I heard from a number of vice presidents throughout the company that reached out to contact me. I heard from Edsel Ford. I heard from twoof the heirs from Henry that are active in the company. The glass is definitely more than half full with Ford Motor Company right now. They've got a couple of great products coming in from Europe that'll be here in 18 months. They're not out of cash. They're not out of line in regard to the number of dealers. It's a tough economy for anybody who sells any manufactured product or does the service in our economy. But, the glass is more than half full at Ford right now and we're just adding some more good news for them."
GREG BIFFLE – No. 16 3M Ford Fusion (finished 4th) – "This was a pretty fast car. I just screwed it up. Trying to get greedy. You know, it was so hard to pass out here, and I was hoping to beat the 24 out and I was trying to give my guys every advantage I could. I stopped in the box, I wasn't out of the box, but the guy pulled the hose around, and we had this problem before. It's just me stopping too deep in the box and caught them off-guard and ran over the hose. And this box is super-long anyway. But they didn't do anything wrong, it was my fault."
CONVENTIONAL WISDOM SAYS THAT THIS RACE IS THE BEST INDICATOR EARLY IN THE SEASON TO GIVE TEAMS AN IDEA OF WHAT THEY COULD HAVE FOR THE YEAR. THAT'S GOT TO BE A GOOD FEELING FOR YOU. "Yeah, they're [in trouble] if this is the kind of car I'm going to have all year. This thing was fast. Unbelievable. Unbelievable. I don't know how I'm going to sleep tonight. I'm just sick to my stomach, man, it almost brings tears to my eyes to know that I let the guys down like I did. When you you've got a car like that, it sucks to not win, and it sucks that it's your fault. If they'd have dropped a lugnut or something, it wouldn't have been a big deal. But, when it's your fault, it's really hard."
BUT YOUR CREW MEMBERS WERE QUICK TO TELL YOU HOW WELL YOU DROVE. "They were. The guys know I'm feeling bad, but they're trying to keep me cheered up for next week. They know we can win at Las Vegas. I'll keep working on it. I'm just mad because it always seems like I make a mistake, a little mistake here or there. I got in a little hot during qualifying and probably could've been on the pole – maybe. Just little stuff. I'm too hard on myself, probably, I guess."
CARL EDWARDS – No. 99 Aflac Ford Fusion (finished 7th) – "They made a good job of making it better from yesterday – it was terrible, it was about 25th place, so that's a good finish for us. It's not what we wanted but it's okay."
DAVID RAGAN – No. 6 UPS Ford Fusion (finished 17th) – "I thought we had a top-10 car all night. We had a bad pit stop on the green flag stop and I got into the wall and we just had some bad circumstances tonight. We got a lap down and couldn't ever rebound. At times we had a top seven or eight car, but when you get that far behind and you don't have many cautions to catch back up, it just made for a tough night. But our UPS Ford team did a good job in the pits and if we just would have had a caution or something fall a littler earlier, we could have gotten the 'Lucky Dog'. I think we still could have finished 10th or 12th, but it was still a decent effort."
TRAVIS KVAPIL – No. 28 Farmers Insurance Group Ford Fusion (finished 18th) – "I actually had a pretty good car this weekend. Obviously, we had a misfortune in qualifying with the splitter falling apart there. But, overall, the car was pretty good. One run throughout the race we got the car too loose, lost a bunch of spots and guys were able to get passed me, and that was the run we lost our lap, and we never could really make it up from there. We were a lap down from that point on, but overall we had a really good car, made the right adjustments throughout the day. It was pretty decent. We're happy with the finish, especially after not coming out of Daytona real well. So, I'm real proud of my team."
BOBBY LABONTE – No. 96 ASK.com Ford Fusion (finished 20th) – "I learned a lot tonight. You know, we didn't come and test, we haven't been anywhere to test yet, so we weren't sure. I feel good about the room to improve, just because this was our first go at it. I improved as the night went on. This car just drives different, and I don't know what I want to call for when it comes time to make it feel a little bit better. I messed up yesterday, got back a little bit today. It's all improvements throughout the weekend. Without making a lap in it on the race track, I'm excited that we have some great people to rely on, good feedback, and I'm just excited about the changes we can make to make it better."