Mazda6 Diesels Going After Speed Records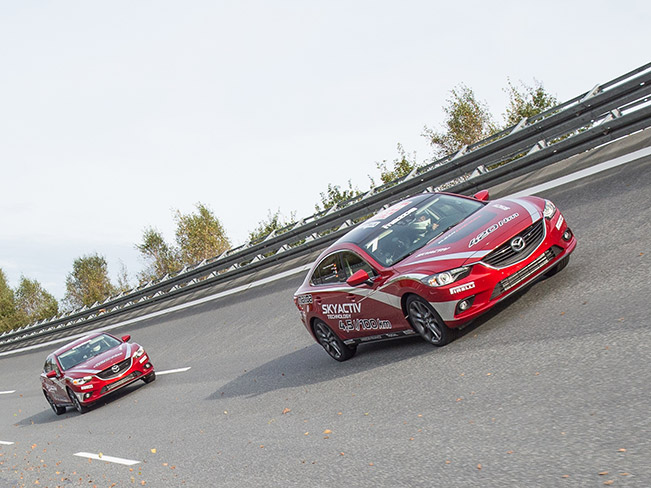 Throughout the year Mazda has made some exceptional achievements by setting 2- FIA speed records. Powered by 129kW/175ps SKYACTIV-D 2.2-litre clean diesels engines, three of the Mazda6 flagships finished a 24-hour marathon run on the high-speed truck this Sunday in Papenburg, Germany. Their front car reached an average speed of 137.37mph. Followed closely by the other two, the three Mazda6 diesels were separated by just 0.55mph of average speed. The great accomplishments by Mazda do not stop here. The difference between this result and the present-day record for production cars running on diesel (2.0-2.5 litre displacement) is quite spectacular for the current record is 130.38mph. Each of the cars set several other average speed records over different distances.
In relation to this, Mazda's award-winning SKYACTIV-D clean diesels include a 14:1 compression ratio which considered to be the world's lowest ratio in a diesel power plant. The strong desire and quests for those engines have not ceased to be present around since the very first day of the use of the the power plants. They are incorporated in the Mazda CX-5, Mazda6, all-new Mazda3 and will be used as well in the brand new Mazda2 (the last one will have a new SKYACTIV-D 1.5 with 14.8:1 compression).
Driven by 23 drivers from seven EU countries, for the 24-hour period of time, the cars covered more than 3293.3 miles. Professionals as well as journalists took part in this truly exciting event. During their 1.5-hour stints behind the wheel, the drivers were not permitted to follow in the slipstream a car at the front. Moreover, in order to avoid losing speed, they had to drive with extreme care in the abruptly banked curves at the ends of the oval.
Source: Mazda