MAZDASPEED Motorsports At PRI
The number one brand in road racing went to the countries biggest motorsports trade show to make a number of early announcements for the 2009 season.  MAZDASPEED executives gathered at the annual Performance Racing Industry show to share updates on a half-dozen topics. 1. Dyson Racing to field a pair of BP liveried Mazda MZR-R powered Lolas in the 2009 American Le Mans series.
2. 2008 Star Mazda Champion John Edwards signs with Newman Wachs for the 2009 Cooper Tires Atlantic Championship.
3. 2008 SCCA Pro Racing Playboy MX-5 Cup Champion Eric Foss signs with Tri-Point Motorsports for the 2009 SPEED World Challenge Touring Car Championship.
4. Racers Edge Motorsports signs Dane Cameron for the full 2009 Grand-Am season.
5. SpeedSource signs Jonathan Bomarito to join the #70 Castrol Syntec RX-8 team for the 2009 Rolex 24 at Daytona.
6. Team MER Mazda MX-5 drivers Jason Saini, Charles Espenlaub, and Charlie Putman recognized for winning the NASA 25 Hours of Thunderhill this past weekend.  The team took both the ES class AND OVERALL win against a field that included Corvettes, Porsches, BMWs, and even a Daytona Prototype.  This completed a unique triple crown for Mazda having already won the GT class at the Rolex 24 at Daytona and the overall win at the 24 Hours of Nelson Ledges earlier in the year.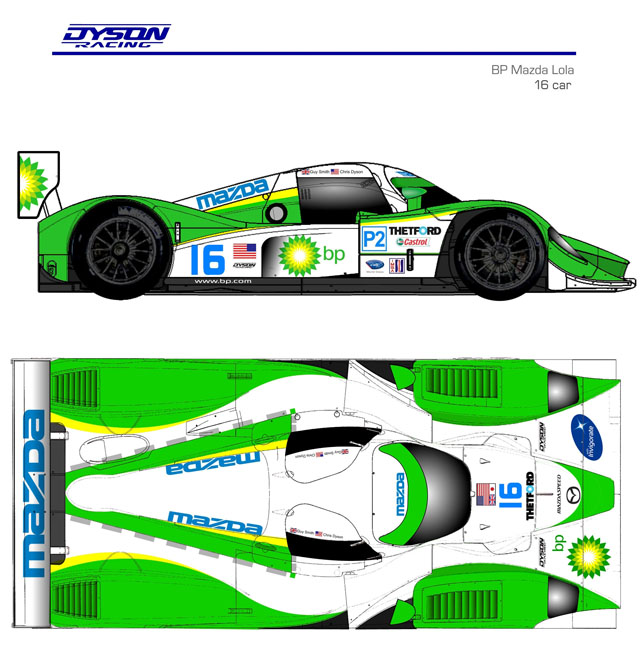 Dyson Racing doubles Mazda effort in American Le Mans.  Dyson Racing will field a pair of Lola B08/86 Mazda MZR-R coupes beginning with the season opening 12 Hour of Sebring in March.
"There is no other car company that is actively involved in as many levels of motorsports as Mazda, noted Dyson Racing Vice President and Sporting Director, Chris Dyson.  They are able to infuse each car they make with this spirited performance. To be part of this tradition is an honor.  Their culture, their way of doing business and their values are hand and glove with ours.  This is a partnership that felt very natural from the very beginning and we are proud to be part of the Mazda family."
Robert Davis, Senior Vice President, Product Development and Quality, and the man responsible for Mazda's North American motorsports operations under the MAZDASPEED Motorsports Development banner echoed the feeling noting "We're excited that the Dyson team is coming onboard.  It was clear in the preparations they are making leading up to the announcement that they have a family mindset that will fit in well with the Mazda family of racers and teams.  We're expecting big successes together."
Driver line-ups will be announced at a later date.
Ladder Advances - Mazda is pleased to see two of their 2008 Champions announce their 2009 teams.  The MAZDASPEED Motorsports Development Drivers Ladder promotes drivers in key Mazda powered series with a sponsored ride in the series above.  After a variety of tests, meetings, and careful considerations, both John Edwards and Eric Foss feel confident in their team choices for 2009.  Edwards has signed with Newman Wachs for the Cooper Tires Atlantic Championship and Eric Foss will race with Tri-Point Motorsports in the SPEED World Challenge Touring Car Championship.
More Promotion From Within - Mazda RX-8 Grand-Am teams promote from the Atlantic Championship grid.  Jon Mirachi, Owner/Team Manager, Racers Edge Motorsports announced that 2007 Star Mazda Champion Dane Cameron will team with Doug Peterson for the full 2009 season.  Mirachi noted that, "As a team that has been part of the Mazda ladder system since 2001, it is fantastic to have two drivers on board for the 2009 season that have been part of that system as well. Dane is a genuine young talent, among the best I've seen and Doug is both experienced and quick, so the two of them will enable our Rolex program to reach the next level. I couldn't be more excited and we've never had a better opportunity to help Mazda win the Rolex GT manufacturers championship."
Sylvain Tremblay, Owner/Driver, SpeedSource needed a fourth driver to join his team for the Rolex 24 at Daytona as the team prepares to defend their 2008 race win.  In November the team tested four Mazda ladder drivers; Jonathan Bomarito, Ben Devlin, Joel Miller, and Jason Saini before giving the nod to Bomarito.
Tremblay reported that, "It was a good problem to have, four talented, fast Mazda drivers, any of them could have done the job.  We are so excited that Jonathan was selected, his attitude was great and he knows how to be patient, which is so important at Daytona.  He was an immediate fit with the team and now we are focused in defending our win from last year.  Mazda and Castrol have given us all the tools to be successful, now we just need to execute.  The crew has been working out and doing pit stop practice outside of work hours, they are more dedicated than last year, and as a team owner I cannot ask for much more than that!"
Still to come - The BFGoodrich/Skip Barber National Presented by Mazda karting shootout.  On December 27-29, up to fifty karting champions will compete in a three-day shootout with one winner receiving a full-season in the 2009 Skip Barber Nationals.
NOTE:Â  Individual press releases will be issued in the days ahead from the individual teams, with additional announcements from Mazda planned for the American Auto Racing Writers and Broadcasters All American Team Gala on January 10th.
On any given weekend, there are more Mazdas on the road-race tracks of America than any other brand of vehicle.  At the track, you'll see MX-5 Miata, RX-8, MAZDA3, MAZDA6, RX-7 and other vintage Mazda models competing, because every Mazda has the Soul of a Sports Car.  In fact, the largest road-racing class in the U.S. is the SCCA's Spec Miata class, with nearly 1,500 first- and second-generation Miatas tearing up America's racetracks, making it the most-raced production car in the world.  Mazda's involvement in motorsports extends to its relationship with Mazda Raceway Laguna Seca, one of the world's premier road-racing circuits, and the Skip Barber Schools for driving and racing.
Headquartered in Irvine, Calif., Mazda North American Operations oversees the sales, marketing, parts and customer service support of Mazda vehicles in the United States, Canada and Mexico through nearly 900 dealers.  Operations in Canada are managed by Mazda Canada, Inc., located in Ontario, Canada, and in Mexico by Mazda Motor de Mexico in Mexico City.