McLaren 12C GT Sprint - Track Package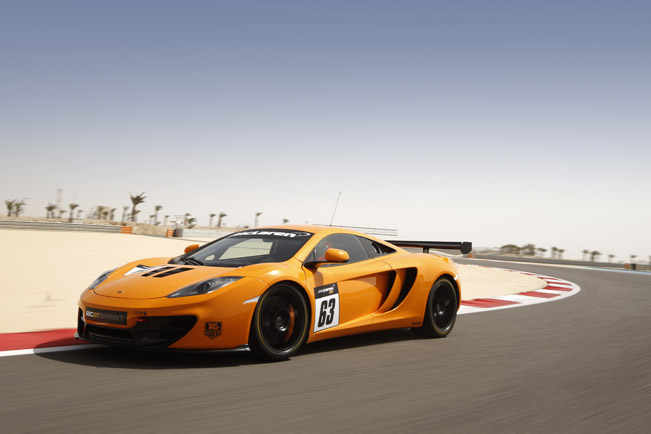 McLaren has announced the 12C GT Sprint, designed to offer further enhanced handling through optimised aerodynamics and track focus. The special model comes with a number of upgrades offering more driving pleasure during track days.
The model bridges the gap between the 12C and the all-out racing 12C GT3. The 12C GT Sprint comes with optimised aerodynamic and cooling upgrades. There is a more aggressive front bumper, GT3-inspired bonnet with radiator exit ducts and front wing louvres. Lowered by 40 mm, the 12C GT Sprint is fitted with track-focused braking system with carbon ceramic (CCM) brake discs. Tyre changes are made easier through an on-board air jacking system and centre-locking 19" OZ wheels, shod with Pirelli racing slick tyres.
The interior boasts FIA-approved rollcage and integrated fire extinguisher system. A fully adjustable HANS-approved, lightweight composite racing seat fitted with full six-point harness provides the optimum driving position, while an air-conditioning system is retained, albeit a lightweight version, offering added comfort.
A carbon fibre dash houses the race developed digital display and key vehicle controls which interface with a McLaren GT developed steering wheel.
Further enhancements are available through a range of bespoke options including a CFD (computational fluid dynamics) developed aerodynamic package including carbon fibre rear wing and front splitter, and further lightweight components including a polycarbonate windscreen.
The 12C is powered by a twin-turbo 3.8-liter V8 engine that produces 625HP (460 kW) at 7,000RPM and a peak torque of 600Nm (442 lb-ft) at 3,000RPM. It is mated to a 7-speed dual-clutch gearbox. 0-100 km/h in 3.1 seconds and a top speed of 329 km/h (204 mph).
The price will be below £200,000.
Source: McLaren