Menu and Huff Conquer Two Podiums in BRNO's Battle
The Chevrolet boys obtained the seventh and eighth podium positions of the season, quite an achievement in a track were rear-wheel drive cars were clearly advantaged. The two third positions scored by Alain Menu (in the first race) and by Rob Huff (in race 2) confirm the team's strong form in this year's championship. Rob Huff is now fourth in the drivers' overall standings.
Alain Menu's podium came after a clever drive of the Swiss, who made a great job preserving his tires in a track which is extremely demanding in this respect. The second race was one of the most exciting and hardly-fought in WTCC's history, with a group of eight drivers fighting hard for second position. A superb show, where nobody could keep a count of the number of contacts, pushes and hits received and given, from which Rob emerged brilliantly.
Nicola Larini had a hard week-end, having to cope first with difficulties finding the good set-up, then with a sanction to the back of the grid for not wearing non homologated race wear and finally with the incredibly hectic race conditions.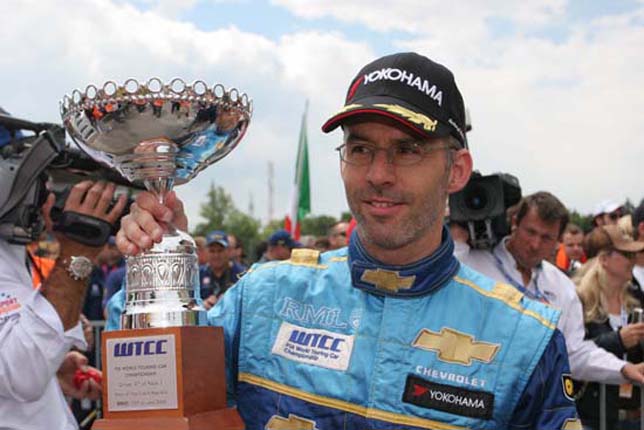 QUOTES
Alain Menu (3rd/7th): "I am happy with the podium finish in Race 1, I actually think it was one of my best drives this year. Despite my position in first row, there was little I could do at the start of race 1 against the rear-wheel drive. In the first laps, I was very cautious not to kill my tyres and this paid off. I have been able to keep the pace of the two BMWs in the front and use their stream, and keep my position. Race 2 was just crazy, the only thing I can say is that I could have opted to victory if I hadn't been pushed out in the fight".
Rob Huff (9th/3rd): "My first race was unfortunately ruined in a contact, my steering got bent and I had to concede several positions. The afternoon race was quite lively, as everybody could see. It's impossible to tell what happened, there was so much going on at every corner and cars all over the place! I had a good start, then it was hard fighting during the entire race, at some point I was hit and lost my rear bumper and four places but was able to catch back, keep the car out of trouble and finish third. I am happy with the result: it means some good points and a fourth position in the championship."
Nicola Larini (11th/12th): "It wasn't a good week-end at all, from the beginning until the end! In the first race I could finish 11th despite being at the very back of the grid, thanks to my experience. Race 2 was like a rodeo, I cannot understand how some drivers behave... It's a pity because I was keeping the pace of Rob, before being hit a number of times".
BRNO RACE 1 RESULTS
1. A Zanardi BMW 320si 10 laps in 21m55s769
2. F Porteiro BMW 320si + 0s825
3. A Menu Chevrolet Lacetti + 1s707
4. A Farfus BMW 320si + 9s476
5. J Müller BMW 320si +12s184
9. R Huff Chevrolet Lacetti + 17s842
11. N Larini Chevrolet Lacetti + 25s390
BRNO RACE 2 RESULTS
1. G Tarquini SEAT Leon TDI 10 laps in 22m04s109
2. A Zanardi BMW 320si +0s360
3. R Huff Chevrolet Lacetti +5s410
4. A Farfus BMW 320si +5s718
5. F Porteiro BMW 320si +8s192
7. A Menu Chevrolet Lacetti +12s143
12. N Larini Chevrolet Lacetti +17s818
DRIVERS POINTS STANDINGS AFTER RACE 10 OF 24
1. G Tarquini (SEAT), 58 points; 2. Y Muller (SEAT), 42; 3. R Rydell (SEAT), 37; 4. R Huff (Chevrolet), A Priaulx (BMW), 33; ...9. A Menu (Chevrolet), 22;... 11. N Larini (Chevrolet), 19;...
MANUFACTURERS POINTS STANDINGS AFTER RACE 10 OF 24
1. SEAT, 137 points; 2. BMW, 116; 3. Chevrolet, 98; 4. Honda, 18.