Mercedes-Benz C63 AMG vs V8 Supercar vs Red Bull F1 at Melbourne [video]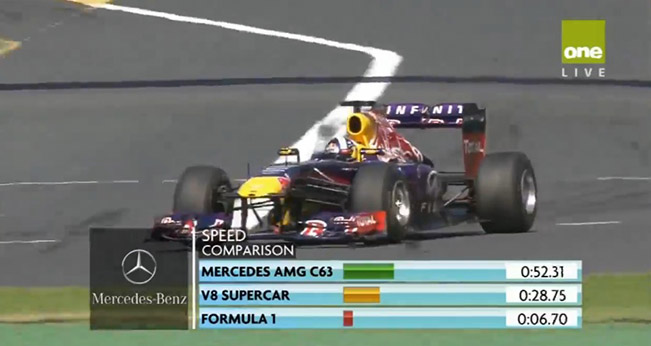 Everybody knows that Formula One cars are extremely fast, but the ultimate way to tell people is to show them the real speed of an F1 race car. So, a Mercedes-Benz C63 AMG, V8 Supercar and a Red Bull F1 car raced at the Melbourne circuit before this year's Australian Formula 1 Grand Prix*.
The C63 AMG is driven by Mick Doohan, a V8 Supercar by Steven Richards and a Red Bull RB7 (from 2011 season) by David Coulthard. Of course, the three cars don't start simultaneously. The C63 AMG is the first to take off and followed roughly 24 seconds later by the V8 Supercar and by another 22 seconds by the Red Bull F1.
Although the road car had 46 seconds advantage over the F1, it didn't win the race. Instead, the Red Bull F1 crossed the finish line first with a time of 1 minute and 41.2 seconds, while the V8 Supercar needed 2 minutes and 4 seconds and the C63 AMG did it in 2 minutes and 27.9 seconds.
*Race starts at 5:33
Enjoy!