Mercedes-Benz Fashion Week Berlin Spring/Summer 2009: The 'Mercedes' – a new star shines over the fashion world
As part of Mercedes-Benz Fashion Week Berlin Spring/Summer 2009, the ELLE Fashion Star award, the 'Mercedes,' will be conferred for the first time on July 19, 2008. The new award will honour exceptional personalities in the international fashion scene in three categories: Platinum, Best Collection and Newcomer. In an extraordinary fashion show, top international models will present fashions exclusively designed for ELLE as well as selected favourites of renowned designers including Chanel, Armani, Ralph Lauren, Calvin Klein and Jil Sander.
"We're delighted to be able to add another highlight to Mercedes-Benz Fashion Week Berlin as part of the ELLE Fashion Star event," says Dr. Olaf Gottgens, Vice-President Brand Communications Mercedes-Benz Cars. "Our aim with the 'Mercedes' award is to honour extraordinary contributions to international fashion design while emphasizing the perfect match of Mercedes-Benz and fashion."
"I'm proud of the fact that these great designers are appearing together on one runway in our honour," says Sabine Nedelchev, Editor-in-Chief, ELLE Germany.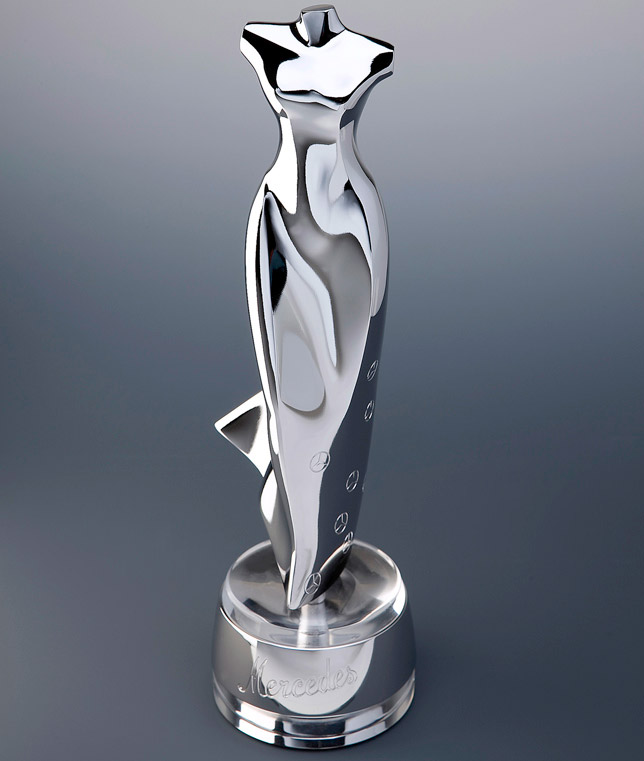 Mercedes-Benz design language behind artistic statuette
The Mercedes statuette brilliantly embodies the affinity between fashion and automotive design. Made of silver-plated aluminium, the gracefully accentuated female figure is portrayed wearing a form-fitting evening gown. Adorned with engraved Mercedes stars, the gown's skirt is portrayed in full trailing swing. Mercedes' elegantly dynamic contours as well as her harmony of form and surface composition are all expressions of the Mercedes-Benz design language, lending her an extraordinarily eloquent style. True to her name and heritage, Mercedes conveys energetic action.
With its Spanish meaning of charm and grace, the Mercedes brand name has its origins with Mercedes Jellinek, the daughter of businessman and avid car racer Emil Jellinek who dealt in Daimler vehicles at the end of the 19th century. He loved the name Mercedes, not only giving it to his daughter but even using it as a pseudonym himself during races on the Cote d'Azur. With the victory of several 'Mercedes' cars during the Week of Nice in 1901, the name's recognition grew considerably. The following year, Daimler Motors had the Mercedes brand trademarked.
Created at the Mercedes-Benz Design Centre in Sindelfingen
Backed by the brand name's rich heritage, the Mercedes statuettes bear the time-honoured Mercedes emblem on their bases. They have been drafted, modelled and produced at the Mercedes-Benz Design Centre in Sindelfingen (Germany) by design strategist Matthias Runar and modeller Heike Fladung. "While creating Mercedes, we've demonstrated that the creative design process, whether for cars, fashion or art, follows similar principles. All draw on the same sources of inspiration. We're very sensitive to zeitgeist and current trends, and that gets reflected in our products," explains Prof. Peter Pfeiffer, Senior Vice-President Design.
'Mercedes' in facts & figures
Dimensions
Size of statuette incl. base: 360 x 112 x 83 mm (h x w x d)
Size of base: 70.6 mm high, 101 mm in diameter
Weight: 2,5 kg
Materials
Figure: Milled aluminium
Silver-plated, lustrous finish
Base: Composed of three overlapping rings. The upper and lower rings are of transparent Plexiglas; the middle ring (bearing the inscription) is of silver-plated aluminium
Award categories
Platinum – honouring a fashion designer's extraordinary lifetime contribution
Best Collection – awarded to the season's best collection
Newcomer – awarded to the most talented upcoming fashion designer
Mercedes-Benz Fashion Week Berlin - when and where
Mercedes-Benz Fashion Week Berlin Spring/Summer 2009 will take place from 17th – 20th July, 2008 on Bebelplatz square in the heart of the German capital.