Mercedes-Benz intros "Mission Metris" vans in the USA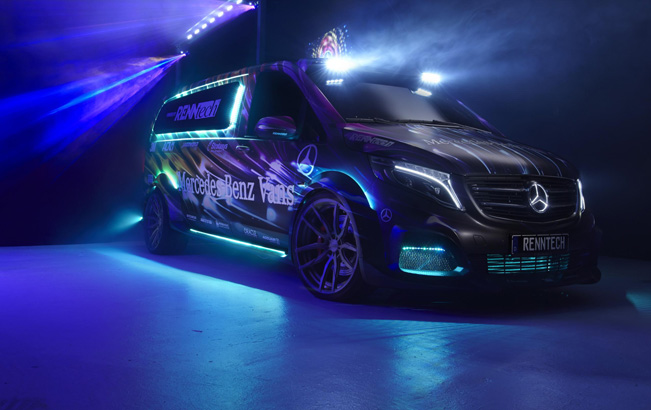 The US branch of Mercedes-Benz has introduced the so-called "Mission Metris", which is a showcase of four new midsize Project Vans at SEMA 2014 in Las Vegas, USA. This is the first glimpse at the new midsize commercial van entry that will be in the USA and Canada in late 2015; production versions will be shown for the first time at a later date in 2015. This is also an event that introduces the new "Mercedes-Benz Metris" nameplate for the US and Canada. "Vito" will remain the mid-size commercial van nameplate for all other global markets.
"We are pleased to reconfirm our September announcement at the IAA Truck Show in Hannover that we will launch a midsize commercial van in the US market in fall 2015," said Bernie Glaser, Vice President and Managing Director of Daimler Vans USA, LLC. "It is only logical that we take a global approach and also expand our successful vans business in the USA. Our SEMA "Mission Metris" presence with 4 different van concepts will be an effective way for us to hit the ground running to announce the nameplate 'Mercedes-Benz Metris' and to show off its unmatched versatility, size, and safety."
There are four creative concepts to choose from:
RENNtech: Party/DJ Van – this version offers a mobile DJ van that features a clamshell style roof that opens and acts as a backdrop for a DJ;
HQ Custom Design Luxury Van – this is an inspired executive shuttle van that also offers fine craftsmanship, attention to detail and the best in the audio and visual world.
Garmin: Mobile Golf Pro Shop – this is for all golf lovers out there. It features a high-tech golf simulator and infotainment system for both personal and merchandizing usage. The concept offers a Mobile Performance Center that helps players analyze and evaluate their golf game and simulate potential outcomes.
RADO: Fire Chief Concept Truck – this is a rolling communications center that can transfer a Fire Chief to all locations in many situations.
Source: Mercedes-Benz