Mercedes Benz SLS GT3 Racer is put on sale
Mercedes-Benz SLS GT3 race car is now available to order, but there are so many enquiries and probably the company won't be able to deal with them initially.
The spectacular machine is priced at €335 000, which is relatively low in terms of the prices for other race cars.
Mercedes-Benz motorsport chief Norbert Haug comments: "The Mercedes SLS AMG GT3 marks the beginning of a new era in Mercedes-Benz customer motorsport. This is an exciting and spectacular sports car for dedicated private teams and talented private drivers,".
"I am very pleased that the demand for this new and unique competition car is so great - there are many more enquiries for orders than can initially be dealt with. But, have no fear, the production curve will be ramped up step by step so that all interested parties who are serious about the SLS AMG GT3 can be served successively.", he added.
Further detailes about the car have been released by Mercedes. The focus is on aerodynamic performance, so the racer gets a new front apron with a splitter, a bonnet with its central cooling air vent and wider front and rear wings. Other features are wheel arch air vents, side skirts with cooling ducts for the rear brakes, a smooth underbody with a rear diffuser and an adjustable rear aerofoil.
The car is powered by the famous naturally aspirated 6.2 litre V8. The transaxle gearbox and suspension are largely the same as in the road-going cars, so the wheels are located by forged aluminium double-wishbones front and rear. Additional settings of the springs and shock absorbers, the suspension height, the stabilisers, the track width and camber are made.
The race car stands on 18" light-alloy wheels. An airjack system is integrated in the underbody to allow fast wheel changes. SLS GT3 has a steel racing braking system with racing ABS to stop the car.
Inside, the car features steel roll cage, a six-point seat belt and safety cell, which is bolted to the roll cage and the aluminium spaceframe.
The safety in SLS GT3 Racer is top priority, so the 120-litre CFRP tank with inner bladder is positioned on the rear axle and the optimised fire extinguisher system
The racing steering wheel with shift paddles for gear changes allows perfect control of the vehicle. Additional controls are located on the centre console. Brake balance adjustment is also possible.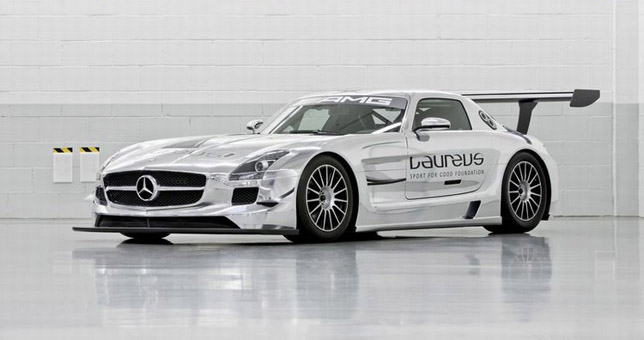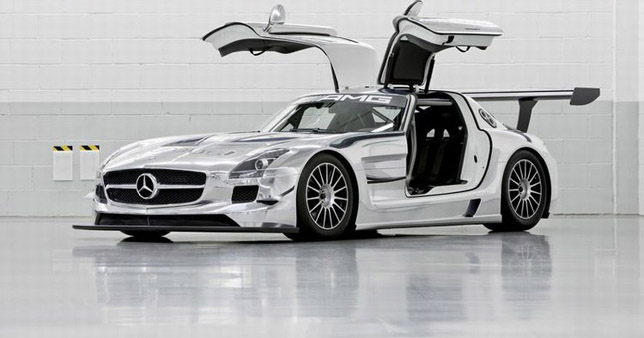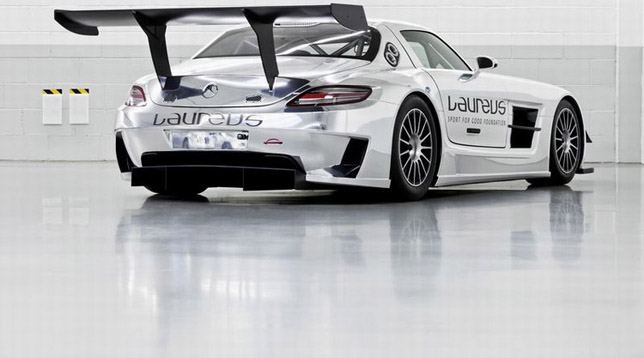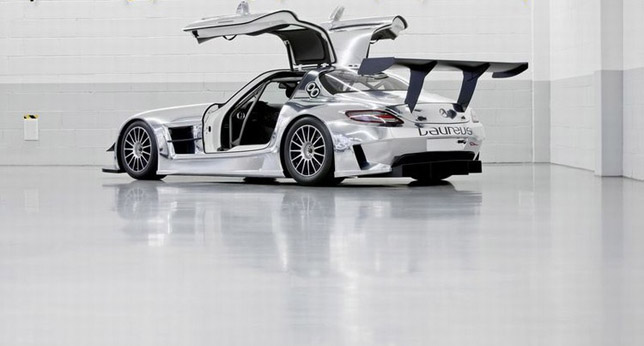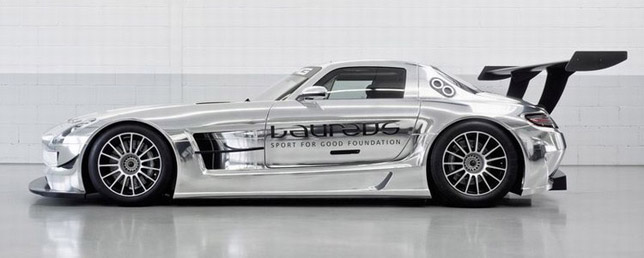 source: Piston Heads