Mercedes-Benz Vision C 220 Bluetec
Mercedes-Benz is unveiling its highly environmentally-compatible BLUETEC emission-control technology in combination with a consumption-optimised four-cylinder engine for the first time at the 2007 Geneva Motor Show. In terms of ensuring compliance with the even stricter EURO 6 emission standard, applicable to all new vehicles Europe-wide from 2015, the Vision C 220 BLUETEC shows the way ahead. Boasting an output of 125 kW (170 hp) and a peak torque of 400 Nm, the Vision C 220 BLUETEC now requires 5.5 litres of diesel per hundred kilometres, thanks largely to modified diesel engine technology and an intelligent system of energy management.
"The sophisticated four-cylinder diesel engine with BLUETEC emission control is a prime example of leading-edge, future-compatible technology," explains Dr Dieter Zetsche, Chairman of the Board of Management of DaimlerChrysler AG and Head of the Mercedes Car Group. "Our diesel strategy is an effective answer to the question of how to save fuel and, therefore, CO2, how to further reduce all exhaust emissions including NOx and yet still ensure effortlessly superior driving enjoyment. In this respect, we believe our state-of-the-art diesel concept is currently the best and most efficient solution available."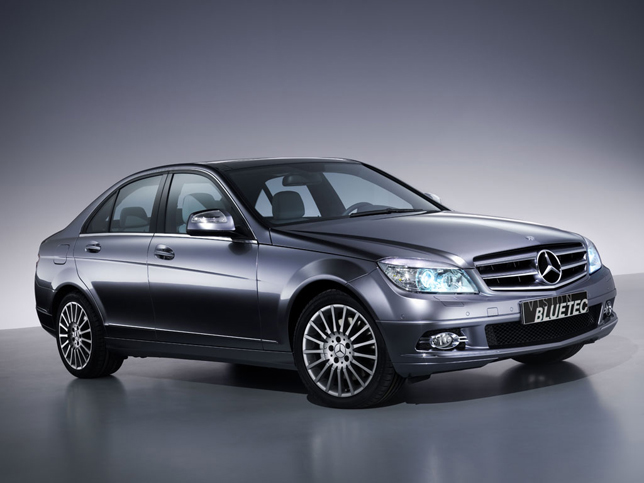 With the Vision C 220 BLUETEC, Mercedes-Benz is providing a taste of things to come as part of its BLUETEC initiative which was launched in the US last autumn. The initial impetus came from the market launch of the E 320 BLUETEC in North America in October 2006, which was timed to coincide with the introduction of low-sulphur diesel in that part of the world. A fuel consumption figure of 6.7 litres per hundred kilometres makes the E 320 BLUETEC one of the most economical vehicles in its class in the US.
With the first four-cylinder BLUETEC model, Mercedes-Benz illustrates just how versatile this innovative technology can be. Following the US launch, the company will also introduce BLUETEC in other markets. The technology is currently being adapted to European market requirements and further Mercedes Benz models, the aim being to also offer BLUETEC in passenger cars for European customers, starting in 2008.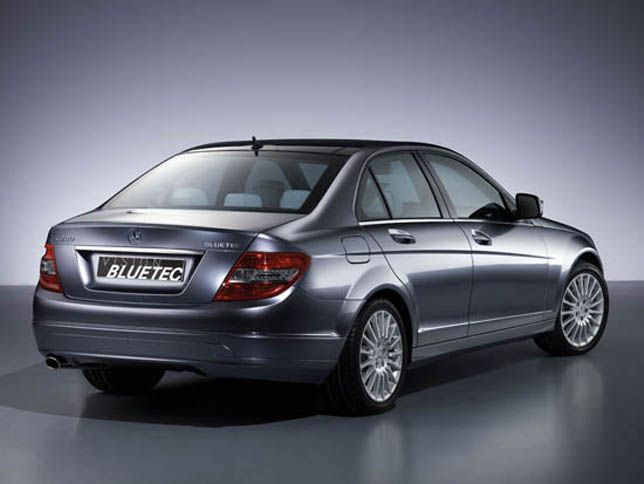 BLUETEC – high-tech for the cleanest diesels in the world
BLUETEC is a DaimlerChrysler-developed technology designed to reduce diesel vehicle emissions, especially nitrogen oxides – the only exhaust-gas constituents that are still higher in today's diesel engines than they are in their petrol counterparts due to the principle involved. Mercedes-Benz is working intensively to optimise its engines and their combustion processes so as to minimise the nitrogen oxides before they are actually produced. In terms of "hardware", the sophisticated four-cylinder powerplant in the Vision C 220 BLUETEC, like the standard-production engines, includes four valves per cylinder, third-generation common-rail direct injection, a turbocharger with a variable nozzle turbine and exhaust gas recirculation. A highly sensitive electronic engine management unit reacts precisely to an extremely wide range of operating conditions and, in so doing, optimises the combustion processes.
The BLUETEC technology in the Vision C 220 BLUETEC still includes an oxidising catalytic converter, which reduces emissions of carbon monoxide (CO) and unburned hydrocarbons (HC), as well as a particulate filter. A modified NOx storage catalytic converter with a substantially extended service life, including patented on-board ammonia generation, is combined with an additional SCR catalytic converter to minimise nitrogen oxides. This process of exhaust-gas aftertreatment requires no additives.
Vision C 220 BLUETEC combines environmental awareness, driving enjoyment and comfort
The results are impressive whichever way you look at them: on the one hand, the concept car equipped with a 6-speed manual transmission consumes just 5.5 litres of diesel per hundred kilometres (NEDC); on the other hand, it delivers the same impressive output and torque figures whilst providing a unique combination of efficiency and driving enjoyment. The Vision C 220 BLUETEC is prepared for future emission standards, even the considerably more stringent limits imposed by EURO 6, which will apply to all new vehicles from September 1, 2015. For instance, particulate emissions must be reduced by a factor of five by the time the EURO 5 standard comes into force on January 1, 2011 whilst EURO 6 stipulates nitrogen oxide limits that are only around 30 percent of the current limits. All Mercedes-Benz diesel vehicles with a particulate filter fitted as standard already undercut the particulate limits that will apply from 2011 onwards.