Mercedes-Benz Zetros 6X6 truck
Mercedes-Benz are famous with manufacturing not only road cars, but heavy duty machines like this one – Zetros 6x6 truck. The vehicle is specially produced for several customers in Mongolia. However, all units have already been delivered to Ulan-Bator, where two businessmen friends collected them.
Zetros is not only the ultimate off-road machine, but it also features extreme luxury like a bathroom with heated marble floors and two large flat-screen TVs - one for the sleeping berth and one for the seating area. The truck also has an on-board generator, a shower, a safe for valuables and a gun-safe for the hunting firepower. Practically, everything that you need, when you go hunting.
Mercedes Zetros is powered by a 7.2 liter in-line 6-cylinder engine with an output of 326PS (240 kW) and 1300 Nm (959 lb-ft) of torque. The engine is mated to either G 131-9 nine-speed manual box as standard and a six-speed automatic as an option. The power is sent to three mechanical differential locks on every axle. Zetros has a curb weight of 25 tonnes.
Zetros is a pure fun vehicle!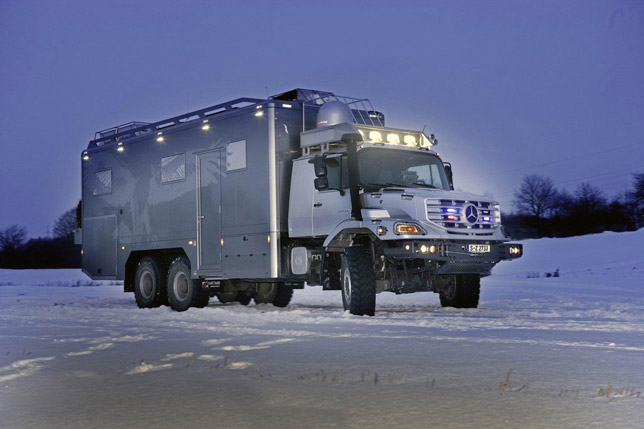 Source: Mercedes-Benz