Mercedes C 63 AMG Coupe Black Series at Laguna Seca [video]
The most brutal C-Class in the world hits the famous Laguna Seca race track. Check the video below, where you'll see a nice moments with the fantastic sports car. The sound is simply amazing, because this is the last vehicle using the mighty naturally aspirated AMG sourced V8.
The C63 AMG Black Series has a 6.2 liter V8 with 517PS (380 kW) and 620Nm (460 lb-ft). The performance is extreme - 0 to 100 km/h in breathtaking 4.2 seconds and a top speed beyond 300 km/h barrier (without speed governor). Still, it manages to return 100 km for just 12.2 liters gasoline on combined cycle with emissions of 286 g/km CO2.
The engine is mated to the AMG SPEEDSHIFT MCT 7-speed sports transmission with four driving modes.
Other highlights include enormous brakes, rims and tires. The C63 AMG Black Series comes with 6-piston calipers with 390 x 36 mm discs for the front and 4-piston calipers with 360 x 26 mm for the rear. There is a set of big wheels - 9.0J x 19" and 9.5J x 19" fitted with 255/35 R 19 and 285/30 R 19, respectively
The exterior boasts complete aerodynamics package with extensions and a lot of carbon fiber.
Enjoy the video!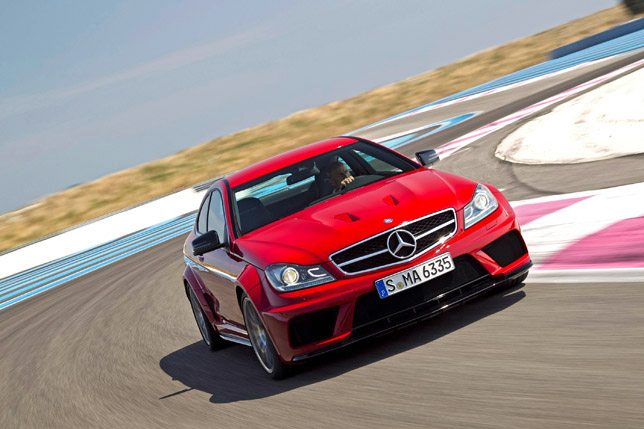 Source: AutoMotoTV via Youtube