Micra "birthday" motorcade kicks off British motor show in style
To celebrate the Nissan Micra's 25th birthday next Monday (21 July), a special motorcade of 25 Micra cars will drive the 300 miles from Nissan's Sunderland plant to the ExCeL exhibition centre in London to kick off the British International Motor Show.
Straight from the production line, the procession of brightly decorated 'Micra 25' special edition vehicles will depart at 09:00-hrs and will travel south via A-roads and the motorways to London, arriving at around 16.00-hrs.  Their arrival sparks off the UK's largest motoring extravaganza of the year, a show where the special series Nissan Micra 25 will make its UK debut.
Sporting highly visible 25th anniversary decals, the motorcade Micras will also feature a single letter on the roof of each car which – when the convoy is viewed from above – will spell out 'Micra 25 at British Motor Show'.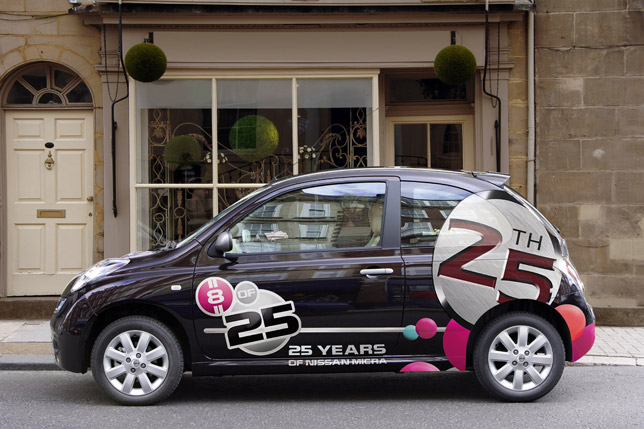 "We are delighted to be able to celebrate the 25th anniversary of the Nissan Micra here in the UK, where the car has been built for the past 16 years and to do it on the eve of the British International Motor Show," said Nissan's managing director, Paul Willcox.  "To have some of the people who have played a part in the Micra success at our Sunderland plant driving the cars to ExCeL in London makes this motorcade even more special."
First produced in Japan in 1983, the Nissan Micra has been manufactured exclusively in Sunderland since 1992.  It is one of Britain's major manufacturing and export successes, with 2.2 million Micras made in the North East so far and exported cars going to 44 different countries around the globe.
Appropriately, among the people driving the motorcade convoy of Micra 25s will be staff from the Sunderland plant who have been part of the Nissan manufacturing success story in this country.
The distinctive Night Shade exterior paint and sophisticated 'Satin' effect door handles, both unique to the special edition Micra 25 model, give the impression this fun car has grown-up, but inside it still caters for the younger audience with its customised iPod Nano integrated into the audio system.
Since the Micra first went into production in 1983 in Japan, it has undergone two dramatic transformations, leading to today's third generation Micra that was launched in 2002.  The Nissan plant in Sunderland began manufacturing the second generation model in 1992 and just six years later the millionth model came off the production line.
The first Japanese-brand car to win the European Car of the Year award (1993), the Micra rapidly gained an enviable reputation for such a small car.  Its distinctive rounded design created a personality that British drivers love.  Not only has the Micra proven to be popular in the UK, demand has spread around the globe.