Mitsubishi team remain united for next round
Round two of the Tesco 99 Octane MSA British Rally Championship, the Jim Clark Rally which took place from 23rd – 25th May 2008, did not go according to plan for the Mitsubishi Motors UK Rally Team.
Following their resounding round-one victory, Guy Wilks and co-driver Phil Pugh stormed through the first stage to lead the British Championship field by 4.7 seconds.
For team mates Phillip Morrow and Daniel Barritt however, it was a different tale. After three miles into the stage following a fast down-hill section, the car slid wide, clipped a bank and rolled three times down the road, leaving both Morrow and co-driver Daniel Barritt unhurt.
They continued through the remainder of the stage - and the one following – returning to the service area for repairs. With most of the damage cosmetic rather than mechanical, Morrow continued on the next loop of four stages where he set one fastest, two second fastest and one third fastest time.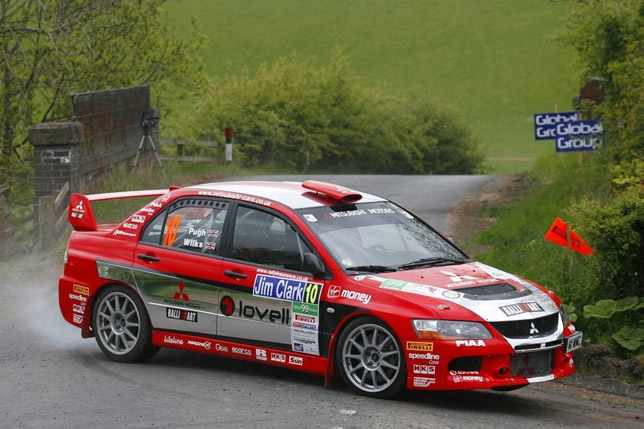 Meanwhile, Wilks extended his lead to 6.2 seconds following stage three but a few miles into stage four, the car's propshaft suddenly snapped and with a flying finish almost in sight the car came to a halt. Flames appeared from underneath the car where the flailing propshaft had ruptured the fuel tank. Despite offers of help from competitors their once pristine Lancer was destroyed by fire.
With Morrow's earlier incident resulting in a punctured radiator, any further mechanical damage was prevented by a team decision to adopt SuperRally regulations to ensure Morrow and Barritt would be classified as finishers.
The team are now united and ready for round three: the Isle of Man Rally on 17th, 18th & 19th July and focus on achieving a victorious reign of first and second places.
Ralliart General Manager and the Mitsubishi UK Motorsport boss Paul Brigden remains positive: "It has been a very unfortunate weekend for the team, but I am pleased to report that all four crew members were unharmed in their respective incidents. The fact that Phillip and Daniel could continue – and even set a fastest time – is testimony to the strength of the cars. We now need strong finishes from both crews for the remainder of the season to ensure we get back on track for the teams title and I look forward to resuming our British Championship campaign on the Isle of Man in a few weeks time."
Championship positions following round two
Drivers Points
| | | |
| --- | --- | --- |
| 1 | David Higgins (GB) | 32 |
| 2 | Stuart Jones (GB) | 31 |
| 3 | Jonathan Greer (GB) | 25 |
| 4 | James Wozencroft (GB) | 24 |
| 5 | Wyn Humphreys (GB) | 23 |
| 6= | Guy Wilks (GB) | 20 |
| 6= | Mark Higgins (GB) | 20 |
| 8 | Juho Hanninen (FIN) | 18 |
| 9 | Phillip Morrow (GB) | 15 |
| 10 | Patrik Flodin (S) | 14 |
Teams
| | | |
| --- | --- | --- |
| 1 | Atlas TEG Sport | 65 |
| 2 | Team TQ.com | 62 |
| 3 | Mitsubishi Motors UK | 48 |
| 4 | Revolution Wheels | 41 |