Mobil 1 Headline Sponsor Of Brooklands Motoring Festival: The Double Twelve
Premium oil brand Mobil 1 is celebrating its near-century long relationship with Mercedes-Benz as headline sponsor of the prestigious Brooklands Motoring Festival: the Double Twelve, on the 28 and 29 June at Mercedes-Benz World in Weybridge, Surrey.
The Festival, which is named in honour of the Double Twelve meetings of the 1930s, will welcome famous faces of today and yesteryear. Britain's Formula 1™ driver Lewis Hamilton and teammate Heikki Kovalainen will each be taking time out of their busy race schedule to attend the festival and thrill the crowds in their Vodafone McLaren Mercedes Formula 1™ car. Racing legend Sir Stirling Moss will also be making a star driving appearance to add to the festival line up.
During the weekend celebration, Mercedes-Benz World will become home to a dizzying array of vintage and classic cars – each of which will be judged under the exacting criteria of a Concours d'Elegance. In turn, the drivers will be scrutinised over a series of driving tests in thrilling and evocative environs such as the Members' Banking and the notorious Test Hill of the original Brooklands circuit.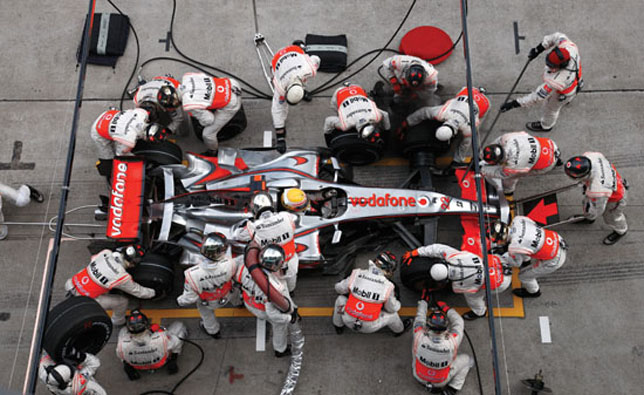 Action will not be confined to the ground; while spectators wwwire this elite gathering and enjoy the parade laps taking place on the Mercedes-Benz World handling circuits, the Blue Eagles Helicopter display will take to the skies.  The Silver Arrows Display Team will also be power sliding and pirouetting on the track adding to the excitement of the festival.
On announcing the Mobil 1 sponsorship, ExxonMobil's Gary Plumridge commented:  "The partnership of Mercedes-Benz and Mobil 1 dates back almost a century, and this sponsorship is a continuation and celebration of that. We are delighted to support the Festival and look forward to welcoming everyone to what will be an excellent event where visitors will be able to watch everything from a Formula 1™ car in action to iconic cars from the early days of motor sport."
Peter O'Halloran, managing director of Mercedes-Benz World, commented: "We are delighted to be working with Mobil 1 as the headline sponsor for the festival.  Brooklands is the birthplace of motor racing as we know it today, so this partnership is particularly fitting with Mobil 1's motor sport associations, especially given that 2008 will include a unique competition element."