Monaco GP - Lewis Hamilton 12th
Starting from 19th on the grid after a precautionary overnight gearbox change, Lewis was always going to struggle to overtake cars around the twisting streets of Monte-Carlo. His early struggle for pace was exacerbated by damage to a front-wing footplate, caused after he tangled with Nick Heidfeld at Ste Devote in the early laps. Stopping early on lap 10 to change from Options, he resumed on Primes, but it was only after making his second stop, on lap 53, when he switched to another set of Primes and changed the damaged nosebox that he was able to set a more representative pace. Despite a late charge to overhaul Heidfeld, Lewis was unable to finish higher than 12th.
LEWIS HAMILTON MP4-24-04 Started: 19th - Finished: 12th Fastest lap: 1m15.706s (8th) - Pitstops: two (Op-Pr-Pr) Championship points: 9 - Championship pos: 9th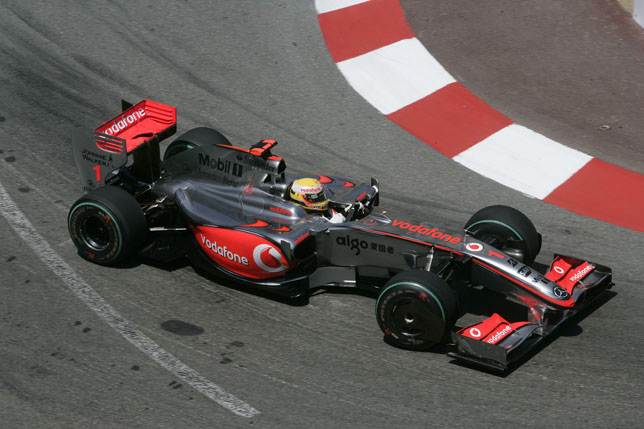 "It was an extremely tough race," Lewis said. "I raced my heart out and feel satisfied with my performance today. I damaged a footplate on my front wing quite early on when I clipped one of the BMWs going into Ste Devote. It meant I had a lot of understeer throughout the race – putting a new wing on made it a bit better but it wasn't enough. In the closing laps, my tyres were going off just as much as Nick's and it was a bit too dangerous to attempt a pass.
"I was thinking about one of the Rocky films – in the first film, Rocky says, 'I just want to see the end of the fight' and I got to the flag, pushing as hard as I could throughout the race.
"Congratulations to Jenson and everyone at the Brawn GP team – they're clearly doing a fantastic job this year."
HEIKKI KOVALAINEN MP4-24-02 Started: 7th - Finished: ret Fastest lap: 1m15.672s (6th) - Pitstops: one (Pr-Pr) Championship points: 4 - Championship pos: 13th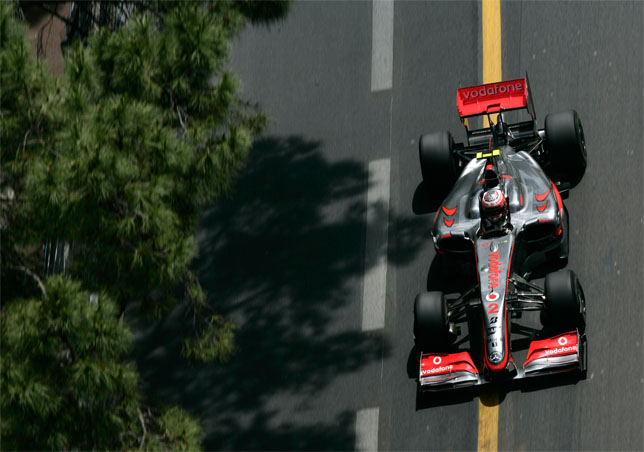 From seventh on the grid, Heikki maintained his position throughout the opening stint, enjoying an early nip-and-tuck battle with Sebastian Vettel, Nico Rosberg and Felipe Massa. Moving as high as third before making his first pitstop (switching to a second set of Primes on lap 21), the team opted to long-fuel Heikki for the middle stint, dropping him to eighth but leaving him well placed to overhaul his rivals during the second pitstop sequence.
On a heavy fuel-load, Heikki maintained pace with the frontrunners and looked destined for a points finish when he damaged the car, losing the rear-end at the exit of Turn 14 while pushing to narrow the gap to Nico Rosberg.
"A disappointing outcome to my weekend after some real promise," Heikki said afterwards. "During my first stint, I had a little difficulty making my tyres work properly. Nevertheless, I was able to get past Sebastian Vettel. My second set was much better and I was just waiting for Nico''s pitstop to have chance to pass him, unfortunately I didn't get that far.
"I hit the kerb at the fast chicane and the car's rear stepped out. I couldn't catch it and hit the guardrails. It was my fault and I want to say sorry to my team – who have worked so hard to provide me with a competitive car. We'll keep pushing, developing the car and continuing with the catching-up process."
MARTIN WHITMARSH Team principal, Vodafone McLaren Mercedes
"To leave Monaco without having scored world championship points is clearly disappointing, especially since our car was very competitive here: our pace in both sessions on Thursday, and on Saturday morning, demonstrated that very clearly. Even so, after Lewis's troubled qualifying, there was little he could do from the back of the grid today – Monaco is a notoriously difficult circuit on which to overtake, even with a decent performance advantage over the cars ahead. Nonetheless, Lewis drove very hard all afternoon, which is typical of his never-give-up attitude. As for Heikki, he was driving a strong race that would have netted him a very welcome points finish, when he entered the Swimming Pool just a little too fast, unloaded his car's rear-end and couldn't quite catch it. But that's Monaco: when you're pushing hard, it's very unforgiving, as Lewis also showed yesterday. Overall, then, the 2009 Monaco Grand Prix was a race that could and should have gone a lot better for us – but the reality is that both our cars showed genuine pace so there are also plenty of positives for us to take forward from here."
NORBERT HAUG Vice-president, Mercedes-Benz Motorsport
"Lewis's chances for the race were greatly affected by him hitting the guardrails during Q1 yesterday. What could have been possible with a good starting place close to the front of the grid was shown from Lewis in the last third of the race when he was without traffic posting competitive lap times until he got stuck behind a slower car in the closing laps. Heikki crashed after two thirds of the race at the Swimming Pool section – his speed in seventh place before had been good and was promising a better result. We need to quickly put this race behind us and concentrate on further improvements for the car before the next grand prix in Turkey. My sincere congratulations to Jenson Button and the Brawn GP team for winning this prestigious race today – he has now won the last three grands prix on the same engine, a new record in modern Formula 1."