Mopar Challenger V-10 Drag Pak with NHRA record
2011 Mopar Challenger V-10 Drag Pak has exclusively recorded best ET and mph in the AA/SA class at the NHRA Division 1 National Open event at Atco (N.J.) Raceway.
Coming only a month after the ride's competition debut, this exceptional record (9.43-second elapsed time (ET) at 143.90 mph) is set by Dave Thomas, of Westchester, Pa., which took its Mopar Drag Pak just two weeks before the NHRA event.
Pietro Gorlier, President and CEO of Mopar, shared: "In less than one month of competition, our 2011 Mopar Challenger V-10 Drag Pak has made its presence known in the NHRA Sportsman ranks. Mopar is the only source for racers who want to purchase a factory-built, V-10-powered race-ready package car."
The 2011 Mopar Challenger V-10 Drag Pak made its world premiere at the last year's Dodge Viper Owners Invitational and is based upon the 2011 Dodge Challenger. Housing an extremely powerful V10 plant under the hood, the Mopar Drag Pak further sports competition wheels and tires, a Mopar solid rear axle with performance gear ratio, a 2-speed drag race transmission with integrated roll control, a complete competition fuel system with fuel cell, and a complete interior with gauge package.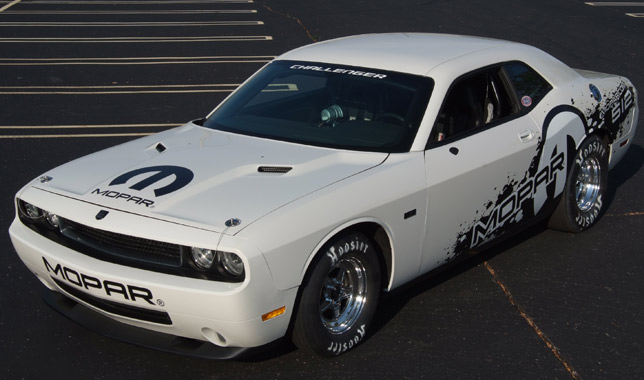 Source: Chrysler Group