Motorcycle vs. Car Drift Battle 2 [HD video]
Awesome video clip by iconmotosports: Motorcycle vs. Car Drift Battle.
The story features two specially prepared motorcycles and their extremely good riders and a "cop" with his 550 horsepower 2004 Ford Mustang Cobra.
Nick 'Apex' Brocha and his Empire teammate, Ernie Vigil ride a pair of crackling Triumph Speed Triples - built by Roaring Toyz for the sole purpose of going sideways.
The Police Officer Dan Brockett is the only man with the muscle to keep these two in sight.
Warning! The following video is intended for entertainment use only. All stunts were performed by professional riders and drivers on a closed course. Do not attempt any of the stunts you are about to see.
Enjoy!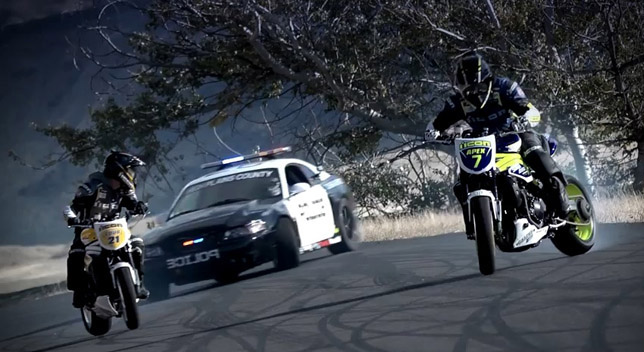 Source: iconmotosports via Youtube