New Boxer diesel legacy saloon makes motor show debut
Subaru has chosen the British International Motor Show (July 23 to August 3, ExCeL, London) to unveil the Saloon version of its critically acclaimed new Boxer Diesel Legacy.
Launched earlier in the year in the Legacy Sports Tourer and Outback, the world's first boxer-diesel-engine for a passenger car offers outstanding refinement, throttle response and fuel economy coupled with class-leading ultra-low emissions.
Also exceptional is the new Boxer Diesel Legacy's handling thanks to the engine's light weight and low centre-of-gravity afforded by its horizontally-opposed cylinder layout.
The new Saloon is priced from £19,995 on-the-road and is available in the three trim levels of 2.0D R, 2.0D RE and 2.0D REn. It joins the Subaru Legacy Sports Tourer and Outback crossover mid-sized estates which were launched this February.
This is Subaru's first diesel engine – developed in-house using over 40 years' expertise in 'boxer' engine technology coupled with turbocharging know-how gleaned from the fierce World Rally Championship arena.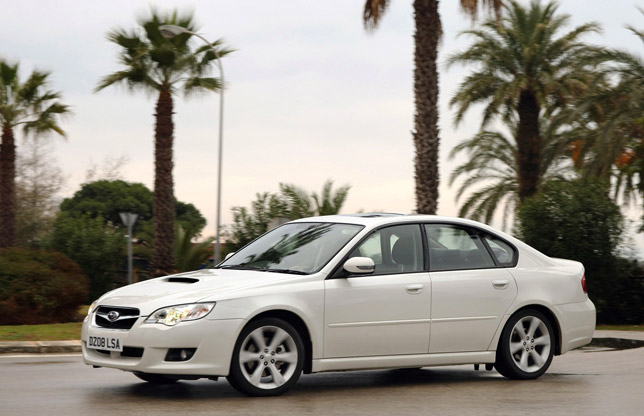 Class-Leading Figures
The 150 PS Boxer Diesel Legacy Saloon boasts the best fuel efficiency in the 4WD passenger car class – and the lowest exhaust emissions.
In fact, the new Legacy 2.0D Saloon returns 50.4 mpg on the Combined Cycle with only 148 g/km of CO2.
Nor are these figures achieved at the expense of performance. The Boxer Diesel Legacy Saloon has a 129 mph top speed and 0-60 mph time of only 8.3 seconds.
Refinement is also a Boxer Diesel strongpoint, with official moving sound levels of 70.5 dB (A). Even a Rolls-Royce Phantom is higher at 72.0 dB (A).
Thoroughly-Developed Package
The new Boxer Diesel Legacy Saloon is a thoroughly-developed model in its own right with several unique features to suit its diesel application.
For example, the engine has liquid mounts, with the body benefiting from extra sound-proofing to enhance refinement, while the five-speed manual gearbox has higher ratios to suit the diesel's stronger torque and lower engine speed.
The power-steering is now electric to improve fuel economy and carefully tuned for strong feel and response. Front spring rates have also been tuned to suit both the diesel engine and new steering system.
The Boxer Diesel's front brakes have also been uprated and the gear-lever length reduced by 10 mm for a sportier, shorter throw.
Even the air-conditioning unit has been modified to provide hot air earlier in the engine's warm-up cycle, diesel engines having different characteristics to petrol powerplants.
Visual changes include new cloth seat trim for the Legacy Saloon 2.0D R and a discreet bonnet air intake scoop.
Boxer Diesel Secrets Explained
Exceptionally compact, light and strong
Low friction 'Boxer' balance cancels out vibration
Flat four's low centre-of-gravity boosts handling agility
Punchy throttle response
Common-rail fuel-injection for greater efficiency
Solenoid injectors for compactness
Variable-vane turbocharger mounted under engine for low centre-of-gravity
Highly efficient, fast-warm catalytic converter also mounted under engine
Dedicated to the horizontally-opposed 'boxer' engine layout for over 40 years, Subaru engineers were determined to use this format for their first diesel engine.
The reasons were to create a light, compact, strong unit with reduced vibration, noise and internal friction compared to an in-line engine and for an ultra-low centre-of gravity.
This enhances handling agility and roadholding – especially when combined with Subaru's renowned symmetrical all-wheel drive system.
In fact, the entire engine and transmission are not only mounted very low down but also within the wheelbase which further boosts chassis dynamics.
Cancelled Out Vibration
The 2.0 litre Boxer Diesel has a class-leading light weight with the horizontally-opposed pistons effectively cancelling out the secondary harmonic vibration (vibration with twice the frequencies of the engine speed).
The crankshaft is short and highly rigid, minimising the vibrational noise of many diesel engines.
And the superior balance of the horizontally-opposed engine means internal rotational inertia and friction are drastically reduced compared with an in-line engine.
Reduced internal friction means throttle response is exceptionally lively and in keeping with Subaru's sporty heritage.
Compared to Subaru's 2.0 litre petrol engine fitted to the Impreza, Legacy and Forester, the 2.0 litre Boxer Diesel has a 11 mm longer stroke and 6 mm smaller bore for a capacity of 1,998 cc versus 1,994 cc.
Even More Compact
Thanks to a bore pitch shortened from 113 mm to 98.4 mm, the overall engine block length is only 353.5 mm compared to the petrol's already compact 414.8 mm.
The block is of a rigid semi-closed deck design, while all five main bearings in the alloy cylinder block use metal composite supports for added strength and durability. It also enhances refinement, providing a similar thermal expansion to that of the crankshaft.
Extra water-cooling slits have been added between the cylinder bores and the high-strength pistons are squirted with oil to enhance cooling. The large ends of the connecting rods feature an asymmetrical profile for assembly precision and reduced friction.
The high-strength crankshaft has a special surface treatment to withstand the diesel engine's high combustion pressures while the uprated cylinder heads have roller rocker arms. In addition, the cam-drive is via a chain system that better handles the variations in torque of a diesel engine.
Advanced Fuel-Injection And Turbocharger
The new Boxer Diesel uses an advanced common-rail fuel-injection system with the fuel being pressurised at 180 MPa before being fed into the common rail. This maximises efficiency, both in terms of power, fuel consumption and emissions.
Special, short-length solenoid injectors ensure the engine's width is no greater than that of the 2.0 litre 'boxer' petrol unit, despite the diesel's longer piston stroke.
The variable nozzle turbocharger ensures the correct boost throughout the engine's rev-range and its low centre-of gravity position under the engine and close to the catalytic converters increases environmental performance.
The Boxer Diesel meets Euro4 emission standards thanks to oxidation catalytic converters, a particulate filter and exhaust gas recirculation. It is the most environmentally-friendly vehicle in the AWD passenger car class.
Class-Challenging Performance
The new Boxer Diesel provides class-challenging performance thanks to 150 PS at an ultra-low 3,600 rpm and a massive 258 lb ft torque at an accessible 1,800 rpm.
With a 'square' bore and stroke of 86 mm and 16.3:1 compression ratio, the world's first Boxer Diesel provides effortless performance throughout a wide speed range, avoiding the breathless response of some diesels at high revs.
Top speed for the Legacy 2.0D R Saloon is 129 mph with a 0-60 mph time of 8.3 seconds.
Fuel economy is outstanding at 40.4/58.9 and 50.4 mpg Urban/Extra Urban and Combined.  Meanwhile, the CO2 emission figure of 148 g/km is the lowest in its class.
Legacy And Outback In General
Only last year the Legacy and Outback range received an extensive but subtle facelift, premium-class interior and retuned suspension.
Aimed unashamedly at the leading premium European marques, the Legacy and Outback boast outstanding all-wheel drive chassis dynamics, high equipment levels and spacious interiors with prices substantially undercutting their rivals.
For example, with the introduction of the Boxer Diesel Saloon, the range now starts at £19,995 on-the-road for the Legacy 2.0D R. It boasts high equipment levels such as dual-zone climate-control, cruise control, front, side and curtain airbags, a leather steering wheel and 215/45 tyres on 17x7 ins alloy wheels.
Other standard equipment includes HID headlamps with pop-out washers, electrically-folding door mirrors, a CD player with MP3 facility, front projector foglamps, Subaru Vehicle Dynamics Control and symmetrical all-wheel drive.
'08 Boxer Diesel Legacy Saloon Line-Up And Prices (All OTR):
2.0D R manual - £19,995                                 
2.0D RE manual - £21,995
2.0D REn (navigation) manual - £23,395
Already Outstanding Chassis Thoroughly Revised
Finely-damped, long-travel suspension with low unsprung weight and 'playful', interactive handling backed by full-time symmetrical AWD have always been a characteristic of the Legacy and Outback.
The system comprises MacPherson struts at the front and a compact and sophisticated multi-link rear suspension which does not intrude into the load area.
And for the '07 model year, further fine-tuning was carried out to smooth the ride and further sharpen steering response and straight-line stability.
These changes centre around re-valved shock-absorbers and changes to the rear suspension geometry plus strengthened mounting points front and rear.
The result is a smoother ride yet even more precise and responsive steering with enhanced feel and directional stability.
For the new Boxer Diesel Legacy and Outback models a new electric power steering system has been introduced which – when combined with retuned front spring rates – ensures the model's renowned handling superiority continues to be a major attraction.
Impressive Braking System
The new Boxer Diesel Legacy Saloon has the latest four-sensor anti-lock braking systems (ABS) with electronic brakeforce distribution (EBD) and compact new lightweight sensors for greater accuracy and control.
And for the '07 Model Year facelift, the latest models received a new, mechanical type of brake assist which gives extra braking force if it detects an emergency and feels the driver's pedal pressure is insufficient.
Now, for the Boxer Diesel 2.0D, the ventilated front brakes have been uprated to 11.6 ins (294 mm) diameter instead of the 10.9 ins (277 mm) on the 2.0 litre petrol models.
Standard AWD – Naturally
No Subaru would be complete without its rally-honed symmetrical all-wheel drive system which feeds full-time power to all four wheels.
Once either the front or the rear of the car begins to slide, torque is rapidly fed to the axle with the most grip.
Unlike bulky off-roaders – with their inelegant 4WD systems and power-sapping transfer boxes or certain sport utilities with transverse-mounted engines and gearboxes and, again, inefficient transfer boxes – Subaru's AWD system is simple and efficient.
Because the 'boxer' engine is in-line with the gearbox which is, in turn, in-line with the prop shaft and rear differential, frictional losses are kept to a minimum. In addition, the drive shafts are of equal length for a 'pure' division of power.
In addition, like the Sports Tourer and Outback, the new Boxer Diesel Legacy Saloon benefits from Subaru Vehicle Dynamics Control which offers even more active safety – and handling fun.
VDC uses sensors in all four wheels to detect slip. It also relies on sensors to register front to rear G-forces, side-to-side G-forces and steering wheel G-sensors to detect sudden swerves called 'yaw-rate'.
The result of all this data is for the engine power to be reduced and braking applied to whatever wheel can best help the driver escape a collision.
However, apart from having the option of switching off SVDC, the system is set up to allow 'playful' – yet safe – rear-wheel-biased handling for the more experienced driver.
Luxury Equipment
All Boxer Diesel Legacy Saloons boast: AWD with ABS and EBD, cruise control, leather wrapped steering wheel, speed sensitive intermittent wipers, alloy wheels, front and side airbags, heated front seats, four electric windows and remote central-locking with Thatcham Category One alarm/immobiliser.
Also standard are electrically-operated folding door mirrors and HID headlamps with pop-up washers plus a radio/CD player with MP3 playback, dual-zone climate-control air-conditioning and curtain airbags.
Other highlights include full leather seat and door trim for the 2.0D RE models plus door mirrors and windscreen de-icer, electrically-powered sunroof and 8-way electrically-operated driver's seat. The REn model adds satellite navigation.
Supreme Customer Care
Owning a Subaru is like being a member of an exclusive club in the UK thanks to a network of around 80 experienced, 'down to earth' and approachable dealers.
The warranty itself is one of the best in the industry, offering a three year/60,000 mile Cover plus three years' paintwork and 12 years' anti-corrosion cover.
This is in addition to three years' free membership of Subaru Assistance – a comprehensive home and roadside repair and recovery package throughout the UK and Europe, wwwinistered by Mondial Assistance.
Like Legacy 2.0 and 2.5 litre petrol models plus the petrol-powered Outback 2.5, service intervals for the new Boxer Diesel are 12,000 miles.
'08 Legacy Saloon (Boxer Diesel): Performance And Economy
| | | | | | |
| --- | --- | --- | --- | --- | --- |
| | Top Speed | 0-60 mph | Urban | Extra Urban | Combined |
| 2.0D R | 129 mph | 8.3 sec | 40.4 | 58.9 | 50.4 mpg |
CO2 emissions: 148 g/km