New Ibiza residual values are streets ahead
More proof, if it were really needed, of the enhanced appeal of SEAT's new Ibiza 5dr – recently debuted in showrooms across the country – comes with the release of impressive new independent residual value predictions.
The number crunchers at CAP New Monitor have been busy with their calculators to work out a particularly impressive set of residual value statistics for the all-new Ibiza 5dr.
According to the experts at CAP, the slick Spaniard will retain (at least) 43% of its original purchase price after three years and 36,000 miles.
That figure, for the current range-topper the 1.6 Sport, improves still further if you look a little further down the model line-up.  So, buyers of the expected best-seller, the 1.4 SE, should prepare to receive a more-impressive-still 44% of the original RRP while entry-level 1.2 S drivers do best of all with the predicted RV of their cars standing at 45%.
The news underscores SEAT's belief that the new Ibiza 5dr is not only an improvement on its strong-selling predecessor – itself still highly sought-after among used buyers – but a premier offering in its market segment.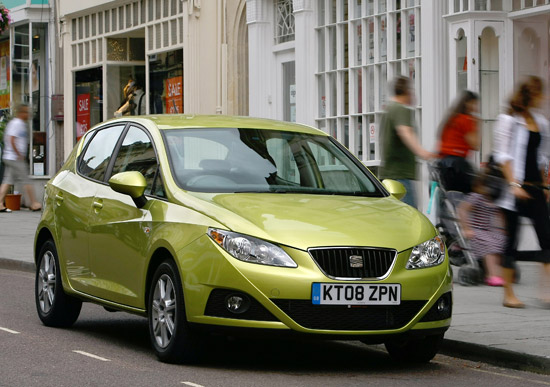 The new car's independent RV rating puts it among the very best-performing superminis as far as used values are concerned.
By comparison, CAP New Monitor expects key competitors such as the Renault Clio to retain around 32% ( 1.2 Expression) and 34% (1.4 Dynamique A/C) of the original RRP over the same three-year 36,000-mile period, while the Peugeot 207 should hang on to 35% (1.6 Sport) and 37% (1.4 S).
Martin Ward, Manufacturer Relations Manager at CAP Motor Research, said of the new SEAT's solid performance: 'The new Ibiza has much-improved quality over the outgoing car, and much of the interior is as good as some more premium brands.  This quality will certainly stand the test of time, and will make the Ibiza a very desirable used car for many years.
'The exterior is stylish and will appeal to both young and old – it's a car for all ages.
'I saw the new Ibiza at a very early stage in Barcelona and met SEAT President Erich Schmitt.  I was not only impressed by the car, but also about his passion about getting the car's quality perfect.  He seems to have achieved his goal.'