New Ricardo technology promises low cost and weight, high fuel-efficiency automated transmissions
As a part of its ambitious programme of automotive transmission concept development, Ricardo has unveiled a research prototype vehicle that demonstrates the company's patent pending electromagnetic linear actuation technology. This technology offers a low cost route to robust and highly efficient Automated Manual Transmission (AMT) and dry Dual Clutch Transmission (DCT) vehicles, capable of delivering increased fuel economy and lower emissions.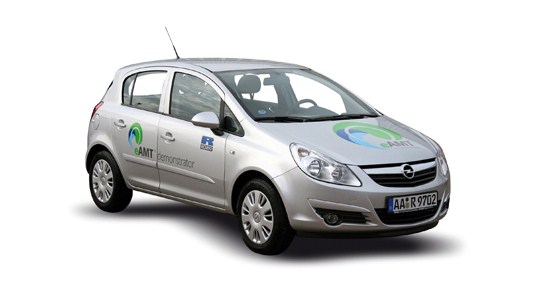 The development vehicle unveiled today is based on an Opel Corsa 1.2l gasoline automated manual transmission in which the control and actuation system of the original Easytronic system has been replaced with Ricardo's patent-pending electromagnetic linear actuator technology.  This advanced technology is sufficiently versatile and controllable that it can be multiplexed in order to operate both the clutch control and gear selection functions. In the research prototype vehicle this eAMT system demonstrates:
Two-pedal vehicle automation at low cost, owing to a significantly reduced parts count through use of a single electromagnetic actuator in place of separate clutch and gear actuator units

Opportunities for reduced size and weight

Controllable actuator force of up to 800N peak and 350N continuous

A torque interrupt of as little as 0.35 seconds during shifts

An advanced implementation of Ricardo AMT control software employing clutch 'kiss' point adaption techniques and DCT-like microslip control of a single dry-clutch.
The eAMT research vehicle provides an ideal environment for the actuator and control technology to be tested, evaluated and refined in real-world driving conditions.  While the vehicle was intended as a first step in proving the capability of this technology for an advanced, dry clutch eDCT system, the transmission architecture of the eAMT vehicle represents a potentially attractive automated two-pedal solution for smaller (A/B class) vehicles in price and/or manufacturing cost sensitive markets.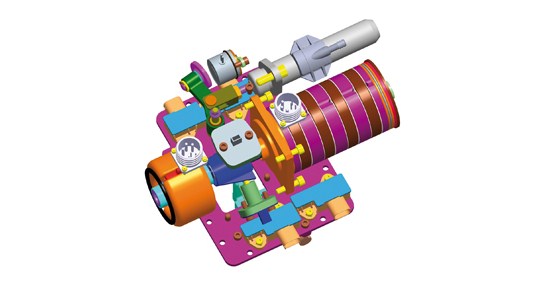 Efficient, low cost and fully scalable control The patent-pending linear electromagnetic actuator and control technology demonstrated on the eAMT vehicle offers a highly practical and cost-effective solution for advanced transmission systems.  This technology is fully controllable in terms of position, force and velocity, and is scalable from small passenger car applications through to large commercial vehicles and off-highway equipment. In an AMT configuration such as that demonstrated in Ricardo's eAMT prototype, a single actuator substitutes for the separate clutch operation and gear selection systems of the current production unit. Clutch control is achieved without modification to the release bearing arrangement.  Moreover, it is extremely fast-acting: in benchmark step response tests carried out against a current production hydraulic valve actuated system, the Ricardo system was shown to be in excess of eight times faster.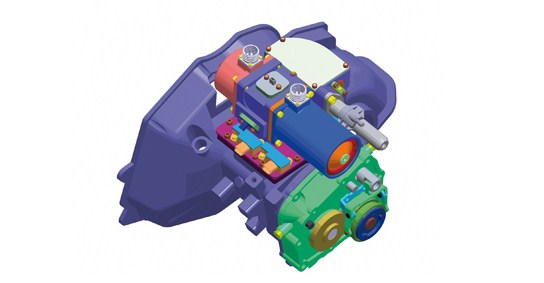 Towards a more cost-effective and fuel efficient DCT implementation Ultimately this research programme will see the implementation of this same technology in an eDCT transmission for a European C/D segment vehicle.  With further IPR developments planned for the cooling of dry clutch modules, the dry clutch eDCT system will aim to provide a high efficiency, zero torque interrupt transmission system that, based on the results of simulation and component testing, aims to provide a fuel consumption saving of in the region of 5 per cent in comparison with a hydraulically actuated wet clutch DCT, while also offering significantly lower manufacturing cost.
Lee Sykes, Ricardo global product group director for driveline and transmission systems, said:
"The advanced electromagnetic linear actuation technology in the eAMT vehicle shows huge potential for the practical implementation of next-generation transmissions in the automotive as well as the commercial vehicle and off-highway sectors. This is just one of the positive results of the eAMT research which includes the demonstration of next generation software control – the art of the possible in terms of multiplexing.  The eAMT and on-going eDCT research projects show Ricardo's commitment to providing its clients with advanced technology and services that will be key enablers of the more fuel efficient and cost-optimised automated transmission products of the future, as demanded in the major global automotive markets of Europe, the Americas and Asia."