New TurboDiesel Mitsubishi Racing Lancer to make competition debut on Baja Portalegre
Mitsubishi Motor Corporation (MMC) and its motor sports subsidiary MMSP have entered an all new turbodiesel Racing Lancer (FIA Group T1 Super Production Class) for Portugal's Baja Portalegre (Thursday October 30-Sunday November 2), round six of the 2008 FIA Cup for Cross Country Bajas.
The all-new Racing Lancer will be driven on the Portuguese event by Team Repsol Mitsubishi Ralliart's Stephane Peterhansel (France) and loyal co-driver Jean Paul Cottret (France), with whom Peterhansel has shared all his cross-country rallying successes on four wheels. Peterhansel won six Dakars on two wheels before switching to cars in 1999. Since joining Mitsubishi in 2002, the Frenchman has claimed three further Dakar victories with different iterations of the Pajero/Montero Evolution (in 2004, 2005 and 2007) to become one of the annual marathon's top stars.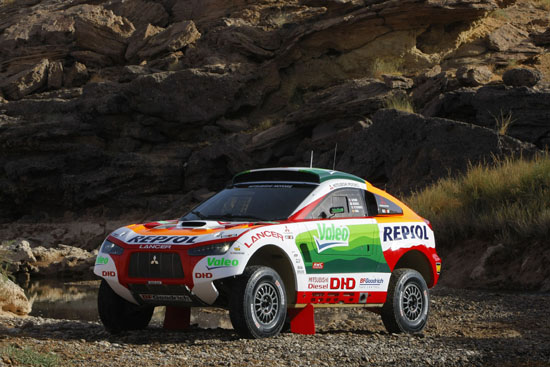 To boost power output at all engine speeds, the new Racing Lancer's diesel engine is equipped with a two-stage turbocharger which calls on small and large turbines in accord with engine speed and load. In addition, the team's partner Valeo contributed to the development of a particularly efficient cooling system to cope with the hot climates frequently encountered in cross-country rallying. The 3.0-liter V6 powerplant delivers maximum power of more than 280ps (206kW) and peak torque of 66.3kgm (650Nm). The new car's more aerodynamic body styling is derived from that of the production-model Lancer Sportback*1 in order to cope with the increasing speeds of cross-country rally events.
Other differences compared to the previous car include reduced weight thanks to a new, fully-integrated multi-tubular steel frame, and a lowered positioning of the fuel tank for a lower overall center of gravity. Handling has been further enhanced by the reduced moment of inertia resulting from the revised location for the spare wheels, as well as by significant modifications to the suspension geometry. Performance on rough terrain has been improved, thanks to BOS dampers which can be adjusted through a wider range of settings.
The Team Repsol Mitsubishi Ralliart-run Racing Lancer is equipped with Valeo-developed lighting and Brembo brakes with 16-inch ventilated discs and six-piston calipers all around. Mitsubishi's new cross-country rally challenger sits on 7JJx16 OZ aluminum alloy wheels and BFGoodrich low rolling resistance competition tires (245/80-16).
*1     Scheduled for Japan market release before the end of 2008, the production car will be named Galant Fortis Sportback locally