NICE Car Company quietly storms the London show
Three world debuts, two concepts in the electric vehicle village and ambitious growth plans; that's the promise from electric-vehicle company NICE at this year's British International Motor Show.
Launched two years ago in London, NICE is back with a bang – or as loud a bang as an all-electric vehicle company can make.
For, as well as being emissions-free, exempt from the London congestion charge and with running costs of a few pence per mile per mile, all NICE electric vehicles are quiet. Very quiet. It's just another reason why government, opinion formers and customers are increasingly turning to all-electric motoring.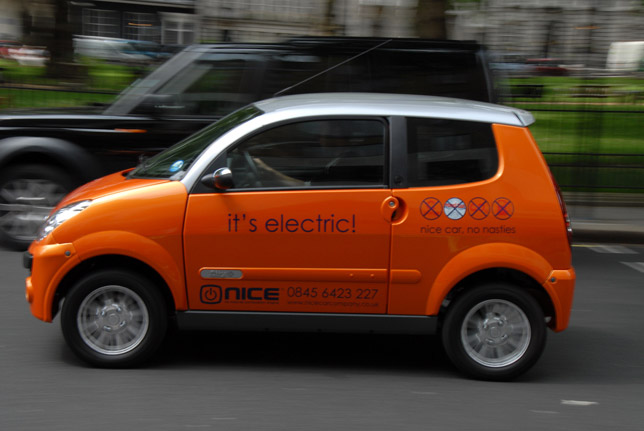 Stand highlights include a global debut for the new Ze-0. European styled and developed and built in China, it will be the world's first affordable, 5-door electric family car. Ze-0 brings all the benefits of electric motoring in a package that boasts a range of up to 65 miles in typical city driving and makes no compromise on specification or styling. It will cost from as little as £13,995 when it goes on sale in the Autumn.
Another world first on the NICE stand comes from the stunning MyCar. This Italian-styled two-seater is small, attractive and competitively priced. It will start from just £8,995 when it too goes on sale in the Autumn and has a range of around 40 miles - perfect for city motoring.
Stand visitors will also be queuing up to sit in the first all-electric 500. NICE Car Company will be gauging interest for this limited-edition Micro-Vett conversion of Fiat's iconic small car from discerning show-goers.
World debuts are exciting, but the car that has quietly driven the NICE success story also reveals a fresh new face this year. The Mega City showed the world that electric cars can be stylish, as well as economical and green, when it first came to London in 2006. Now there's the offer of two or four seat variants, contemporary styling and prices that start from £11,500. It's on sale now.
To celebrate the introduction of the new models at the British International Motor Show, NICE Car Company is also giving £500 discount on any new Mega City ordered between 22 July 2008 and 15 August 2008.
While stand N25 in the North Hall will be the focus, NICE will also be making news in the South Hall's Electric Vehicle Village. Two vehicles, the Super Light Concept (a research project developed with Cranfield) and range-busting electric Fiat Doblo, underpin the company's commitment to research, development and future trends, as well as to selling cars.
"Our plans are ambitious and exciting," said NICE co-founder Julian Wilford. "The NICE family of cars will continue to grow and we have established ourselves as the benchmark for customer choice, information and service. We have built firm foundations since our launch in 2006 and we are now looking forward to expansion across the UK and internationally. We will be opening retail locations across the UK this year and customers in Europe's foremost cities can soon look forward to buying from the best range of available electric vehicles."