Nicely does it as Chinese cars make a quiet debut
The first Chinese cars have quietly – very quietly – sneaked into the London show. Silently in fact – because they're electric cars.
The two of the pioneering green car distributors that took large display areas at Excel both had electric conversions of Chinese-built city cars on their stands. The idea is to offer something rather more substantial in terms of crashworthiness than the often-criticised quadricycle designs that both companies also offer.
Quiet Car Company, based in Lymington, showed a battery-electric conversion of the Chinese Hafei Lobo five-door hatchback, an attractive small car designed by Italian styling house Pininfarina. Priced at £12,995, the Quiet Car 2 has Lithium batteries offering a range of around 65 miles on a full, five-hour charge. Performance is strictly 'urban' – top speed is only 50mph. But running costs are low – QCC claims 100 miles of driving will add just £1 to your household electricity bill.
The conversion sees the car's engine replaced by a battery pack under the bonnet, with a rear-mounted electric motor driving the rear wheels. Much of the electric drivetrain equipment is fitted under the rear seats. QCC is taking orders for the car – but deliveries won't start until October or November.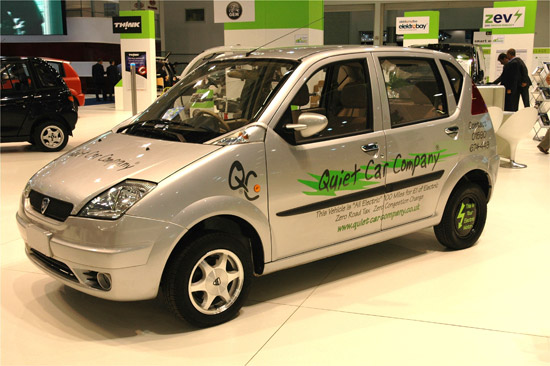 Across in the other main hall at Excel, NICE Car Company – whose name doesn't seem so bad when you realise it stands for No Internal Combustion Engine – premiered its own Chinese-made five-door hatchback EV, the Ze-O.
Built in China but styled again in Italy – this time by Bertone – Ze-O is a version of the Changhe Ideal, a car introduced in China in 2006. It'll come to the UK before the year-end, says NICE, priced around £14,000. Initial versions will have traditional lead-acid batteries with a 60-mile range and a 55mph top speed, but Li-Ion versions with longer range will follow.
NICE Car Company, founded by former Lotus Engineering director Evert Geurtsen and Julian Wilford, is looking at radical retailing ideas: "We're looking to sell cars in the same way that Carphone Warehouse sells mobile phones," said a spokesman. Could these little Chinese cars in time become the high-fashion items like iPhones and Blackberrys? And might this be a better route to market for Chinese automakers, rather than the costly, slow and difficult task of growing their own Chinese brands? We shall see…