Nicola Larini second in Monsoon conditions
The first of this year's WTCC street races brought another large helping of points to the Chevrolet team. Nicola Larini finished in second in the second race, while Rob Huff scored a fourth and a fifth place finish. Alain Menu finished a distant 10th in race 1 after he had been shunted off on the first lap, while he crashed out in race 2.
The first race was run in dry conditions, but was red-flagged halfway through the first lap when another competitor ran into Menu, sending both cars in a spin which blocked the track for the rest of the pack. The race was then restarted behind the safety car.
Minutes before the start of the second race, a thunderstorm and heavy rain flooded parts of the track and the paddock, forcing the organizers to again start the race behind the safety car.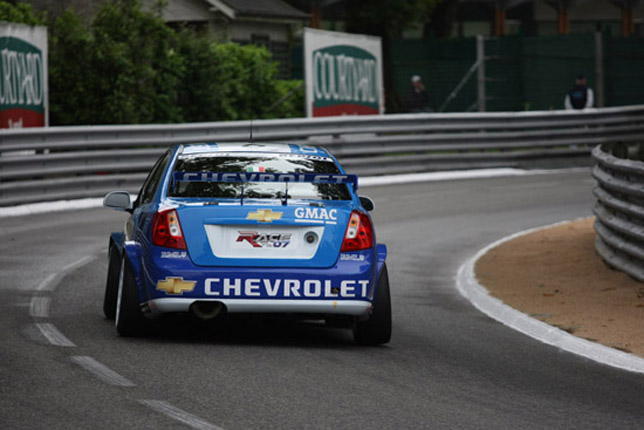 Nicola Larini (7th/2nd): "In the first race I had a good start, immediately making up one place. At the re-start the field was obviously spread out more and it was more difficult to build up an attack to overtake, so I just kept my position knowing it would be enough to start from the front row for race 2. With the weather being as bad as it was and the second race also being started behind the safety car, all I could do was to try and keep the pressure on Andy hoping he would maybe make a mistake, but he didn't. On this track it's already difficult to overtake in the dry, let alone in pouring rain. Nevertheless, a second place after my lesser result in Valencia is good for morale."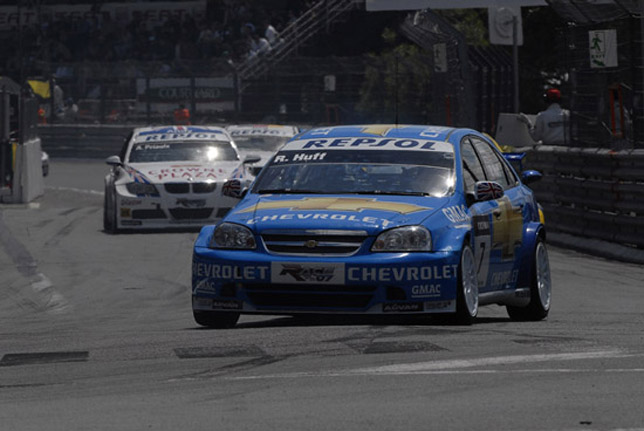 Rob Huff (5th/4th): "Like Nicola I made up a place at the first start. After the restart all I had to do was to keep pushing Gabriele (Tarquini). I noticed in the last few laps that he was locking up and braking early for Turn 2, so on the last lap I just went for it and passed him for fourth. The second race was just a matter of keeping the car on the black stuff and not making mistakes. It wasn't easy, as Gabriele's tail lights didn't work it was very difficult to judge the distance between the two cars and to see the braking points for the corners."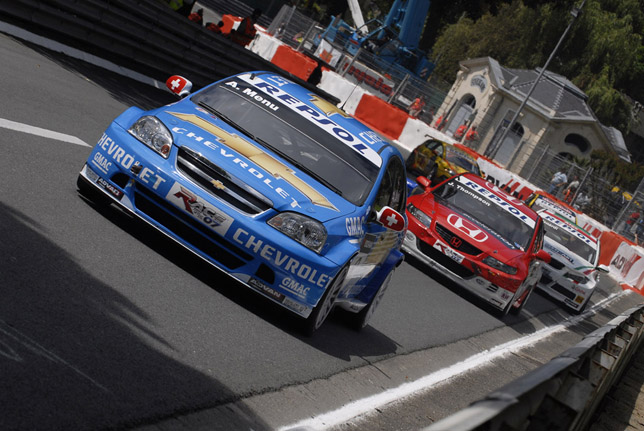 Alain Menu (10th/DNF): "I got hit by Zanardi on the first lap in the first race, which sent me into a spin and over the kerbs with the wheels in full opposite lock. This probably upset the geometry a bit as after the restart the car understeered everywhere. Under the conditions there was no way of doing better than tenth. In race 2 everything looked okay to maybe score a point but then the car went straight into the wall at the chicane. I had just lapped the Turkish driver, and I wasn't carrying too much speed into the corner, so I don't really know what happened. Unlike last year, Pau won't be weekend to remember for me.
PAU RACE 1 RESULTS
1. A Farfus BMW 320si 20 laps in 52m20s842
2. Y Muller SEAT Leon TDI + 17s851
3. J Gené SEAT Leon TDI + 18s111
4. R Huff Chevrolet Lacetti + 19s139
5. G Tarquini SEAT Leon TDI + 20s608
6. R Rydell SEAT Leon TDI + 21s265
7. N Larini Chevrolet Lacetti + 22s110
8. A Priaulx BMW 320si + 22s478
10. A Menu Chevrolet Lacetti + 23s543
PAU RACE 2 RESULTS
1. A Priaulx BMW 320si 21 laps in 36m01s406
2. N Larini Chevrolet Lacetti + 4s528
3. R Rydell SEAT Leon TDI + 5s000
4. G Tarquini SEAT Leon TDI + 14s424
5. R Huff Chevrolet Lacetti + 18s324
6. A Farfus BMW 320si + 19s968
7. Y Muller BMW 320si + 25s140
8. J Thompson Honda Accord Euro R + 28s203
DNF A Menu Chevrolet Lacetti Accident (12 laps)
DRIVERS POINTS STANDINGS AFTER RACE 8 OF 24
1. G Tarquini (SEAT), 45 points; 2. Y Muller (SEAT), 38; 3. R Rydell (SEAT), 37; 4. A Priaulx (BMW), 33; 5. J Gené (SEAT), 30; 6. R Huff (Chevrolet), 27; 8. N Larini (Chevrolet), 19;... 10. A Menu (Chevrolet), 14;...

MANUFACTURERS POINTS STANDINGS AFTER RACE 8 OF 24
1. SEAT, 115 points; 2. BMW, 85; 3. Chevrolet, 81; 4. Honda, 10.