Nissan GT-R AMS Alpha 12 - 347 km/h on 1 mile [video]
How to set a huge terminal speed at one mile drag race? It is not very easy and first you need a stunningly fast car like AMS Alpha 12 Nissan GT-R boosted to 1327PS (976 kW) and 1347Nm (995 lb-ft).
Second and very important is a long straight with wet surface. Because of the lots of tire spin, the tuned GT-R set the staggering 347.49 km/h on one mile. The time is 27.468 seconds, which is kind of slow for such type of car, which makes 9.05 seconds at ¼ mile with 267 km/h.
The tires used for this run are Toyo R888 285/35 R20 for the front and 315/30 R20 at the rear axle. The fuel is special racing 117 octane VP-C16 and the outside temperature is +12C.
The 1st run is without launch control and throttle at 85-90%, just to try the wet track and the 2nd run is also without launch control, throttle 95-100%, the engine shut-off 400 m. before the finish line.
Check out the video, below!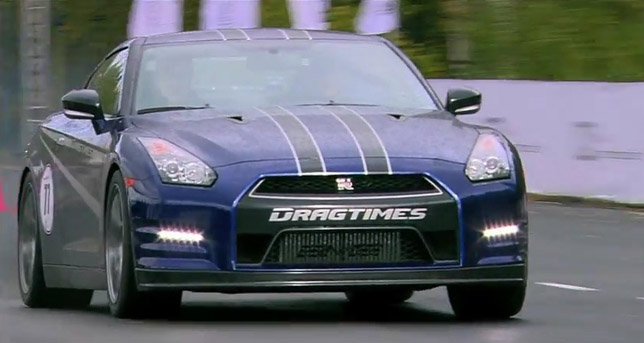 Source: Dragtimesinfo via Youtube