Nissan GT-R Voted Performance Car Of The Year At What Car? Awards 2009
The legendary Nissan GT-R was voted Performance Car of the Year at the prestigious What Car? Awards 2009 held in London last night, beating the Audi R8 and Ferrari 430 Scuderia.
It's a ringing endorsement of a supercar that delivers blistering, but accessible performance that is underpinned by confidence-inspiring handling enabling it to be driven fast and skilfully by just about anybody.
As What Car? editor Steve Fowler explains, "There's no need to feel intimidated, because the GT-R makes average drivers feel special, and it makes special drivers feel like they're getting the most out of it. That's why it's our performance car of choice.
"There are some who reckon that any supercar worthy of the name shouldn't actually have a practical four-seat layout and, the most serious crime of all, a decent-sized boot," he continued. "What's not in doubt, though, is the fact that the GT-R is the most dramatic, full-on supercar you can buy at any price."
Beneath the striking design lies a unique driveline comprising a hand-built 485 PS, 588 Nm-rated 3.8-litre V6 twin-turbo engine, a world-first paddle-shifted 6-speed dual clutch rear transaxle and an advanced all-wheel drive system, backed up by sophisticated electronic controls designed to minimise intrusion into driver enjoyment.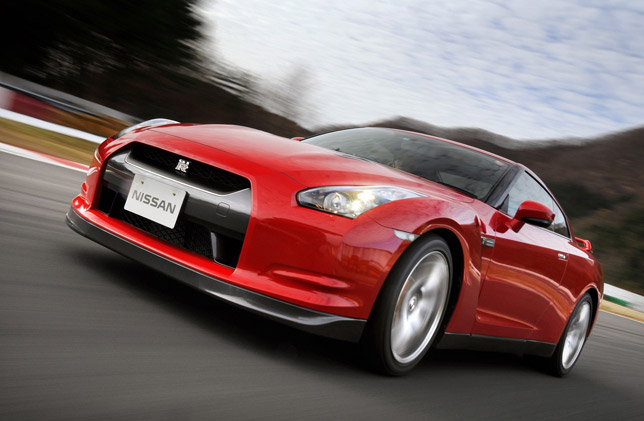 Performance is delivered in spades yet supercar statistics aren't matched by the typical downsides of supercar ownership; starting at £56,795, the GT-R is that rare thing, a performance car that offers everyday practicality.
Currently there are around 1200 UK customers expectantly awaiting their GT-R, with first deliveries taking place in April. The nature of the specialist build process is such that any new orders, which can be placed via a network of Nissan High Performance Centres, will be fulfilled from mid 2010.
The GT-R's accolades include:
Best Supercar – Top Gear Jan 2008
Auto Express New Car Honours – Sports car of the year – Aug 2008
Autocar Driver's car of the year – Sept 08
Auto Express – Performance Car of the Year – Oct 08
Evo – Car of the year – Nov 08
Vehicle Dynamics International Car of the year – Nov 08
Japanese Performance - Car of the Year – Dec 08
Performance Car – Car of the year – Dec 08
CAR magazine – Best Car of 2008