Nissan LEAF NISMO RC
Nissan in cooperation with its motorsports-dedicated division NISMO are ready to introduce the auto-world its latest hi-tech, 100 per cent zero emission ride, the Nissan LEAF NISMO RC.
Scheduled for public unveil at this week's starting 2011 New York International Auto Show, the Nissan LEAF NISMO RC is developed using the Nissan LEAF passenger vehicle's state-of-the-art powertrain with eco-friendly advanced Lithium-ion battery design.  The soon-to-be-premiered, innovative sporty ride's 'RC' letters stands for Racing Competition yet offers completely new meaning to the term "Racing Green."
Carlos Tavares, chairman, Nissan Americas, speaking at the New York International Auto Show, shared: "Combining the talents of NISMO, Nissan's world renowned motorsports group, and engineers behind some of the company's Super GT and FIA GT1 race teams, the Nissan LEAF NISMO RC will serve as a rolling laboratory for the accelerated development of EV and aerodynamic systems, as well as a platform for the development of new green motorsports series."
The LEAF NISMO RC by Nissan features carbon-made monocoque bodywork, fixed windows, LED headlights and taillights and driver-adjustable rear wing. Moreover, it benefits special 4-coat Pearl White finish with blue NISMO/Zero Emission graphic elements.
Driving on racy, 18-inch 6-spoke lightweight rims with Bridgestone racing rubber in the dimensions P225/40R18, the LEAF NISMO RC further houses a double-wishbone suspension design front and rear and driver-adjustable brake balance.
Just like the renowned, series Nissan LEAF, the newly developed NISMO RC draws its power by a lithium-ion battery composed of 48 compact modules and a high-response 80kW AC synchronous motor that estimates the amazing 107 horsepower and 207 lb-ft of maximum torque. Thanks to these output figures, the ride is capable of accelerating from standstill to 62 mph in 6.85 seconds flat, on its way to a top speed of 93 miles per hour.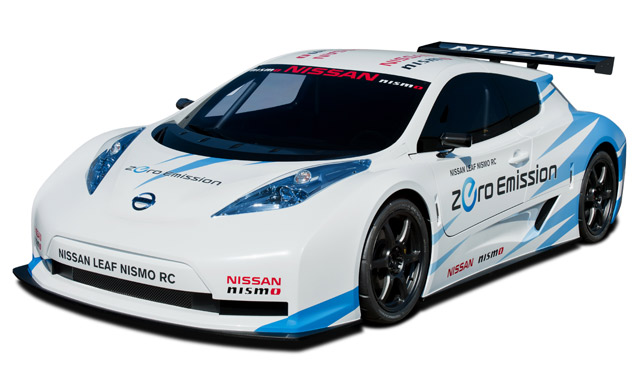 Source: Nissan