Nissan ROOX – The most spacious in minicar class
The latest creation from Nissan is called Roox. This is a 5 door city car directed to people, who search functionality and in the same time individuality. The small Japan car will be shown at the 2009 Tokyo Motor Show and it will be put on sale in December.
The measures of the interior are impressive – width 1365 mm and length 2085 mm. Roox is the most spacious car in minicar class. Besides that, the seats can be arranged to suit the number of passengers and the rear seats can be flattened to create even more luggage space.
Outside the car look much more like a Scion Xb, which is one of the best selling cars in USA. Hopefully Roox will be put on sale there, too.
Nissan Roox has sliding rear door, which creates a lot of convenience, when you have to transport children. Also when somebody parked too close to you car at the car lot, still the doors can be opened.
To the advantages of Roox we can add the low fuel consumption and the opportunity for the eco-car tax subsidy. The Nissan's minicar is a very good choice, if you decide to substitute your small or medium-sized car.
Price list will be announced later this year.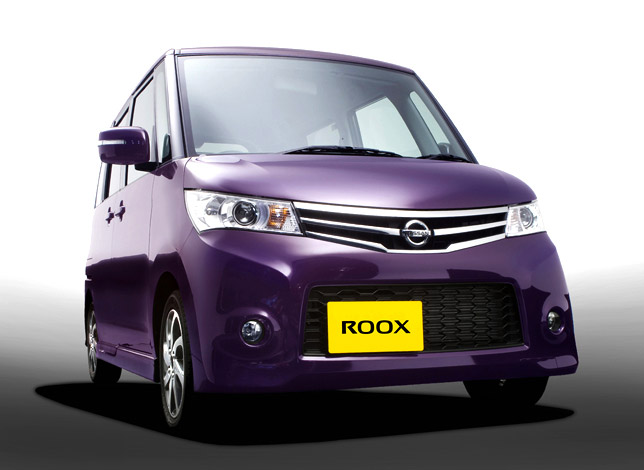 Full Press Release:
Nissan's Dynamic, "Super Space" Mini ROOX is Born
With a spacious interior, set to change the face of minicars in Japan, the elegantly designed Nissan ROOX is a "super space" minicar that will certainly catch the eye. The grade `Highway Star', which will be shown at the 2009 Tokyo Motor Show, employs sportier, dynamic lines. Nissan ROOX will debut in Japan in December.
Spacious interior
The Nissan ROOX employs its interior space and clever packaging to support the active lifestyles of all members of the family. With interior width measuring 1365 mm and interior length 2085 mm, this minicar ranks as the most spacious in its class. No matter where you sit, the ROOX's design gives each passenger a sense of the great outdoors. Seating arrangements can be altered to suit the number of occupants, and by flattening the rear seat back, a large luggage space is created.
Elegant design boasts loads of street cred
Designers set out to build a "super space" minicar that could be enjoyed by the whole family everyday. Employing a chrome grille and a sharp headlight design, the exterior has been penned in a bold form that stands out in a crowd. The sporty black interior also combines with the strong exterior lines to excite all those who drive it.
Double sliding rear doors make access a breeze
The new Nissan ROOX incorporates rear sliding doors on both sides of the vehicle that make entry and exit easy and safe. When open, rear access dimensions measure 580mm wide and 1230mm high, and a low-mounted rear step provides extra convenience especially when transporting children. And no need to worry about struggling to open doors when carrying lots of luggage. The ROOX features a remote-control door opening keyfob.
This vehicle also features a convenient drink cooler fitted inside the upper glove box of the passenger seat while a storage box under the passenger seat caters for children's toys, dirty shoes and the like. The ROOX boasts aloud of quality and a range of features that will more than satisfy buyers thinking of switching from their small or medium-sized car. As a very economical alternative, low mileage car, this minicar is also eligible for the eco-car tax subsidy*.
Fitted with dual airbags and front SRS side airbags*, the ROOX is a totally new kind of minicar that combines environmental and safety features into one exciting package.
Nissan ROOX Specifications:
Overall Length
(mm)
3,395
Overall Width
(mm)
1,475
Overall Height
(mm)
1,735
Wheelbase
(mm)
2,400
Seating Capacity
4