OPC Race Camp: Finale at 24-hour Nürburgring-Nordschleife Race
As the testing and preparations for the eight best OPC Race Camp candidates comes to an end, attention turns to the final showdown. At 3 p.m. on May 24, the final candidates will be put to the ultimate test in the 36th ADAC Zürich 24-hour race. The legendary endurance race on the famous Nürburgring-Nordschleife will be under the toughest competitive conditions. The candidates will have to draw on everything they have learned from former Opel works drivers, Le Mans winners and Opel brand ambassadors Manuel Reuter and Joachim Winkelhock and their team of instructors.
The highlight of the world's first racing driver talent search is the 24-hour race at the legendary Nordschleife or "Green Hell" as Formula 1 star Jackie Stewart first named it, in two 300 hp Astra OPCs, which have been converted for racing by Opel's partner Kissling Motorsport. With the launch of the OPC Race Camp in spring 2007, Opel broke new ground in the world of motorsport. Contrary to the competitors, Opel doesn't use famous and practiced racing drivers. The principle behind: Ambitious drivers with no racing experience get the opportunity to discover their motoring talents through rigorous talent scouting process and qualification stages. Those who have the necessary abilities then receive professional instruction to hone their skills and prepare them for competitive motor racing. Opel provides the professional training, cars and necessary organizational support for the Race Camp. After all, the dream of being a racing driver often dissipates because of the lack of sponsorship and high investments that are part of a motor racing career.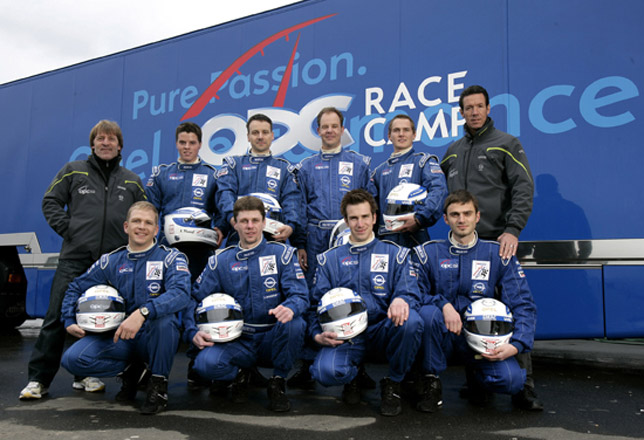 All expectations for the OPC Race Camp were exceeded when over 18,500 people applied to join. 500 candidates were chosen to come to the Opel Test Center in Dudenhofen, who were then reduced to just eight through four talent stages, several racing training exercises, racing driver license tests, competitive racing in the "Nürburgring Circuit Racing Challenge" and "Nürburgring Endurance Championship", as well as fitness tests and a winter training camp. Five Germans, two Austrians and one Swiss now make up the "Team OPC Race Camp" for the 24-hour race. The Germans are Alex Plenagl, a professional alpine skier and member of the Munich Ski Federation, economics student Benjamin Scharf from Netphen, North Rhine-Westphalia, Christian Bach, automotive development engineer from Rechtenbach, Bavaria, Dr. Peter Pangert, a dentist from Rudolfstad, Thuringia and Christian Bollrath from Loehne, North Rhine-Westphalia, who currently works in Atlanta, Georgia as president of a lighting systems manufacturer. The Race Camp team members from Austria are Stefan Leitner, a vehicle technology student from the Technical University of Graz, and Martin Karlhofer from Voitsberg, who has just successfully completed his studies in mechanical engineering and machining technology at the HTL Bulme engineering school. The Swiss member rounds off the OPC Race Camp Team: Kurt Wenger from Binningen, a sales representative for a Dutch high-tech bicycle manufacturer.
Opel and the Nürburgring enjoy a long and illustrious cooperation, which was made a formal arrangement when a strategic partnership was formed in 2006. A major part of Opel's motorsport history - especially popular motorsport – was written and continues to be written in the "Green Hell". One of the greatest highlights was Manuel Reuter's victory in the 2003 Nürburgring 24-hour race in an Astra V8 Coupé. Today, Opel's prototypes and sporty OPC models undergo thorough testing and fine tuning on the most demanding racing circuit in the world. Opel's presence at the Nürburgring is now even more apparent with the new on-site GM Test Center Nürburgring.
Alain Visser, Chief Marketing Officer, GM Europe, sees the OPC Race Camp as a motorsport venture with good prospects for the future: "With the OPC Race Camp, Opel opens a completely new dimension in motorsport. The Race Camp addresses friends of motorsport that would otherwise experience car racing from the sidelines at best. It is an ideal project for Opel's participation in popular motorsport because we can get our fans even more directly involved.