One-two Triumph for Peugeot at Le Mans
Today saw Team Peugeot Total secure its first victory in the Le Mans 24 Hours with the diesel-powered 908 HDi FAP which contested the French endurance classic for the first time two years ago in 2007. This afternoon's result also takes the firm's Le Mans score to three wins following its previous triumphs in 1992 and 1993.
The Peugeot squad monopolised the top-two places overall in this year's contest. And, with the exception of a short instant early in the race on Saturday afternoon, it led from flag to flag; initially with the N°8 car of Sarrazin/Montagny/Bourdais, then with the N°9 car (Gene/Wurz/Brabham) which inherited top spot just ahead of the five-hour mark, before going on to defend its advantage until the finish. The N°7 car (Minassian/Lamy/Klien) rounded off Peugeot's weekend by completing this year's thrilling Le Mans clash in sixth spot after collecting a series of minor setbacks during the night.
Peugeot Sport Director, Olivier Quesnel: "Before the start, I used a French cycling analogy to describe the crew of the N°8 car as 'sprinters', the N°7 crew as 'road sprinters' and the N°9 drivers as 'warriors'. Today, it was the 'warriors' who won. I really sense that the public and Automobiles Peugeot wanted this result. We faced a huge challenge and we succeeded in rising to it. We were here as challengers, and our mission was to try to topple the favourites. And that is exactly what we did, essentially by steering clear of the different potential pitfalls in our path. It turned out to be a terrific race, and Peugeot Sport is a truly magnificent team. I am so proud of all the people who were involved in this project. This win is Peugeot Sport's win."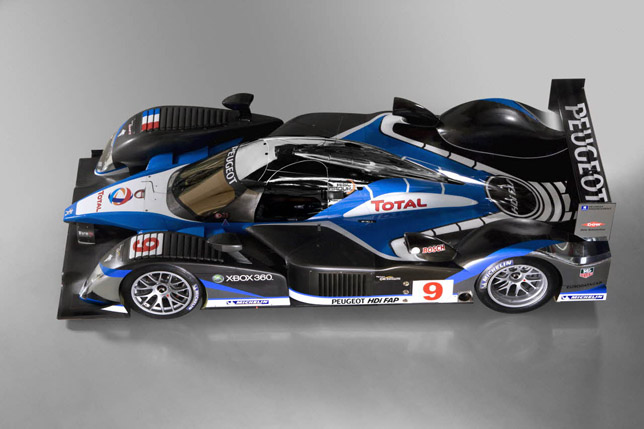 The N°9 Peugeot's distinctly international line-up of Spaniard Marc Gene, Australia's David Brabham and Austrian driver Alexander Wurz owed their victory to a trouble-free run which saw them take over at the top when the other two 908 HDi FAPs were delayed during the first quarter of the race. After that, the experienced trio focused on driving as quickly and as consistently as possible in order to push home their advantage and force their rivals to do all the chasing…
"It's such a great feeling to have won," beamed David Brabham for whom victory comes at his 16th attempt and whose brother Geoff formed part of Peugeot's winning trio back in 1993. "Peugeot Sport did a tremendous job; they really did. It's a great team, they gave us a 100 per cent reliable car and the three of us drove a faultless race."
Alexander Wurz, the youngest driver ever to win the endurance classic (1996), notched up his second success in La Sarthe today: "What made the difference? The fact that we kept it on the track without picking up any damage. We also had a great team behind us, and a phenomenal car. It's a fantastic feeling to have won in France in a French car."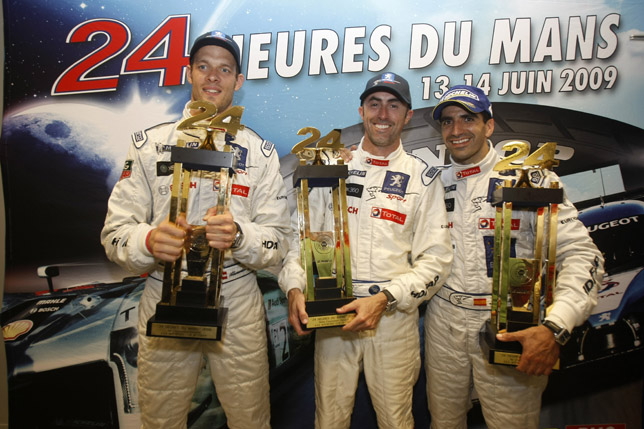 "To have won a race this big is the best thing that has ever happened to me," concluded Marc Gene. "I've never experienced anything like it. It really is a very emotional moment for me."
The early pace was in fact set by the all-French crew sharing the N°8 Peugeot 908 HDi FAP, thanks initially to an assertive, quadruple opening stint from Franck Montagny who powered away from pole position before spending three hours building up a handsome cushion at the hottest moment of the race on Saturday afternoon (28°C). The Frenchman's efforts were then relayed by crew-mate and pole-winner Stephane Sarrazin.
Soon afterwards, however, the N°8 car lost the ground that would later cost it first place - and victory - when Sebastien Bourdais, the third man in the car, pitted with a broken disc bell. That cost the trio almost 10 minutes in repairs. The Le Mans-born driver then collided with a backmarker, damaging the front of his 908, and the time required to replace the front part of the body cost a further lap. "It's a great day for Peugeot," underlined Sebastien Bourdais. "They have worked so hard for this success and they really deserve it. I have a personal challenge which is to one day win what is my home race. It was a close-run thing this year, but I will be back until I succeed!"
"Franck, Sebastien and I are all obviously disappointed not to have won, but how can I not be happy for the team which wanted this result so much?" recognised Stephane Sarrazin.
The third Team Peugeot Total car (N°7) suffered a knock-out blow after just 11 laps when it was hit by another competitor as it was leaving its pits after its first stop. Once the bitter disappointment of falling to 51th place so soon had been digested, Portugal's Pedro Lamy, Frenchman Nicolas Minassian and Austria's Christian Klien responded by providing assistance to their team-mates, evaluating and validating a number of solutions which were aimed at fine-tuning the front-runners' respective strategies.
Despite a cascade of minor troubles during the early hours of the morning, their consistency and determination were rewarded with a plucky sixth place at the flag.
With victory going to the N°9 car and pole-position to the N°8 machine, everyone went away with something to show for their efforts since Nicolas Minassian succeeded in posting the fastest race lap of the weekend: a 3m 24.352s which works out at an average speed of 240.097kph round the world-famous 13.629km circuit.
Pedro Lamy probably best summed up the feelings of his two team-mates when he observed that: "When I was hit by the other car in the pit-lane, I really couldn't believe it. It was so tough - really tough - to see all our chances of winning evaporate barely 40 minutes into the race. But that's racing, and I have to accept it."
Bruno Famin (Technical Director, Peugeot Sport): "We didn't have any technical problems this weekend; just a few racing incidents which upset certain gameplans. The Peugeot 908 HDi FAP has demonstrated its reliability by winning against Audi which has been an invincible force here for practically a decade. This is the result of not just one, but four years' hard effort."
Final positions:
| | | |
| --- | --- | --- |
| 1, Gené/Wurz/Brabham | Peugeot 908 HDi FAP N°9 | 382 laps (5206km) |
| 2, Sarrazin/Montagny/Bourdais | Peugeot 908 HDi FAP N°8 | +1 lap |
| 3, Capello/Kristensen/McNish | Audi N°1 | +6 laps |
| 4, Charouz/Enge/Mucke | Lola Aston Martin N°007 | +9 laps |
| 5, Panis/Lapierre/Ayari | Oreca N°11 | +13 laps |
| 6, Minassian/Lamy/Klien | Peugeot 908 HDi FAP N°7 | +13 laps |