Pole Position and Podium for Volvo in STCC
Robert Dahlgren takes Volvos fifth pole position in nine races and finishes in third place. This year's ninth race at Ring Knutstorp started off badly for Volvo. Tommy Rustad crashed on his first set of tyres in qualifying and was left as an observer for the rest of the competition. Then Robert Dahlgren stepped up. Fastest time in qualifying and pole position after super pole. Volvos new C30 now accounts for pole position in more than half of this years' races. Before the race, the set-up was changed on Dahlgren's car from an aggressive qualifying set-up to a softer set-up that is easier on tyre wear. A must on Ring Knutstorp, especially during Sundays hot weather conditions.  Dahlgren defended his place in the start of the race but had to quite quickly allow first Robin Rudholm to pass and then later Richard Göransson, both in BMW's. After that, the rest of the laps were a formality for Dahlgren who could take his first podium for the year.
"I had to make a choice early in the race. Drive defensively, pressure my tyres to max and get the whole field stacked up behind me, or allow these two to pass me and then drive in my own pace to a comfortable podium finish. I chose the latter. The King was giving the prizes today", laughs a happy Dahlgren.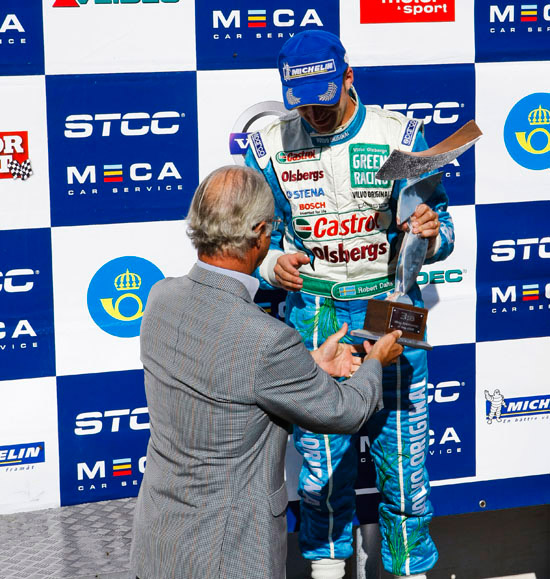 Jan Andersson, technical manager for the Volvo team Polestar sees this weekend's competition as an important step in the right direction: "We have been very focused to make the car more conservative on the tyres to avoid loss of pace at the end of the race. We got confirmation today that we are heading in the right direction. We are closing in on a win."