Porsche RS Spyder and 911 GT3 RSR: Double pole for Le Mans 24 Hours
A perfect start to the French long distance classic: At the qualifying session for the Le Mans 24 hour race, Porsche race cars claimed pole position in both the LMP2 class for sports prototypes as well as in the production-based GT2 category. Competing for Denmark's Essex racing as a regular driver, Casper Elgaard (Denmark) qualified the RS Spyder on pole in the LMP2 class in 3:37.720 minutes. The second RS Spyder, fielded by the Japanese NAVI team Goh and manned by Seiji Ara (Japan), followed in second, a mere 0.082 seconds slower than the pole-sitter. With these brilliant times, the two vehicles left the rest of the LMP2 field a good four seconds behind them on the 13.629 kilometre circuit.
At the top of the GT2 category, the situation was equally as tight. Porsche works drivers Joerg Bergmeister (Germany, Flying Lizard team) and Marc Lieb (Germany, Felbermayr-Proton) were separated by just 0.03 seconds with their two Porsche 911 GT3 RSR at the head of the field. The 77th running of the long distance classic takes off on Saturday, 13 June, at 15.00 hours. Porsche is excellently represented in the race. Aside from the two sports prototypes, which last year celebrated a double victory, international customer teams field a total of five 911.
The 2009 Essex squad, which last year came second in the LMP2 class, consists of pole-sitter Elgaard as well as his compatriot Kristian Poulsen and Porsche works driver Emmanuel Collard (France). "Although we couldn't work on the race set-up because of the rain during yesterday's free practice, the RS Spyder felt very good right from the start in the dry today. The balance was just right. We've made great improvements with the Michelin tyres compared to last year. They are perfect for the car." Essex team's RS Spyder surprised fans in Le Mans with a completely new look. The green paintwork symbolises that the car is the official "Michelin Green X Challenge" ambassador. Last year, the RS Spyder won Michelin's efficiency award at the 24 hour race and in the Le Mans Series as the vehicle with the best overall efficiency in the field, which was calculated from a combination of high average speed and low fuel consumption. The Danes received the right to compete at Le Mans through their result in the efficiency classification from last year.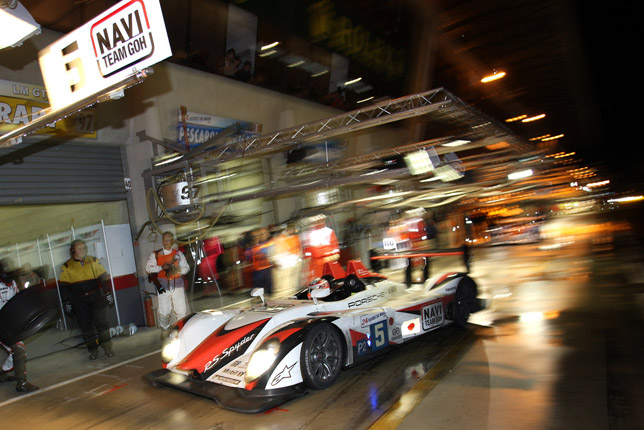 Seiji Ara of Japan's NAVI Team GOH, overall winner of the Le Mans 24 Hours in 2004 with Goh, was slightly unhappy after narrowly missing out on pole position. "The front position was within reach," said Ara, who last drove in Le Mans in 2005, "but then I got caught in traffic on the fast passage. Never mind! We have an excellent car. Most of all, I'm very impressed with the braking stability of the RS Spyder. It's huge fun to brake for the narrow corners from over 300 kph." Joining forces with Ara is his 20-year-old countryman Keisuke Kunimoto, who won the famous Formula 3 street race through Macao last year, and the German Porsche factory pilot Sascha Maassen. "From the first moment on I was involved in the development of the RS Spyder," said the 39-year-old German. "For that reason my dream and my goal is to win the fastest and most fascinating long distance race in the world."
The two Porsche works drivers Timo Bernhard (Germany) and Romain Dumas (France), lent to Audi to contest the race, take up the 24 hour event from seventh in the overall classification. They share driving duties with Audi pilot Alexandre Prémat (France) at the wheel of an R15 TDI in the most powerful class of the LMP1 sports prototypes. "During qualifying we concentrated predominantly on the car's race set-up, and not just on turning out a quick qualifying lap," the German said. "Being new to the diesel vehicle this was very important, particularly because we didn't get a chance yesterday in the wet and there was no pre-testing here on the track in the lead up to the race. Romain and I are very happy to get the chance to drive for overall victory in an LMP1 vehicle. We have received a warm welcome from the Audi crew and feel right at home here. That's not something I simply take for granted."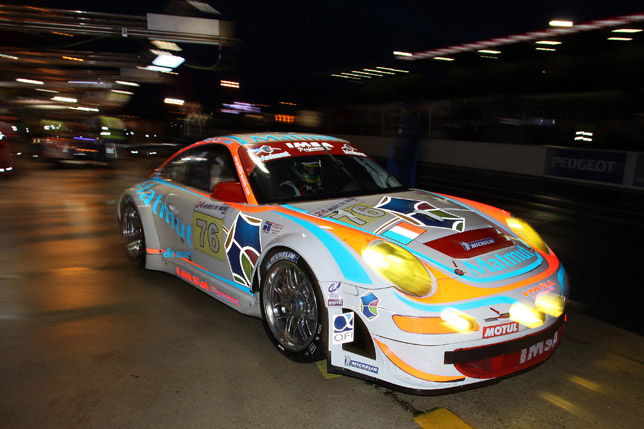 For a long time it looked as if Marc Lieb, Richard Lietz (Germany) and Wolf Henzler (Germany) would bring home an unchallenged top time in the GT2 class. But in the dying minutes of the qualifying, Joerg Bergmeister snatched the pole position away. The Porsche works driver from Germany competes in the 911 GT3 RSR of the American Flying Lizard team with Seth Neiman and Darren Law (both USA). "In the first instance it was important for my two team mates to get a couple of laps in on a dry track," said Bergmeister. "During the first part of the qualifying we worked on the set-up and only put in some fast laps towards the end on a fresh set of tyres. I turned a relatively decent lap before it got dark. In the second session I continued working on the set-up."
Marc Lieb was also satisfied: "Our whole package is very good with a great team, great car and great drivers. So, we're feeling quite optimistic for the race." Taking up the race from sixth in the GT2 class is the IMSA Performance Matmut team with the two Porsche works drivers Patrick Pilet (France), Patrick Long (USA) as well as Raymond Narac (France). The second IMSA-911, with drivers Horst Felbermayr Jr., Horst Felbermayr Sr. (both Austria) and Michel Lecourt (France) head into the race from 14th, ahead of the 911 GT3 RSR of the Endurance Asia team with drivers Darryl O'Young (China), Philippe Hesnault (France) and Plamen Kralev (Bulgaria).
Qualifying result LMP2
1. Elgaard/Collard/Poulsen (DK/F/DK), Porsche RS Spyder, 3:37.720 minutes 2. Ara/Kunimoto/Maassen (J/J/D), Porsche RS Spyder, + 0.082 seconds 3. Kane/Leuenberger/Pompidou (GB/CH/F), Lola Judd, + 4.004 4. Erdos/Newton/Dyson (GB/GB/USA), Lola Mazda, + 4.232 5. Pla/Amaral/Smith (F/P/GB), Ginetta-Zytek, + 4.292 6. Biaggi/Bobbi/Piccini (I/I/I), Lola Judd, + 5.128 7. Ojjeh/Gosselin/Peter (SAU/F/A), Zytek, + 7.110 8. Lahaye/Ajlani/Moureau (F/SYR/F), Pescarolo Mazda, + 7.312 9. Barazi/Bennett/Moseley (DK/GB/GB), Zytek 07S, + 15.263 10. Noda/Pourtales/Marsh (J/F/GB), Lola Mazda, + 15.352
Qualifying result GT2
1. Neiman/Law/Bergmeister (USA/USA/D), Porsche 911 GT3 RSR, 4.03.202 minutes 2. Lietz/Lieb/Henzler (A/D/D), Porsche 911 GT3 RSR, + 0.030 seconds 3. Melo/Kaffer/Salo (BR/D/FIN), Ferrari F430 GT, + 0.854 3. Bouchut/Lebon/Rodrigues (F/F/F), Ferrari F 430 GT, + 0.882 5. Malucelli/Ruberti/Babini (I/I/I/), Ferrari F 430 GT, + 1.020 6. Pilet/Narac/Long (F/F/USA), Porsche 911 GT3 RSR, + 1.446 7. Bruni/Companc/Russo (I/ARG/ARG), Ferrari F 430 GT, + 1.736 8. Bell/Kirkaldy/Sugden (GB/GBGB), Ferrari F430 GT, + 1.966 9. Cocker/Drayson/Franchitti (GB/GB/GB), Aston Martin Vantage, + 3.280 10. Simonsen/Farnbacher/Montanari (DK/D/I), Ferrari F 430 GT, + 3.410
Facts and figures
24 Hours of Le Mans
The 55-strong grid line-up for the Le Mans 24 Hours is made up of two different sports car categories: Sports prototypes and standard sports cars. The technical regulations of the long distance classic are the basis for the European Le Mans Series (LMS), in which one RS Spyder competes in 2009, and the American Le Mans Series (ALMS). All race cars take off at the same time in Le Mans. There is an overall classification and classifications for each class.
The four classes in Le Mans:
LMP1 class: Sports prototypes with up to 700 hp and a minimum weight of 900 kilograms. Power to weight ratio: ca. 1.3 kg/hp.
LMP2 class: Sports prototypes with around 440 hp (with normally aspirated engines) and an 825 kilogram minimum weight. Power to weight ratio: ca. 1.8 kg/hp. The Porsche RS Spyder starts in this class.
GT1 class: Strongly modified standard sports car with up to 650 hp and a minimum weight of 1,125 – 1,325 kilograms.
GT2 class: Slightly modified standard sports cars with 450 to 460 hp and a minimum weight of 1,145 – 1,345 kilograms. The Porsche 911 GT3 RSR competes in this class.