Porsche wins 24 hour thriller in Daytona
With a hard-fought victory at the 24 Hours of Daytona, Porsche has again lived up to its role as the most successful manufacturer in the history of the long distance classic in Florida. On the Daytona International Speedway, David Donohue (USA), Darren Law (USA), Buddy Rice (USA) and Antonio Garcia (Spain) won the 47th running of the time-honoured Grand-Am Series season-opener with the Porsche-Riley of Brumos Racing. After a nerve-wracking finale, they secured the 21st overall victory for Porsche by an extremely slim margin of just 0.167 seconds. In the GT class, Joerg Bergmeister (Germany), Patrick Long (USA), Andy Lally (USA), RJ Valentine (USA) and Justin Marks (USA) won with their TRG Porsche 911 GT3 Cup and, with this, rounded off the successful start of the new motorsport season for Porsche.
"This is an amazing result for Porsche and the best confirmation of our customer racing programme and the intensive technical support that we give our teams at the race track," said Porsche head of motorsport, Hartmut Kristen. "The last Daytona victory for Porsche was six years ago and it's quite remarkable that then principally the same 911 engine was powering the winning car that is now in the Daytona Prototype of Brumos Racing. There's nothing like a six-cylinder boxer engine."
Manning the second Porsche-Riley fielded by Brumos Racing, Hurley Haywood (USA), Terry Borcheller (USA), Joao Barbosa (Portugal) and JC France (USA) secured third place. However, the Grand-Am premiere for Penske Racing and Porsche did not run as successfully. Timo Bernhard (Germany), Romain Dumas (France) and Ryan Briscoe (Australia) finished sixth after a strong performance. Their start showed promise: After narrowly missing out on pole position in qualifying, Timo Bernhard didn't hesitate in planting his vehicle at the front after just two laps.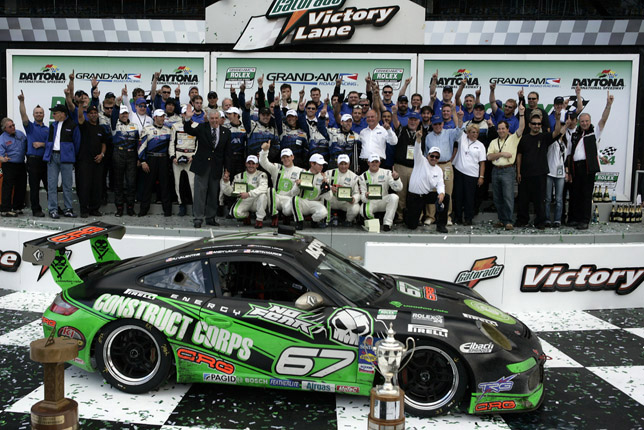 In the first third of the race, the Penske and Brumos prototypes dominated, leading 207 of 261 laps. After eight hours, Brumos-pilot Joao Barbosa headed the field in the #59 Porsche-Riley. During the night, the Porsche pit crews didn't have much to do: Tyre change and refuel – complete routine for the well-trained mechanics. After 16 hours, the front-running Penske pilot Ryan Briscoe handed his car over to Romain Dumas. But strong competition from the many big-names from the American IndyCar Series and NASCAR scene upped the pressure. At 8.55am on Sunday morning, the quiet was shattered in the Penske pits: The #16 Porsche-Riley had to be pushed into the garage with a broken drive-shaft. Repairs took 26 minutes and cost 15 laps. But it was not the last setback on this sunny Sunday in Florida: A gearbox change threw Romain Dumas even further back into the field.
"We took off from the first row, drove the fastest lap and led for most of the laps," said Timo Bernhard, winner of the 2003 race. "Still, it's disappointing that it wasn't enough to win today. But with regard to the championship, our sixth place is worth a lot." Romain Dumas added: "We know that we can match the pace of the regular front-runners. That's the most important thing."
After the retirement of the #16 vehicle, hopes of many Porsche fans lining the Daytona International Speedway were now resting on the Brumos Racing prototypes. After a few years without much success, the Jackonsville-based Brumos team, run by one of America's oldest Porsche dealerships and supported by Hurley Haywood as one of the world's most successful long distance pilots, lived up to all expectations at their home race. In a thrilling and dramatic final phase, pole-setter David Donohue in the #58 Porsche-Riley, first overtook Juan-Pablo Montoya in a Lexus-Riley of Team Ganassi and successfully fended off all attacks from the ex-Formula 1 pilot. At the finish line, Donohue could not hold back the tears: 40 years after his father Mark's win here, he could now celebrate his Daytona 24 Hour success.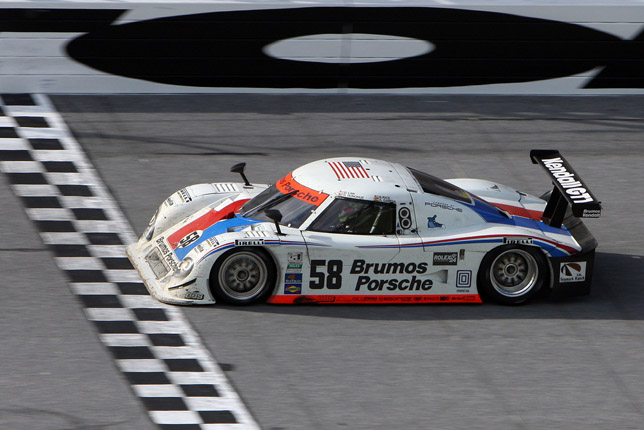 "We did our home work, we completed 3,000 miles of testing in Daytona and really did all preparation to be able to win this race," said David Donohue. "We were far off any big wins over the last years but our team never gave up. Our goal was to win. That we reached this goal against such strong competition from Penske and Ganassi makes this victory even sweeter. It's a huge day for Brumos and Porsche."
Porsche also proved unbeatable in the GT class, with the 911 GT3 Cup claiming a clear triple victory. "Right at the start of the race we landed two laps behind through no fault of our own, but were able to catch up again," said Joerg Bergmeister after claiming the third Daytona win of his career. Team mate Patrick Long added: "We didn't experience one technical problem over the entire race. I'm sure that was a crucial factor in winning."
In the second TRG-run 911 GT3 Cup, Emmanuel Collard (France), Richard Lietz (Austria), Ted Ballou (USA), Tim George (USA) and Spencer Pumpelly (USA) occupied second place. "We had a clean race without any collisions and any repairs. That's the only way to reach the podium," said Richard Lietz. Emmanuel Collard believed: "Our car was really simple and comfortable to drive. The positions were settled early on in the race. Double victory for TRG – it hardly gets better than this." Sascha Maassen (Germany), Patrick Pilet (France), Phillip Martien (France) and BJ Zacharias (USA) took the chequered flag third with the 911 GT3 Cup of Wright Motorsports. "Our car ran perfectly. I've never worked with this team before and still we secured a podium – this is a result to be proud of," said Patrick Pilet. Sascha Maassen was also satisfied with third place. "Our goal prior to the race was to reach the flag. That we climbed the podium is due to the fact that no-one in our team made a single mistake."
Hartmut Kristen was not only delighted with the superb results for Porsche, but also with the brilliant performance of his drivers. "This weekend," said the Porsche motorsport boss, "without exception, all nine works drivers as well as our two juniors did a world-class job."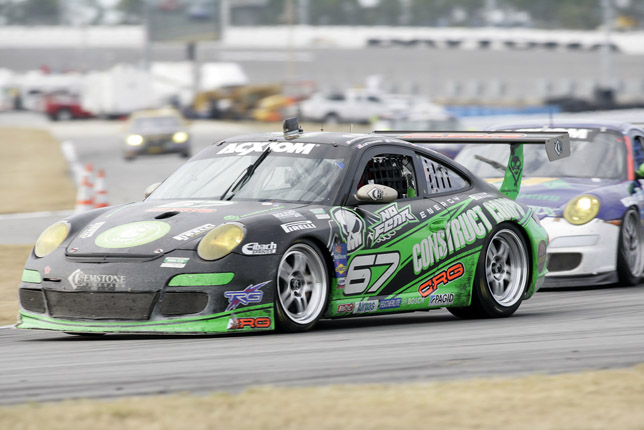 Statistics: 1st of 12 races of the Grand-Am Series in Daytona, Florida
Race result 1. Law/Donohue/Rice/Garcia (USA/USA/USA/E), Porsche-Riley (DP), 735 laps 2. Montoya/Pruett/Rojas/Dixon (COL/USA/MEX/USA), Lexus-Riley (DP), 735 3. France/Barbosa/Borcheller/Haywood (USA/USA/P/USA), Porsche-Riley (DP), 735 4. Taylor/Angelelli/Friselle/Lamy (USA/I/USA/P), Ford-Dallara (DP), 735 5. Dixon/Franchitti/Lloyd/Pruett (USA/GB/USA/USA), Lexus-Riley (DP) 731 6. Bernhard/Dumas/Briscoe (D/F/AUS), Porsche-Riley (DP), 717 7. Fogarty/Gurney/Vasser/Johnson (USA/USA/USA/USA), Pontiac-Riley (DP), 714 8. Wallace/Finley/Patrick/Mears (GB/USA/USA/USA), Pontiac-Crawford (DP), 702 9. Bergmeister/Long/Marks/Lally/Valentine (D/USA/USA/USA/USA), Porsche 911 GT3 (GT), 695 10. Collard/Lietz/Pumpelly/George/Ballou (F/A/USA/USA/USA), Porsche 911 GT3 (GT), 694
Result GT class 1. Bergmeister/Long/Marks/Lally/Valentine (D/USA/USA/USA/USA), Porsche 911 GT3 Cup 695 2. Collard/Lietz/Pumpelly/George/Ballou (F/A/USA/USA/USA), Porsche 911 GT3 Cup 694 3. Maassen/Pilet/Zacharias/Martien (D/F/USA/F), Porsche 911 GT3 Gup 691
The 2nd round of the Grand-Am Series takes place on 26th April in Alton, Virginia.