Priaulx Claims Third in Monza - Difficult WTCC Weekend for BMW
BMW Team UK's Andy Priaulx (GB) finished third in the 19th round of the FIA World Touring Car Championship. The defending champion crossed the line at the "Autodromo Nazionale di Monza" in fourth, benefiting from a belated 30-second penalty for a competitor. Alessandro Zanardi (IT) also scored one point for BMW Team Italy-Spain by finishing eighth. In the second race of the day, the local hero came seventh, while BMW Team Germany's Augusto Farfus (BR) was rewarded for an impressive fight back with eighth.
Priaulx was forced to retire with a puncture while running in fifth. Farfus' team-mate, Jörg Müller (DE), walked away from the WTCC's final European race weekend of the year with ninth and tenth places respectively. Following his retirement in race one, Félix Porteiro (ES) also missed out on a points' finish in the second nine-lap contest. The two victories went to the SEAT pairing of Yvan Muller (FR) and Gabriele Tarquini (IT). In the Drivers' Championship, fifth-placed Priaulx remains the most successful BMW representative with 61 points. In the manufacturers' classification, BMW ranks second with 223 points. SEAT increased its lead to 54 points.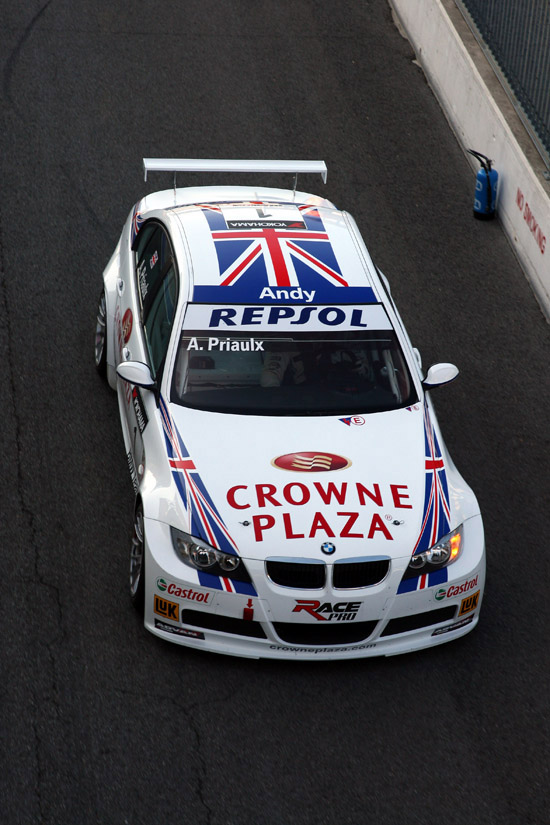 Andy Priaulx (BMW Team UK): "Today we made the most of our opportunities, my car was fantastic. However, it was impossible to challenge the diesel opposition. Obviously I'm disappointed about the puncture in race two. Many cars went over the debris before me, but I was the only one who suffered a problem. That's somehow symbolic for this season."
Alessandro Zanardi (BMW Team Italy-Spain): "Starting from pole position you naturally hope to finish somewhere up front. But that was just not possible today. A lot of work lies ahead of BMW and the teams in order to close the gap to the front-runners again. I'm happy that I at least provided the Italian fans with a lot of action."
Jörg Müller (BMW Team Germany): "Race one started in a truly chaotic way. In the crash with James Thompson the balance of my car suffered, so I wasn't able to push as hard as I had planned to from 15th on the grid. In race two I got a heavy hit even before the first chicane. Again the handling was affected for the worse. I had hoped for a better farewell from Europe."
Augusto Farfus (BMW Team Germany): "My start in race one was good. But then everything went against me. First, someone bent my exhaust, and then I lost my radiator grill and later the radiator lost water. At least I was able to say thank you to my team for the repair works by improving to eighth in race two."
Félix Porteiro (BMW Team Italy-Spain): "I had different plans for the home event of BMW Team Italy-Spain. Right at the start of the first race I lost all my chances of scoring another good result. I hope the forthcoming overseas races will have a more positive outcome for us."