Priaulx scores two podiums for BMW to conclude WTCC season in Macau
In the 2008 FIA World Touring Car Championship's season finale at Macau's "Guia Circuit", Andy Priaulx (GB) claimed a podium position for BMW Team UK in each of the two races. In the 23rd round of the year, the triple world champion crossed the line second, just 0.523 seconds behind the race winner, Chevrolet's Alain Menu (CH). In the chaotic second nine lap sprint race Menu's team-mate Robert Huff (GB) took victory, with Priaulx securing his ninth podium result of the season by coming third.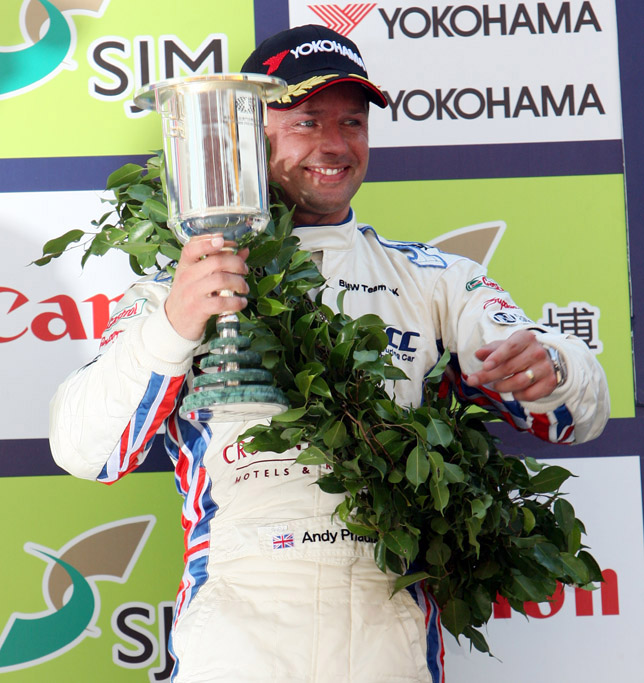 BMW Team Germany's Augusto Farfus (BR) finished fourth in race one, so scoring five points. Alessandro Zanardi (IT) put in an excellent performance for BMW Team Italy-Spain in the second race: He had started from the pit lane, but still managed to finish fifth. Farfus' team-mate, Jörg Müler (DE), retired in race two, after coming home tenth in race one. BMW Team Italy-Spain's Félix Porteiro (ES) finished fourth in race one, but only completed the formation lap in race two and was not able to start due to a technical problem.
Yvan Muller (FR), like Priaulx, also made it onto the podium in both races. Thanks to this the SEAT driver increased his points' tally to 114 and secured his first world championship title. Muller succeeds Priaulx, who had not only won all three world titles since 2005, but also the 2004 European Championship. The BMW works driver scored 81 points this year, earning him fourth in the drivers' classification. Priaulx is the best-placed BMW driver in the 2008 championship. In the Manufacturers' Championship, BMW added 23 points to its tally, giving it a total of 274 and consolidating its second place in the manufacturers' championship – behind SEAT, but ahead of Chevrolet and Honda. BMW privateer Sergio Hernández (ES) of Proteam Motorsport won the Independents' Trophy.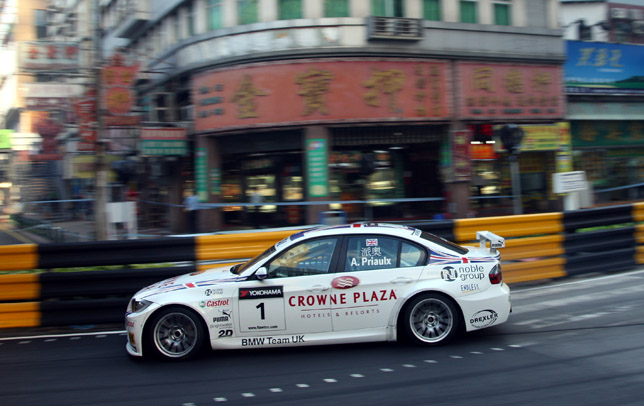 Andy Priaulx (BMW Team UK): "Once again this year Macau was good to me. Congratulations to Yvan Muller. Gabriele Tarquini gave me his European title in 2004 and I now hand the world title to Yvan. It is an honour to give the championship to a quality driver. I am proud to be the best BMW driver again."
Alessandro Zanardi (BMW Team Italy-Spain): "It's very nice to conclude the season with this unexpected success. I dedicate these four points to my team. The guys put in a tremendous effort between the two races to give me the chance to take part in race two. Congratulations to Yvan Muller, he is a worthy champion."
Augusto Farfus (BMW Team Germany): "It's not easy to cope with a retirement when you are leading the race on the final lap. But it somehow reflects how this season went for me. I'm sorry that James Thompson was forced to retire. This was my only chance to overtake him. Maybe he didn't expect an attack there. Congratulations to SEAT and Yvan Muller. To beat your team-mates by such a clear margin is impressive."
Jörg Müller (BMW Team Germany): "Obviously you don't want to finish a long season in such a manner – most importantly not in Macau, which I really like. On the first laps of race one I had massive understeer and lost ground. In race two, I couldn't avoid hitting Andre Couto, who had crashed into the barriers right in front of me. Yvan Muller's performance this year deserves my highest respect."
Félix Porteiro (BMW Team Italy-Spain): "I'm really disappointed by this end to the season. In race one I even had the chance to bag an eighth-place finish. But then persistent brake problems caused me to have an accident, and I lost several positions. On the formation lap of the second race, my car simply stalled due to a problem with the electronics."