Pro_cee'd steps into the ring
Kia's stylish and sporty pro_cee'd is no stranger to Germany's Nürburgring having been extensively tested there during development but this weekend is back to prove itself in the Nürburgring 24-hour race.
The barely modified three door pro_cee'd has been entered into Europe's toughest and most legendary long-distance race by a team from Continental Italia who are hoping to triumph over the competition with as few tyre changes as possible. In fitting ContiSportContact 3 standard tyres to the pro_cee'd rather than race tyres, the team expect to have an advantage over those that have to swap tyres with each change in weather conditions.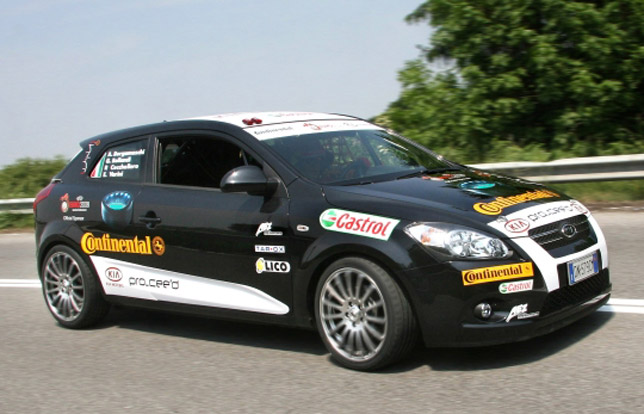 The pro_cee'd is powered by Kia's strong, flexible 2.0-litre diesel engine producing 138bhp at 4000rpm and 305Nm of torque all the way from 1800 to 2500rpm, giving instant, strong response throughout the rev band and outstanding performance.
During development, the handling on pro_cee'd was fine tuned on all kinds of roads and in all types of weather conditions in Germany, France, Spain and Sweden so the likely rainfall this weekend will not hinder the Kia's progress. Test tracks also played an important part in the dynamic development of the all-round independent suspension, with pro_cee'd being put through its paces on circuits and proving grounds such as Nürburgring, Boxberg and ATP/Papenburg, Ladoux and Idiada.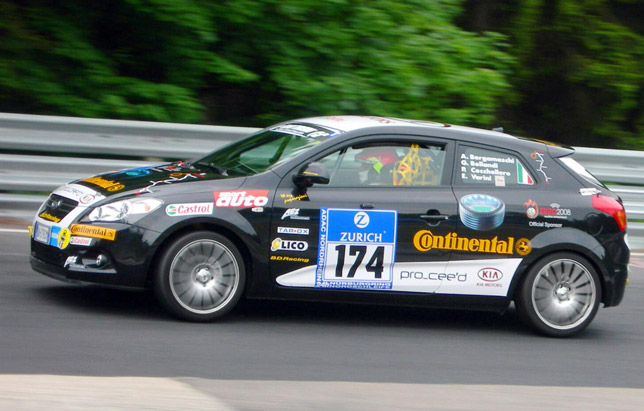 Four drivers will share the 1,900km journey between them - Dr Alberto Bergamaschi who already has 360 races under his belt; Gianni Bellani – an experienced long distance race expert; and two of the most experienced touring car drivers, Paolo Cecchellero and Edo Varini. Their motto for the race is simple: As few tyre changes as possible, as many changes as necessary.
The Continental Italia pro_cee'd will also be supported by Castol as the market leader for special oils for extreme use. Kia Motors and Continental were brought together by the UEFA EURO 2008™ as both companies are official sponsors.