New Carbon Composite Process from Provide - Superb Surface Finish and Better Durability
Automotive technology and specialist manufacturing company, Prodrive, has developed an answer to the problem of lacquer deterioration on visible carbon composite components – eliminate the lacquer completely. As well as increasing cosmetic durability and reducing cost, the new process delivers an exceptional surface finish that is thought to be at least equivalent to the best lacquered finishes.
Until now, the demand for a smooth, high gloss finish on composite parts has necessitated spraying a lacquer coat over the finished surface. Unfortunately, any surface chips (e.g. stone chips) can cause the lacquer to delaminate from the carbon substrate, leading to unsightly white blotches.
"It's highly unsatisfactory if a large panel, like a diffuser, has to be replaced after a few thousand miles due to cosmetic deterioration when the part is, functionally, still serviceable," comments Gary White, Prodrive's composites engineering manager. "We now have a finish which is so good that we can dispense with the lacquer entirely so we have multiple benefits: piece part cost reduction, better durability in service and improved consistency of appearance."
The long term quality of finish on composite parts is of great importance both to discerning buyers of premium road cars and to prominent motorsport teams wishing to project a professional image, but achieving this has not been easy. "In twenty years of working with composite parts, I've never seen such a consistent, high gloss surface finish produced without lacquer," advises White, "we call it AA finish quality because it sets a new standard of excellence."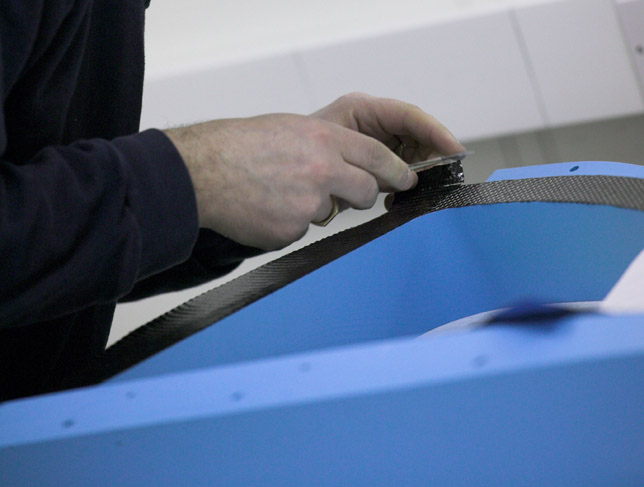 To achieve the exceptional finish, Prodrive analysed the fundamental process steps required to produce a carbon composite part and identified the parameters that affect surface finish. One of the key areas is very precise control of the interface between the component and the mould. As each of the composite layers (the plies) is added to the mould, there is a possibility of air bubble entrapment which hinders both adhesion between plies and seating of the outermost layer against the mould surface. The Prodrive Process achieves outstanding results by the use of carefully developed values of pressure, temperature and duration for this phase of the manufacturing process.
"We have established a set of process conditions that give the best possible consolidation of the outer layer against the mould surface," says White. "We also pay particular attention to the mould surface finish and have developed an appropriate 'prepreg' specification with our supplier." [prepreg = a curable mix of fibres and resin]
The first production application of the Prodrive Process is the supply of various panels and assemblies for a new European supercar. When the company's engineers approached Prodrive, they assumed that a lacquered finish would be essential.
White takes up the story, "all their quality processes were based on a lacquered finish. The issues you control with an unlacquered surface are completely different. For instance, spray finishes can suffer from runs and fish eyes; non-sprayed finishes can suffer from pin holes. We wrote new quality standards for them to reflect this, and they were delighted; they not only received top quality parts from us but developed their supplier quality standards for the future."
Other customers are now requesting parts made by the Prodrive Process. Where prior tooling exists, a level of refurbishment must be expected, to bring the surface up to the necessary standard. Significant production quantities can be handled – currently Prodrive's biggest application is approximately 400 parts per month. Cell-based manufacture with predominantly manual operation means the process can be scaled up as required to suit the volume demanded.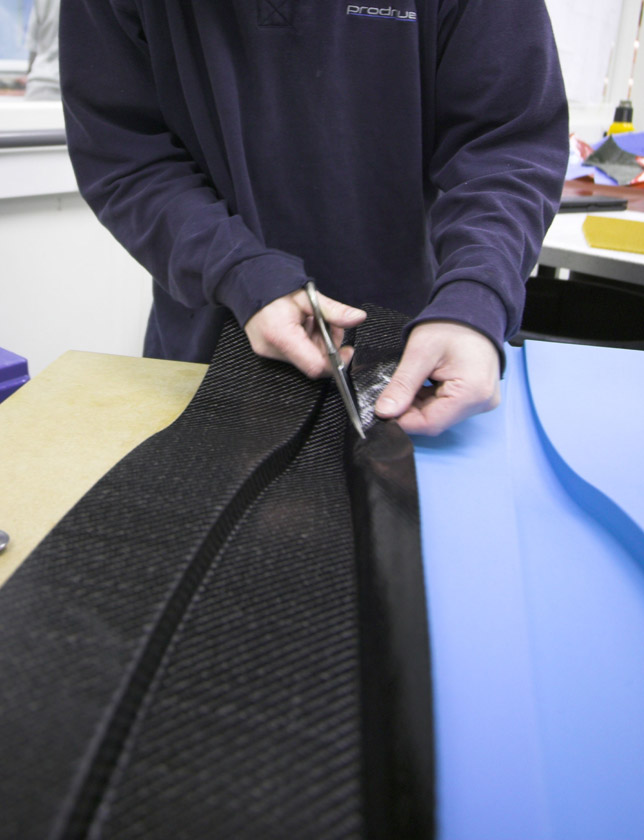 Prodrive's culture is to develop imaginative, practical and cost-effective solutions to meet technical challenges. The Prodrive Process is an obvious manifestation of this but, behind the scenes, there are many others. White continues, "another well known sports car manufacturer came to us for the supply of highly visible composite parts. They had successfully accommodated the structural and dimensional requirements but were unhappy with the cosmetics. We were able to satisfy all three requirements by controlling the weave direction in every part.  We are especially pleased about that job. Our quality and on time deliveries have impressed the customer so much that we are receiving ongoing requests for quotations despite recessionary pressures at the customer to bring such work in house."
Away from automotive applications, Prodrive's customer base for composites includes aerospace, telecoms and yachting applications but one of the most unusual must be top end HiFi.
Loudspeaker manufacturer, Kef, formed a technical partnership with Prodrive to produce their concept design called the Blade which relied for its stunning visual appeal upon a carbon composite enclosure with a very high quality exterior surface finish.
Gary White concludes, "You'd be amazed how many people think carbon fibre is just carbon fibre. Our approach to each new application is to take a holistic view and capture all the requirements. The end product doesn't cost any more but often has more functionality and helps our customers to be more competitive. That's the way to get value from innovation."