Rally de Portugal - After Stage 1
Colour, noise and excitement filled Faro's Estadio Algarve soccer stadium this evening as a huge crowd packed the arena to watch the spectacular opening action of Rally de Portugal.  The stadium was transformed into a purpose-built speed test to launch this fourth round of the FIA World Rally Championship.  Two cars at a time powered around the demanding 2.21km asphalt test as the fans enjoyed the glorious sunshine in the country's holiday region.
Sweeping hairpin bends, tight and tricky corners and a devilish jump made the test a challenge for the 68 starters, as well as dazzling viewing for both the fans and TV viewers across the country who watched the action live on television.
BP Ford Abu Dhabi World Rally Team drivers Mikko Hirvonen and Jarmo Lehtinen, lying second in the championship, were paired with leader Sebastien Loeb in the top-billing heat. Hirvonen received the loudest cheer of the evening when the 28-year-old Finn lined up for the start with the Portuguese flag attached to the roof of his Ford Focus RS WRC.  He then defeated Loeb by 1.1sec to post third fastest time.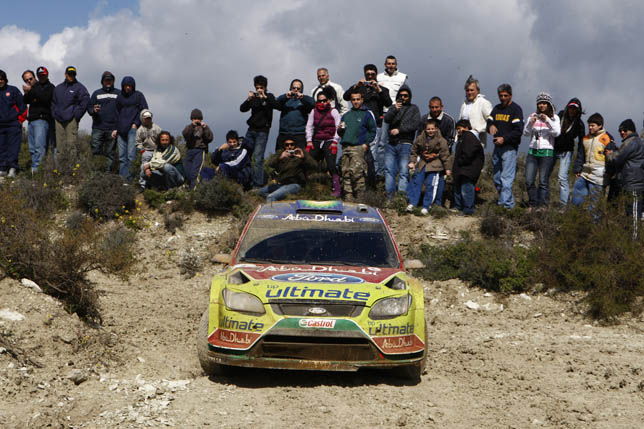 "What a great start!" said Hirvonen.  "The atmosphere in there was incredible.  The fans are amazing and I think they appreciated us carrying the Portuguese flag on the car.  Having beaten Sebastien here, I don't think I need to tell anyone what my ambition is for the rest of the weekend."
Team-mates Jari-Matti Latvala and Miikka Anttila defeated Sebastien Ogier by 4.4sec to set fifth fastest time.  "Two years ago I hit a few barriers and made some mistakes but I didn't do that this evening," said Latvala.  "The Portuguese fans are incredible, they are so noisy and passionate and they love rallying here.  It's good fun for the spectators and now I'm looking forward to driving on the gravel stages tomorrow."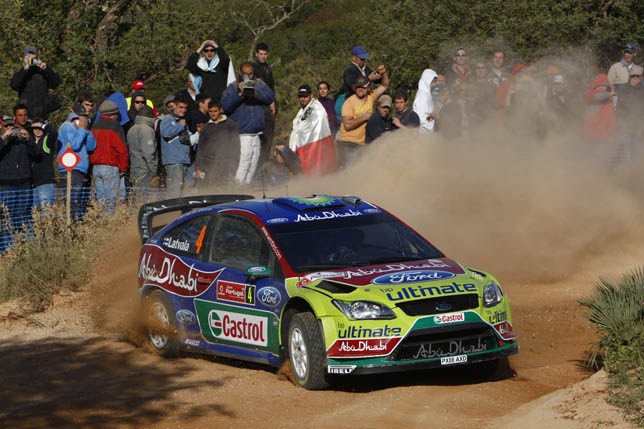 Abu Dhabi's Khalid Al Qassimi and Michael Orr were 12th in the team's other Focus RS WRC.
The opening leg continues tomorrow when drivers leave Faro at 09.10 to tackle six tests covering 134.00km in the hills north of the town.
Leaderboard after stage 1 of 18
1.  H Solberg/C Menkerud               NOR               Ford Focus RS          2min 09.6sec
2.  D Sordo/M Marti                           ESP                 Citroen C4                  2min 09.7sec
3.  M Hirvonen/J Lehtinen               FIN                 Ford Focus RS          2min 09.8sec
4.  S Loeb/D Elena                              FRA                Citroen C4                  2min 10.9sec
5.  J-M Latvala/M Anttila                 FIN                Ford Focus RS          2min 12.5sec
6.  M Grönholm/T Rautiainen             FIN                   Subaru Impreza           2min 14.1sec
7.  F Villagra/J Diaz                          ARG               Ford Focus RS          2min 15.2sec
8.  P Solberg/P Mills                           NOR               Citroen Xsara              2min 15.5sec
9.  M Østberg/O Unnerud                   NOR               Subaru Impreza           2min 16.6sec
10 S Ogier/J Ingrassia                         FRA                Citroen C4                  2min 16.9sec