Red Bull on the podium for sixth time
Fifteen and a half points are now separates the Red Bull Racing from the series leaders, Brawn GP, thanks to Mark Webber who finished third in the Hungarian Grand Prix and standed on the podium for the sixth time this season.
When you take part in a sport with two racers per team, you can't always end up with smile all round and unfortunately, Sebastian Vettel failed to finish the 70 lap race, retiring after just 29 laps, with damaged suspension, the result of a first lap collision with Raikkonen's Ferrari. It means that Mark sneaks past Seb in the title race, to go second in the championship for the first time this year.
With leader Jenson Button having a tough day on his way to seventh place and two points, our Aussie is now just under two race wins behind in terms of points. We now have to wait four weeks to resume battle in Valencia and for two of those, the Formula One World Championship takes its first ever official holiday in its 59-year history. It's going to be frustrating for the designers and engineers champing on the bit to carry on moving forward with the development of RB5, but at least their kids might recognise them now and their pets might not growl when they walk in the front door at home!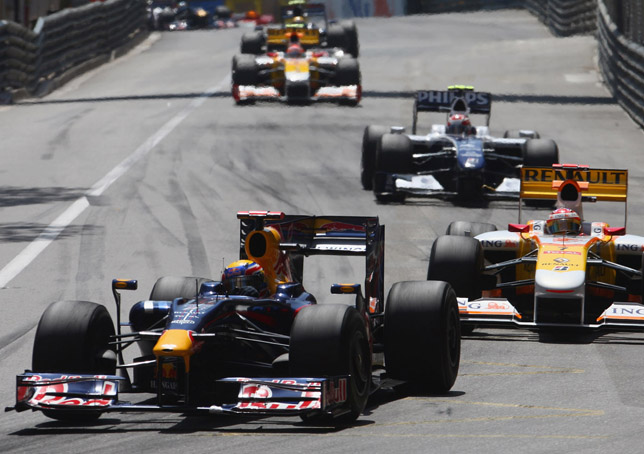 You'll never guess who won? Lewis Hamilton. Yes, really, the reigning world champion produced a typically aggressive and faultless performance, making the most of his KERS at the start to go from fourth on the grid to second immediately after the start,  behind pole man Alonso and Mark, who predictably got ahead of his team-mate, who was on the dirty side of the track. It was the Englishman's and McLaren's first victory of the year.
You can't win all the time, even if we had been hoping for a hat-trick of victories after Silverstone and Nurburgring. But did you see the winner's trophy? Looked a bit naff to be honest, so we won't miss it too much in our Milton Keynes Trophy Cabinet.