Renault announces pricing and specification for new Kangoo Van Range
Europe's best-selling compact van launches for the first time with two bodystyles, Kangoo Compact and Kangoo Van. With two trim levels and five engines available across the short and standard wheelbase versions, New Kangoo Van now offers an unprecedented 21-model range to cater for every type of professional customer. Whether it be the manoeuvrability and economy of the Compact for smaller deliveries in the cut and thrust of an urban environment, or the larger payload (650kg or 800kg) and 1.5 dCi 105 engine of its bigger brother on major highways, both models look set to continue Kangoo's winning formula.
Both models come with typically impressive levels of standard specification. Kangoo Compact SL offers 30W CD-RDS audio system, ABS with EBD, four load anchorage points, remote control central locking, full steel bulkhead, overhead storage shelf, driver's side airbag, height-adjustable seatbelts and steering wheel, with SL+ adding height adjustable driver's seat, additional side anchorage points and a central console with armrest.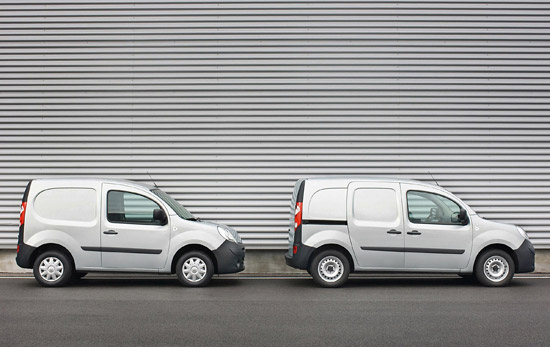 The entry-level version of its larger sibling, Kangoo Van ML, adds rear disc brakes and six load anchorage points over the Kangoo Compact SL equipment level. Meanwhile, the top-of-the-range ML+, adds a nearside side-loading door to the equipment level of the Kangoo Compact SL+.
Its active and passive safety equipment surpasses the norm for an LCV and is also similar to that of a family car. Features include latest-generation ABS and the availability of with ESP (Electronic Stability Programme) on ML+.
The cabin of New Kangoo Van is also designed to ensure the highest levels of safety for all occupants. Both Kangoo Compact and Kangoo Van have identical cabin size ensuring the best levels of comfort for the driver and passenger.  The seatbelts are equipped with pyrotechnic pretensioners which hold occupants firmly in their seats, plus load limiters which afford more effective protection for the thorax. A driver's side airbag as standard, while a passenger airbag and side thorax airbags are available as options. To limit damage to the pelvis in head-on collisions, the front seats have an in-built  anti-submarining design.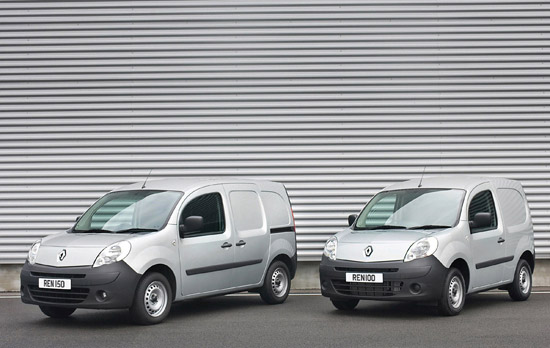 Eco² Status
The 1.5 dCi versions of New Kangoo Compact and Kangoo Van are the first Renault commercial vehicles to achieve the Company's eco² status.  The three criteria for eco² are achieved:  Kangoo is built in a factory that achieves the environmental ISO 14001 standards, the CO2 output for each dCi engine is below 140g/km and 6% of the plastics used are from a recycled source.  The economy and emissions are particularly impressive with the New Kangoo dCi 85, for example, emitting just 137g/km and achieving 54.3 mpg on the combined cycle.
Despite of its diminuitive proportions, Kangoo Compact can be equipped to impressive levels of comfort and practicality, with an array of options to meet the most demanding customer requirements. These range from air conditioning (£565), cruise control (£200), electrically-adjustable and heated door mirrors (£50), electric windows with one-touch on the driver's side (£175), to front foglights (£110), body-coloured bumpers and door mirrors (£100), load area panelling/ply lining (£80), driver-controlled speed limiter (£50), rear parking sensors (£175), glazed rear doors (£150) and trip computer (£50).
Its larger sibling benefits from the same extensive options choice, but with the addition of an offside side loading door (ML+: £150), a glazed panel in the side loading door (£50) and a glazed rear tailgate (£150).
Also available on both bodystyles are popular items such as: auto lights and wipers (SL+ and ML+: £100), front passenger airbag (£185) and front lateral airbags (£185), innovative sliding rear roof flap for taller loads (£220) and integrated satellite navigation (SL+ and ML+: £590).
Speed Limiter
Key for Fleet Managers looking to ensure safe driving is the option of a speed limiter function (£50).  This can be programmed to be at 56 mph, 62mph or 68mph.
The Multi-functional TunePoint system (£148) is also available with the New Kangoo Van range. Located in the glovebox, this device enables occupants to listen to their own music collection, via three ports for connecting USB keys, MP3 players and iPods™.  For safe driving and ease-of-use, the music can be controlled via the fingertip remote controls on the steering wheel.
Two option packs will also be available to offer savings compared to purchasing items separately. The Air Con+ Pack (£550) saves £290 and includes manual conditioning, electric windows, body-coloured, electrically operated and heated door mirrors. The second, Convenience Pack (£200), saves £75 on the ML+, with electric windows and body-coloured, electrically operated and heated electric door mirrors.
Both versions of New Kangoo are available in a choice of 12 colours, seven of which are metallic, priced at £330.
Full UK pricing for the New Kangoo Van range follows below:
NEW KANGOO COMPACT
New Kangoo Van Compact has a range of engines ideally suited to motoring in built-up areas. The 1.5 dCi diesel engine is available with an output of either 70hp or 85hp, while the 1.6 petrol unit delivers 90hp. All of the engines drive through a five-speed manual gearbox. The availability of maximum torque from low engine speeds and a lighter weight than the standard version combine to give the 1.5 dCi New Kangoo Van Compact brisk acceleration and genuine driving pleasure in and about town.
| | | | |
| --- | --- | --- | --- |
| Version | Load volume (m³) | Payload (kg) | Basic Price (excl. VAT) |
| SL17 P90 | 2.3 | 500 | £8,690 |
| SL17 dCi 70 | 2.3 | 500 | £9,890 |
| SL17 dCi 85 | 2.3 | 500 | £10,290 |
| SL17 P90+ | 2.3 | 500 | £8,890 |
| SL17 dCi 70+ | 2.3 | 500 | £10,090 |
| SL17 dCi 85+ | 2.3 | 500 | £10,490 |
NEW KANGOO VAN
With two petrol engines on offer, including the option of an automatic transmission, plus a range-topping 1.5 dCi 105hp with a six-speed gearbox in its class, New Kangoo Van offers an engine to meet all types of fuel economy and performance requirements.
| | | | |
| --- | --- | --- | --- |
| Version | Load volume (m³) | Payload (kg) | Basic Price (excl. VAT) |
| ML19 P90 | 3.0 | 650 | £9,390 |
| ML20 P90 | 3.0 | 800 | £9,690 |
| ML19 dCi 70 | 3.0 | 650 | £10,590 |
| ML20 dCi 70 | 3.0 | 800 | £10,890 |
| ML19 dCi 85 | 3.0 | 650 | £10,990 |
| ML20 dCi 85 | 3.0 | 800 | £11,290 |
| ML19 P 105+ | 3.0 | 650 | £10,240 |
| ML20 P 105+ | 3.0 | 800 | £10,540 |
| ML 19 P105 Auto+ | 3.0 | 650 | £11,090 |
| ML19 dCi 70+ | 3.0 | 650 | £10,940 |
| ML20 dCi 70+ | 3.0 | 650 | £11,240 |
| ML19 dCi 85+ | 3.0 | 650 | £11,340 |
| ML20 dCi 85+ | 3.0 | 800 | £11,640 |
| ML19 dCi 105+ | 3.0 | 650 | £11,990 |
| ML20 dCi 105+ | 3.0 | 800 | £12,290 |