Renault'S New Megane Achieves Maximum Score In Euro Ncap Crash Test
With a score of 37 points out of 37 in its Euro NCAP crash tests, Renault's New Mégane has achieved the joint highest-ever score, matching that of Qashqai, from sister company Nissan, last year.
New Mégane becomes the 11th Renault model to earn the top five-star rating, which is unsurprising given that safety is in its genes. As a fundamental part of the car, its active and passive safety levels were developed from the outset to deliver new standards in its class. To that end, it incorporates a long list of features from Renault extensive experience in this field, including:
twin side-impact sensors, an innovation that débuted with Laguna III,

six airbags, including two twin-chamber thorax/groin airbags,

the Renault System for Restraint and Protection, which combines pretensioners and load limiters with twin-stage dual-chamber adaptive front airbags,

new-generation headrests
ABS and Emergency Brake Distribution come as standard, while in the UK all versions also feature Electronic Stability Programme (ESP) with Anti-Skid Regulation (ASR) and additional understeer control.
Across its line-up, Renault builds safety into its cars based on real-world situations. It has done just that with New Mégane, focusing both on technologies that 'prevent, correct, and protect' most effectively and on educating road-users.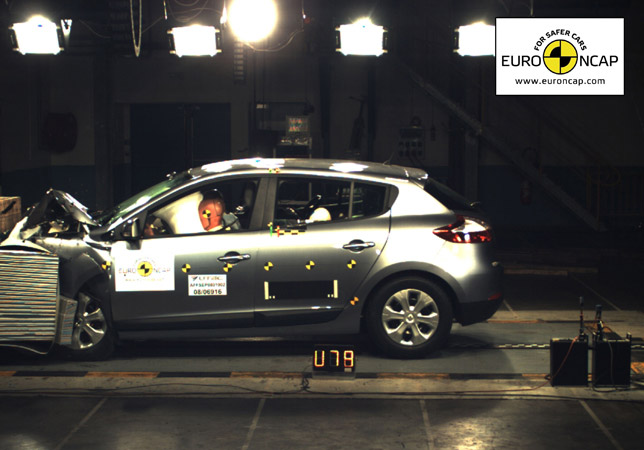 The only vehicle manufacturer to have secured the five-star top rating 11 times, Renault makes safety a priority. New Mégane's programmed deformation structure absorbs energy in the event of an impact to ensure the integrity of the cabin and the safety of its occupants. It incorporates materials and high, very high, and very, very high elastic steels for absorbing and dissipating as much kinetic energy as possible. Controlled deformation ensures that occupants are subjected to lower deceleration forces and, coupled with the third-generation Renault System for Restraint and Protection (SRP3), guarantees an extremely high level of protection.
New Mégane's SRP3 is designed to adjust to the force of an impact and the build of the vehicle's occupants. It combines pretensioners for the front and rear seats, which prevent the body from being thrown forward on impact and tighten the strap against the thorax and lap; load limiters to reduce the pressure exerted by the strap on the thorax; and dual-chamber twin-stage adaptive airbags that deploy by just the right amount to absorb the remaining kinetic energy. SRP3 affords the best possible degree of protection against submarining – when the groin slides underneath the lap strap – which can cause extensive, and sometimes very serious, injury to the abdomen in the event of a collision.
Side impact protection Special attention has been paid to protection against side impact, a major cause of fatality in urban accidents (which account for one-third of all road accidents). The dual side-impact sensors that first appeared in Laguna III have halved the time it takes the side airbags to trigger.
Coupled with a new generation of bulkier curtain airbags, occupants' head protection has been improved by 30%. Another feature is the fact that the dual-chamber thorax/groin airbags exert three times more pressure to the groin than to the thorax (the groin is both more exposed to injury and able to withstand greater pressure than the chest).
New Mégane boasts new headrests whose support rods slide into the headrest and not into the top of the back of the seat, where their rigidity constitutes a hazard in the event of a rear impact. This arrangement enhances protection of the neck vertebrae, as the passenger sinks 60 millimetres into the curved, frameless seat, which restricts the sudden movement of his or her head and thorax caused by an impact.
New Mégane Hatch's front end also incorporates new technological solutions for improved protection of pedestrians in the event of an impact. Work has gone into modifying the rigidity and thickness of the bumper to protect the lower limbs by absorbing energy at tibia and knee height. Careful attention was also paid to the energy absorption capacity of the bonnet and surrounding structure (wings, opening mechanism, bonnet interior).
Child safety – special research Child safety is an issue in on its own right to which Renault devotes special research of the same exacting standard as for adult safety systems. With a four star score out of five in Euro NCAP's child rating, New Mégane affords one of the highest levels of protection. ISOFIX anchorage points in the left and right rear seats make it easy to secure child and booster seats safely.
New Mégane also incorporates equipment that helps drivers to anticipate risks on the road:
tyre pressure monitoring system,

cruise control and speed limiter with a functional, intuitive luminous interface that is faster and safer to read,

automatically activated headlights and windscreen wipers.
Its bi-xenon directional headlights, the dipped beams of which change angle when the vehicle is cornering, make night-time driving safer. They show the lie of the road more sharply and widen the driver's field of visibility. Renault and safety: a comprehensive approach Across its entire range, Renault's safety approach builds on accident research and real-world safety with the aim of producing vehicles adapted to the realities of the road. This means that it prioritises technologies that prevent the risk of accidents, correct abnormal driving situations, and protect occupants in the event of a collision. Over the years, Renault has emerged as the standard-setter in road safety:
Euro NCAP results for Renault: only manufacturer with top rating 11 times New Mégane - 5 stars (2008) Koleos - 5 stars (2008) New Laguna - 5 stars (2007) Clio III - 5 stars (2005) Mégane II Coupé Cabriolet - 5 stars (2004), first five-star vehicle in its category Modus - 5 stars (2004), the first five-star vehicle in its category Scénic II - 5 stars (2003), the first five-star vehicle in the compact MPV segment Espace IV - 5 stars (2003) Mégane II - 5 stars (2002), the first five-star vehicle in the C segment Vel Satis - 5 stars (2002 and 2005) Laguna II - 5 stars (2001 and 2003), first-ever vehicle to achieve this level