Rhys Millen to enter two rounds of the US Rallycross Championship
RMR and Hyundai are about to enter two rounds (round 2 and 3) of the upcoming US Rallycross Championship that will take place at the New Jersey Motorsports Park on Oct. 2-3 and Nov. 6-7. Sitting behind the wheel of a Hyundai Rally car retrofitted exclusively for the World Rally Championship, Rhys Milen will have to deal with rivals like Travis Pastrana, Dave Mirra, Ken Block and Antoine L'Estage.
Rhys Millen, professional race driver and founder of Rhys Millen Racing shared: "I'm excited to be stepping back into the world of rally. It has been six years since I was involved with the inaugural X Games rally event and now with rallycross here in the U.S., what better way to prove the performance and power of the Hyundai brand."
The Rallycross competition is consist of five rally-ready rides jumping and sliding on a road course made of pavement and gravel. Five drivers line up to start at once, piloting ultra powerful 500+ horsepower compact cars through race traffic over a challenging short course that features jumps, unbanked turns and hills.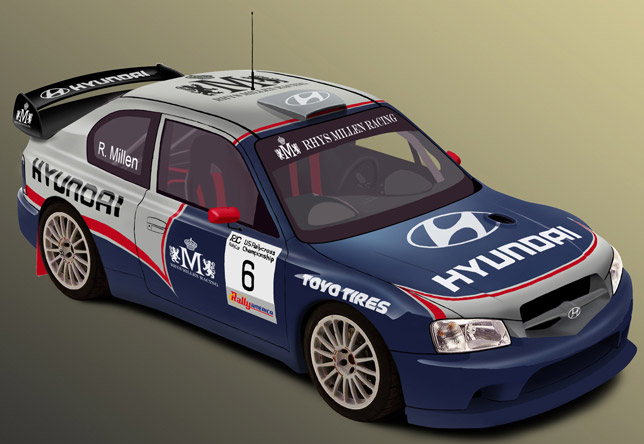 RMR's HYUNDAI RALLY CAR specifications:
Curb weight: 2,805 pounds
Engine: Hyundai 500-horspower four-cylinder turbocharged
Transmission: Xtrac 6-speed sequential
Transfer case: Xtrac 4wd
Front and rear differentials: Xtrac
Suspension: Proflex jumbo coil over
Brakes: 13.5-inch Brembo
Wheels: 18 x 8-inch Enkei
Tires: 245/40-18
Seats and harnesses: Sparco