Romeo Ferraris Audi RS3 [video]
The 2011 RS3 is one of the most powerful hot hatches available on the market.
It has a mighty 2.5 liter five-cylinder turbocharged engine with 340PS (250 kW) and 450Nm (332 lb-ft) of torque. It is coupled with a 7-speed S-tronic gearbox. The performance is extreme - 0 to 100 km/h in 4.6 seconds and a top speed of 250 km/h (electronically limited).
Still, if this is not enough, you can order either Stage 1 tuning package or Stage 2 from Romeo Ferraris for your RS3.
Stage 1 includes a high-flow air filter and an ECU re-map. The result is an increase of 41PS (30 kW) and 73Nm (54 lb-ft).
Stage 2 adds a new high performance sports exhaust system including downpipe, middle section and silencer. The result is a gain of 68PS (50 kW) and 139Nm (103 lb-ft).
So, the overall power of Romeo Ferraris RS3 is 408PS (300 kW)and 589Nm (435 lb-ft) of torque.
Check out the video below, where you'll see a dyno run of the tuned hot hatchback.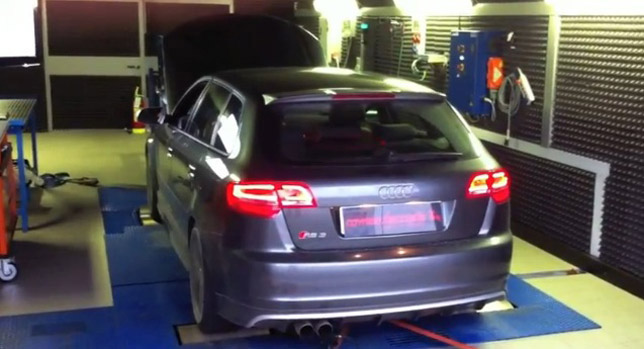 Source: romeoferrarissrl via Youtube