SEAT and Telefonica contribute towards improving road safety
Fewer road accidents, greater traffic efficiency and safer, more comfortable motoring are the objectives of the eCar Project jointly developed by the SEAT Technical Centre and Telefónica España through the application of Information and Communication Technologies in cars.
By using these technologies, cars can benefit from a wide range of services that help make motoring safer, more efficient and more comfortable. The increasing use of mobile communication in cars has led to the eCar Project, an innovative initiative for which the first services platform has been created for the so-called Connected Car.
The Connected Car is an Environmental Intelligence system (driver, vehicle and surroundings) that makes it possible to transfer more intelligence to the car for greater safety, mobility and entertainment services, and advanced communications within the vehicle.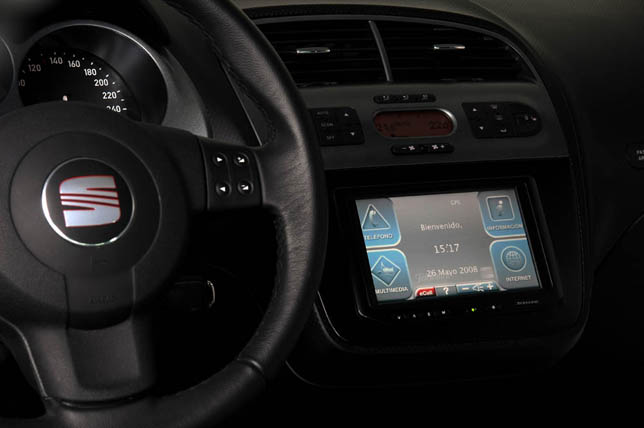 Engineers at the Martorell Technical Centre have applied SEAT's vision to the project, closely collaborating in aspects such as the Human Machine Interface and the use of the Connected Car services platform.
Two of the aspects developed for the driver that mainly enhance safety are an emergency dialling button and navigation functions using the GoogleMaps tool. On the other hand, passenger services centre on infotainment, such as information channels and multimedia content use and download.
Other communications services include calls, SMS messaging, Internet, etc, which can all be accessed on a touch screen or through voice activation.
More road safety and fewer accidents are SEAT's main objectives, through the use of solutions so that both driver and passengers feel as safe and as comfortable as possible. Two of these are the eCar project in collaboration with Telefónica España or the creation of a rail connection between the Martorell factory and the Barcelona port, which eliminates the need for about 25,000 trucks yearly.